Yes, it's a non-Disney trip report. In a sea of Disney trip reports this is a non-Disney report.
How is that pertinent on a Disney-centric fan forum, you ask? Well, this is how a solely Disney Cruise Line experienced cruising family took their first wobbly steps into non-Disney-fied cruising. Ever been curious? So were we! How the competition measures up is definitely pertinent! However, if the mods think this thread is better served in the cruise section or the other places section, I certainly understand. So sit back, relax, and slosh along with us in whatever "port" this thing sails off to.
Thread title:
Mickey-less Lesson #1: Size doesn't matter, it's the motion of the ocean! ((in my best double-rainbow dude voice)) What does it meeeaaan????? The ship we sailed is currently THE largest cruise ship on the seas: Royal Caribbean's Allure of the Seas. This ship is huge! How big? Let me show you. Not my picture, all credit goes to fet123 on Photobucket. Lined up here in Nassau are: Majest of the Seas, Disney Dream, Carnival Dream, the NCL Sky, and Allure's sliiiightly smaller sister ship the Oasis of the Seas. Good size comparison: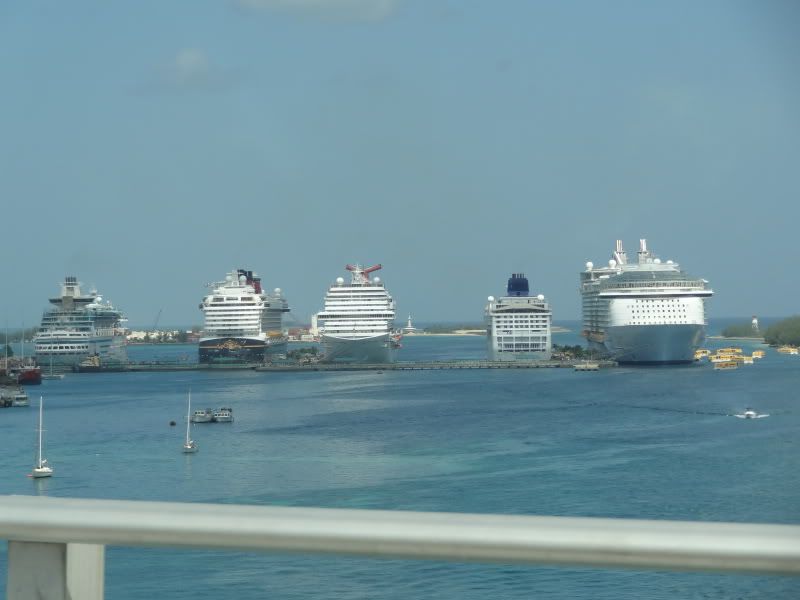 Allure of the Seas is 16 decks high, 1,187 ft long, and can carry a maximum passenger load of 6,296 serviced by roughly 2,300 crew members. In comparison, Disney's largest/newest ship in the fleet, the Fantasy is 14 decks high, 1,115.5 ft. long, and can carry a maximum passenger load of 4,000 serviced by a crew of 1,450. The Allure is a very big girl!
Among Disney's fleet my family prefers the smaller classic ships. Why? It's more laid-back, there's less people, and the overall experiences we've had were more personal and intimate if you will. We like that a lot! We knew going into this cruise that we were going to be on the biggest cruise ship afloat and that we probably would not be impressed by her size. We were right. We weren't. For us, bigger does not equate better. Size doesn't matter.
The motion of the ocean can definetly play a strong hand in your cruise experience! Leading up to our cruise I discovered (no thanks to Royal Caribbean which is my biggest aggravation with the entire experience of sailing with them) via Cruise Critic's forums that the Allure had been experiencing an issue with 1 of her 3 azipods. They had been sailing her without using the center screw for over a month before our sailing. She was safe and still functioned fine. They were just trying not to use the center pod as much as possible to avoid further/more extensive damage. So the ship sailed slower. Instead of her usual 22+ knots cruising we rarely exceeded about 16-17 knots cruising. AND, because the ship was sailing at reduced power, the captain did not utilize the stabilizers to keep the ship steady at sea. The stabilizers, like wings that extend from the sides of the ship to add stability and reduce rocking side-to-side, create drag which would slow the ship even more. So, the motion of the ocean on a ship not using her stabilizers was...well...a really FUN ride for us...not so much for those prone to sea sickness.
*****Just for information sake, the Allure continues to run on 2 of her 3 pods. A cruise in February was cancelled back in mid-November to allow a week-long drydock to repair the pod. I believe it is a bering issue. It's my understanding this type of problem has been a reoccuring thing with ships that utilize the different azipods for their propulsion. To date Disney has not utilized the azipod propulsion for their ships.*****
So that nobody feels the need to ask before I get to the end and give my summation of the overall experience sailing without Mickey, I don't feel like it was better or worse than any of the 7 Disney cruises I have been on. I'm not just being nice. It's a whole different experience. I wouldn't categorize it as better or worse, it's different.