Figured this is kinda my other love besides disney...so...what do you drive?
I have a 2003 mazda miata. It's my daily driver. I rebuilt it, as I bought it from a junk yard in parts, it was rolled over in an accident.
I also have a 1996 Ford ranger. Basically been in the family since new, it's my parts truck, and stuff hauler.
I also have a 1987 Harley sportster.
I also have four or five cars to rebuild/part out as well...
ones another miata that is soon to be rebuilt into a drag car.

What do you drive?
How'd I miss this thread all these years?!?
I'll weigh in with some of my favorite cars I've had.
I had a 1990 Miata that I bought in February, 1990 with a foot of snow on the ground at
128 Mazda
just outside Boston. It was red with all three factory option packages added to it, except for the hard top. From 1990 to 1995 I drove that Miata from Boston to Disney World, from Portland, Maine to Portland, Oregon, from Seattle to Disneyland to Charleston, South Carolina, and a couple dozen states inbetween. I put nearly 200,000 miles on it and only did oil changes, replaced tires a few times and one set of brake pads. It worked perfectly, always.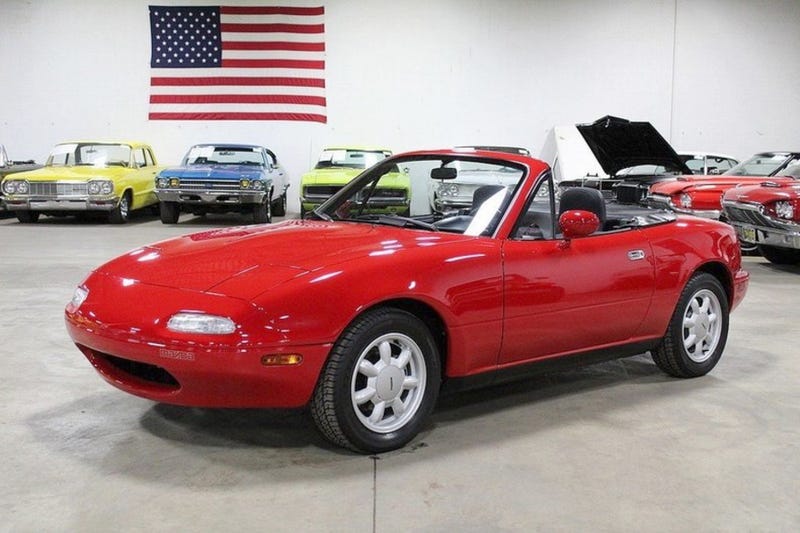 Before the Miata I had a 1970 Triumph Spitfire in the late 1980's. I learned to curse Lucas Electrics nearly every day of my life when I owned that thing. It was gorgeous and fun to drive, but after the seventh or eighth time it stranded me with electrical faults in the days before cell phones, I gave it up. I was living in Portland, Oregon at the time, and I walked to a pay phone in the rain to call a tow truck one too many times. It was burgundy with black interior, aesthetically perfect and mechanically sound, but electrically British, and it looked exactly like this one except mine didn't have a luggage rack on the back.