The Something Old, Something New, Something Borrowed, Something Blue - Trip Report
Back home and wanted to at least get a start on this report, before I start canning next week. (Plus Stinker is down for the moment)
I had the best intentions of taking notes, and even bought a journal to do such. (Ya, right, I never even opened it)
My pre- trip and semi live report can be found here.
https://forums.wdwmagic.com/threads...keep-saying-that-semi-live-now.955080/page-15
My title explanation is as follows.
The Old- for our Anniversary (27) and at Coronado Springs.
The new- flying instead of the torture it is for me being in a car for 8 1/2 hours, or in the case of Irma 17 1/2.
Also, meeting and getting to chat with some very sweet trip report forum members and their spouses.
That would have been so out of my comfort zone until I met
@Tuvalu
in May. Very glad that I had the opportunity it was a blast.
The borrowed, is my alternate title - The Last Chapter- because believe it or not, I did not renew APs or book a Bounceback. I really am not going back until earliest May of next year and I am totally fine with that.
We almost did bounce back because we love celebrating our Anniversary at the world but it is HOT!! Too Hot and the only way I like a Hurricane or threat of one is in a glass.
The Blue, was lack of rain, other than a horrid storm while having drinks at Coronado and a little bit during a day at AK. Also for the gorgeous blue skies we flew both down and back in.
So onto day 1- flying down.
15 trips to WDW and flew one time, the rest in a car. It is taxing, at best for me to be in the car for more than 30 minutes. I hate it. Always have. My mom still goes a little pale at the thought of our road trips when I was little. My dad had to take the scenic route and stop at every beach and then make us get back in the car to check out another one- in my defense. I just wanted to stay at the first one. I hated getting back in the car lol.
1 hour and there? Ya, I am in.
I was expecting to wait forever but better than a car right? (For me, anyway)
Got there 2 hours before, checked bag, did security, no line. Waited, boarded, took off, and an hour 30 minute flight, landed in a little over an hour.
And yes, I did have a Bloody Mary for breakfast.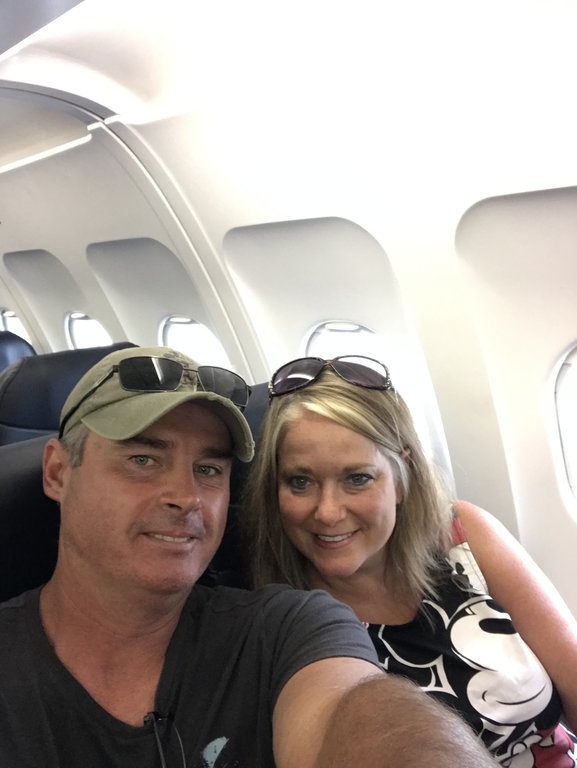 Made our way off and down to ME, straight into a line, and was on the bus maybe 5 minutes after getting in line.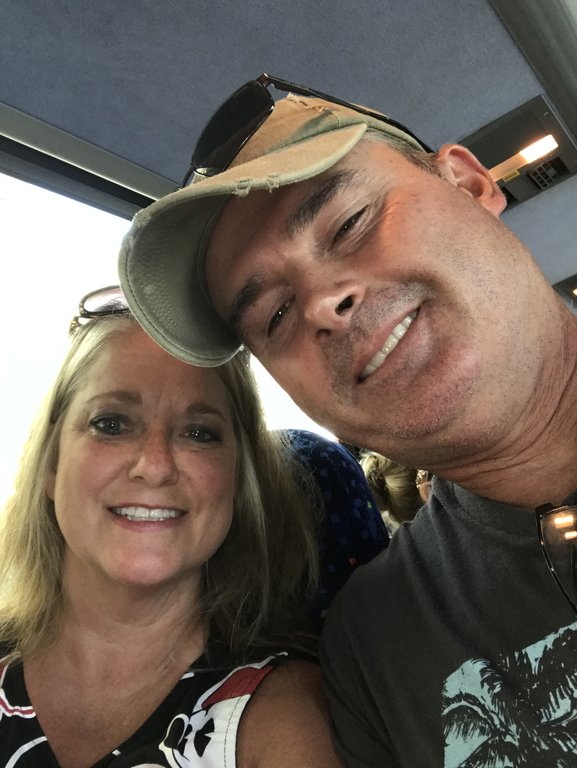 Not very easy to get a pic of the gate in a bus.
And we are home! Love the new sign, it reminds me of the old room colors, though which is odd.