Women in groups even if they're all wearing matching outfits look like a group of women
Oh you.
I'm talking about photos of the event taken by various journalists and media outlets.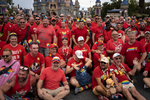 There's like 2 or 3 women in that photo of 50 people.
I don't have a point. I just thought it was interesting.
The one "Zeke & Zeb & Ted & Fred & Tennessee" shirt is absolutely fantastic.