Well-Known Member
Original Poster
I began planning how I would propose to my girlfriend prior to our August trip. I knew I wanted to do it at WDW, and I knew around Christmas-time would be perfect (as that would mark being together for two years). I hardly had to push with a suggestion for a Christmas WDW trip on our return from WDW in August. That really got the ball rolling. After the trip was set, I wrestled with some ideas in my head, but had nothing fully solidified.
So upon returning, and giving it some more consideration, I decided to post in these forums. Since my girlfriend commonly lurks the forums, I decided to create an alias (Sorry Steve, hope I didn't break any forum rules!) and post this thread:
http://forums.wdwmagic.com/showthread.php?t=232193
You can read the history in that thread yourself, I will get down to brass tacks here. The process started the night before we left, when I voyaged into the one place no man should ever go: a woman's closet, to find a dress for Sarah to wear to dinner the following evening. I located what I needed, but left it there, knowing she would head into the closet again before we left and would suspect foul play if any of her clothing was misplaced.
The following morning right before we left, I went back upstairs to grab my backpack which I had purposely left behind. While grabbing my bag, I slipped into her bedroom and quickly grabbed the dress and threw it in my bag.
After arriving at our resort, meeting our friend, and checking in, we went to Dowtown Disney. During our trip planning, I had told Sarah we would mini golf that night. I could tell she wasn't thrilled by the prospect (which was good, since I didn't want to plan something too fun so she would be disappointed by the eventual change in plans) but she agreed to go anyway. After we returned to the resort, we wandered around, before leaving to go mini golfing. Our friend who is doing the CP left for "work" after having secretly given me a couple bottles of champagne and wine, and we returned to our room. Not wanting Sarah to see the bottles and get suspicious, I hid them at the edge of the bed.
Then I informed Sarah of the 'bad news'--that I unfortunately had to change the plans. At first she was taken aback, but I informed her that we were going to dinner instead of mini golfing. When, after asking what I was wearing, I responded "suit", she was taken aback yet again. Uh oh, she had not packed any 'dressy' clothes. I pulled out a black dress, and asked if that would work. Surprised and elated, she responded affirmatively.
We got dressed, and prepared to leave. I told Sarah I was going to take the tripod so that we could take pictures after dinner. So I put in my backpack, along with the ring (which was the true motivation for taking the bag, since the ring stuck out like a sore thumb in my pocket), however, I intentionally left the bag in the room when we left the room.
About halfway down the stairs, Sarah noticed I forgot the bag. I told her I would run upstairs and get it, she should just wait. I rushed back to the room, threw the champagne and wine in the fridge, and grabbed the bag. Off to dinner we went, with about half the plan going perfectly.
Having had no failures thus far, I knew something in my extremely precise plan was about to fail...I just wondered what. After a bus ride of Sarah trying to guess where dinner would be, we headed for the monorail. Sarah kept guessing, and I got up from our seat at every monorail stop, only to sit right back down. What can I say, I enjoyed tormenting her. After heavy delays, we finally arrived at the Grand Floridian 1 minute after our reservation time. We quickly made our way to Narcoossee's.
The hostess informed us our table would be ready shortly. In Disneyspeak, I figured this meant it would take 20 minutes. I was concerned that we might miss the fireworks (which were the 'main event' of the night).
About five minutes later, my buzzer went off. Phew. We enjoyed dinner, although towards dessert, I informed the waitress we would like the bill with dessert, as we were in a hurry. She kindly obliged, and I thanked her.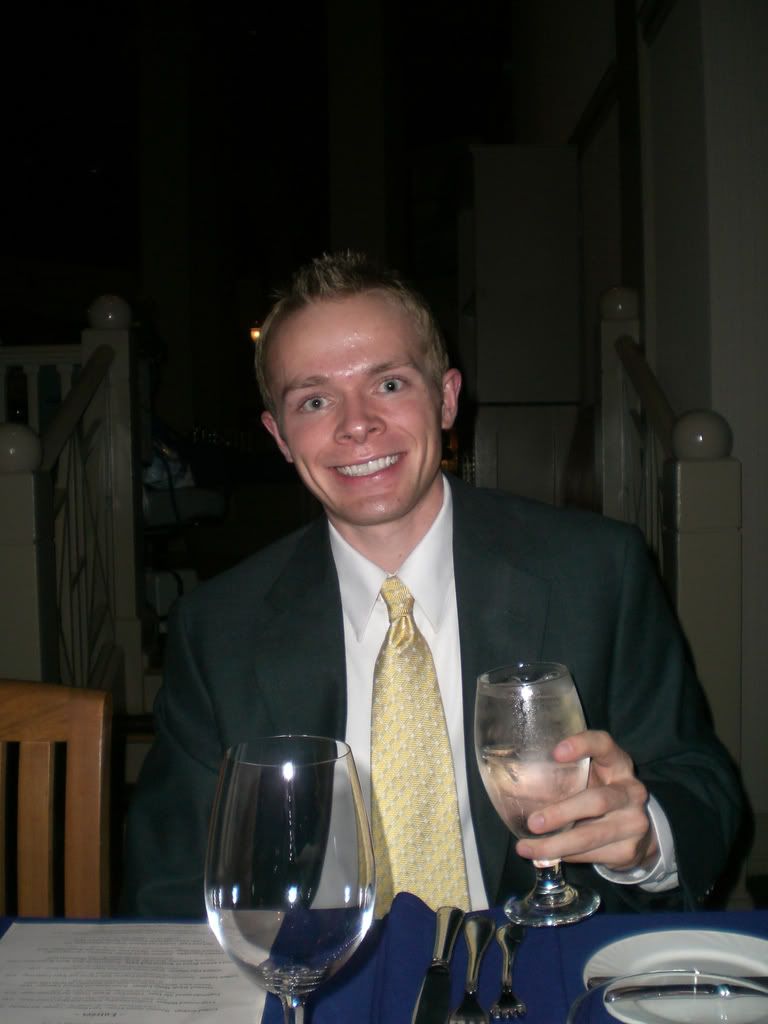 After dinner, we headed out to the dock to take the ferry over the Polynesian. We got there 10 minutes before the fireworks started. The night was chilly by Florida standards, so I gave Sarah my coat to wear.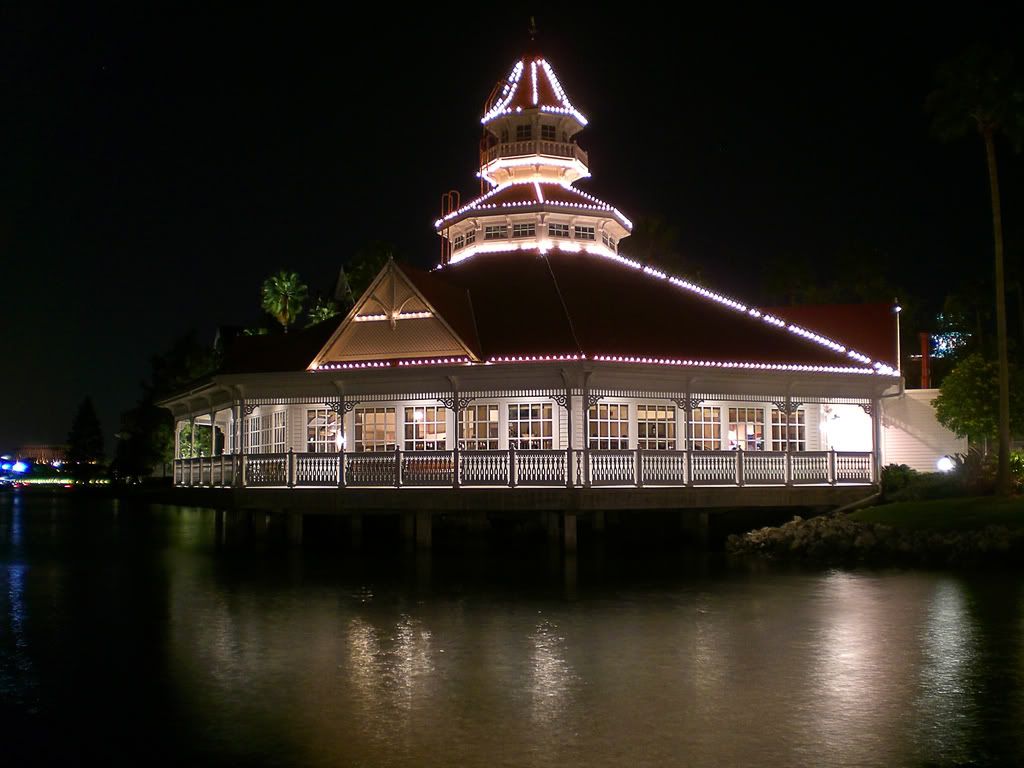 I set up the tripod, as I "thought it would be nice to get some pictures of Christmas Wishes." I had watched a video of Christmas Wishes several times on YouTube, so I knew exactly how the dialog corresponded with the grand finale, which was when I planned on proposing.
Right before the grand finale was going to start, I told Sarah it would be "nice if we had a picture of us with fireworks in the background." So I set the timer up, and went by her side (she didn't know I set the camera to take 10 pictures with a 2 second lapse between). This is when I planned on proposing.
Unfortunately, I forgot to press the shutter. I ran back over to the camera pressed the shutter, and hoped things would still time perfectly. I stood next to Sarah for a few seconds, planning our "pose". Then I dropped to a knee, and began. I planned on delivering a long, emotional proposal, but I was incredibly nervous, and I have no idea what I even said now. The pictures lined up perfectly, for the most part, and I think they speak for themselves: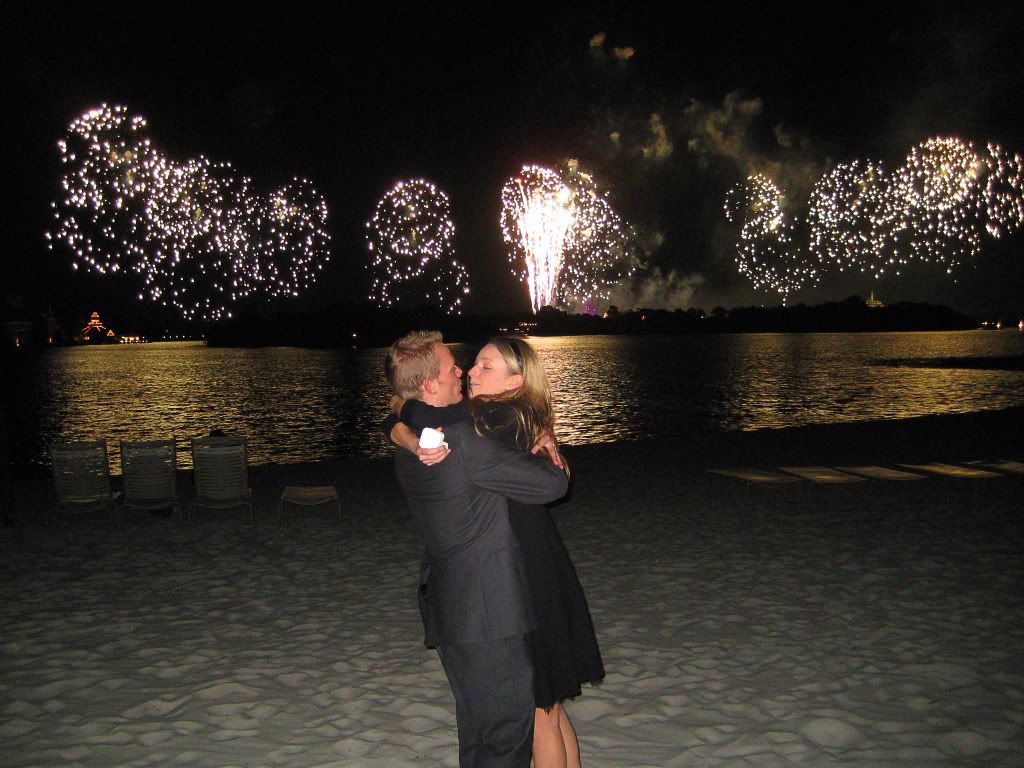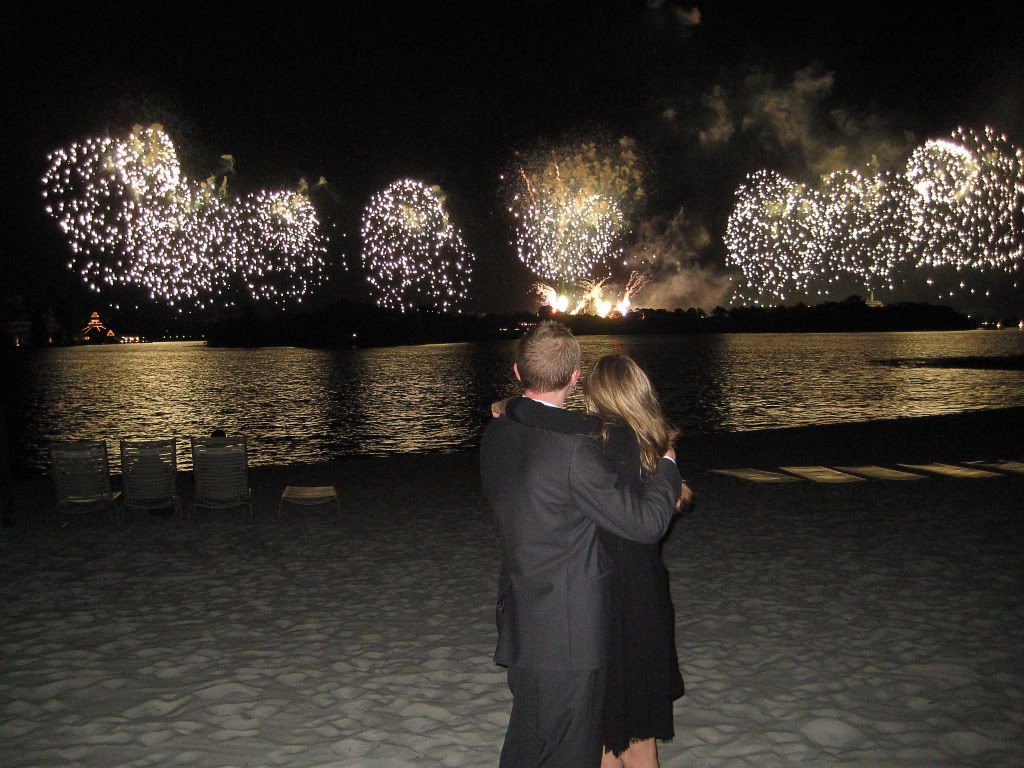 And that's the story. Afterwards, we went to the lobby, called our families, etc. We then returned to the resort, where we enjoyed chilled champagne while I spilled the details I had so difficulty kept from her for the past months.
Now, I am engaged to my best friend and couldn't be happier as we plan the wedding that will join us for the rest of our lives! Thanks for reading!
Last edited: