Premium Member
Original Poster
Bonjour les amis! Translated to English…Hello friends! I recently got back from France the trip included Disneyland Paris, Paris, Loire Valley, and Normandy. We had a fabulous time!
Who: me (Amy), my husband (Brad), my niece, and her mom/my sister
Why: My niece graduated from High School and it my gift to her. I guess it was Brad's gift to her too. When my niece was younger I told her I would take her wherever she wanted to go when she graduated high school as her present. She picked Paris. She did have guidelines to follow:
1. She had to get decent grades. She graduated with a 4.0 GPA. Some schools include A+ in GPAs, hers does not. So yay, straight A's.
2. She had to have a solid plan for after high school. She plans to be a teacher. As a teacher myself I have mixed feelings about this, but it is a solid plan.
3. She had to stay out of trouble, like no wild partying etc…. She was a good girl. Although I might have been too if someone had promised me a trip to Paris!
As for my sister (her mother) she was "just along for the ride", or that's what she told me.
So I planned for quite some time for this trip but from the time I offered it to her as an upper elementary kid to the day she graduated…wow did it go fast! Whenever I asked her what exactly she wanted to do in the trip her response was everything! She said she would leave it up to me since I'd been there before. But she did request the Eiffel Tower at night and in the day and of course Disneyland Paris. Oh and she wanted to eat baguettes!
Since my niece (A) is not a member here and I don't know if she wants her picture posted I won't be posting pictures of her. Or I may blur her face. Same with my sister. So you will have to just deal with picture of the lovely sights and if Brad and I. Haha!
Please let me know if you have any questions about DLP, planning or if any place we went.
Okay….bon voyage
Sunday June 18, 2023 Departure day
Brad, who some of you know is a pastor, worked and did his service in the morning. I picked up my niece and sister and we headed to Minneapolis for our flight later that day. On the way we ate Subway subs and chatted. At the airport we checked in fine and breezed through security in about 10 minutes. We all exchanged some US dollars to some Euros and had a drink.
The flight was non-stop and went fine. We all slept a little but it never got completely dark out which was weird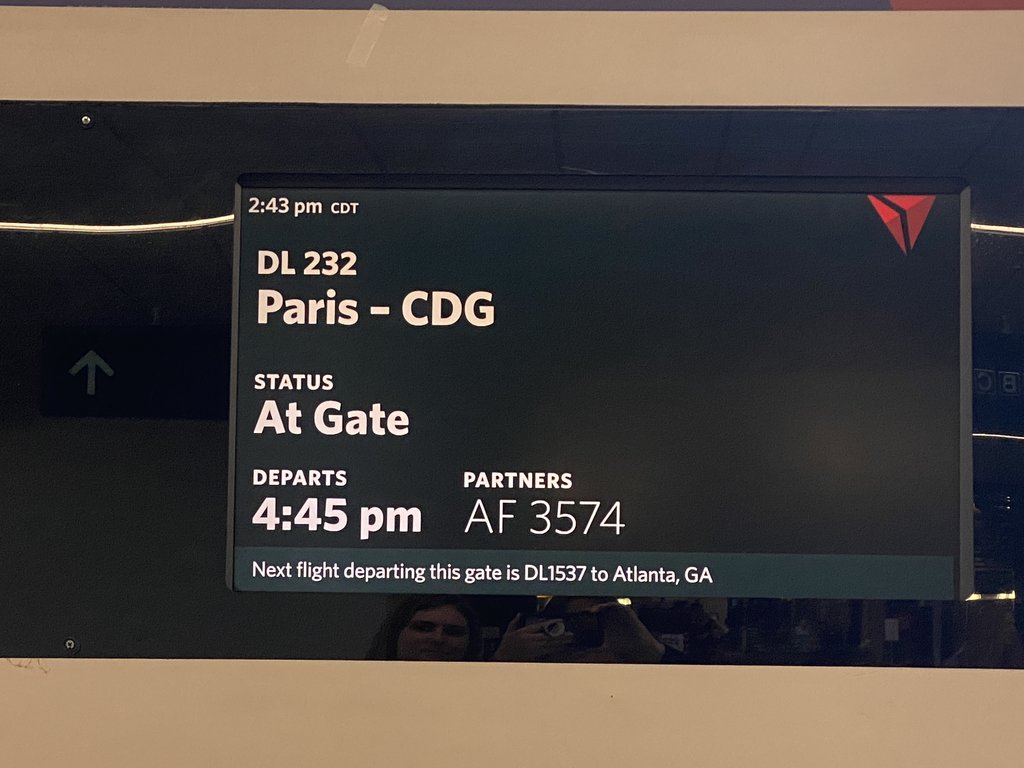 Soon we were starting our decent: look Miss it's France!
New day: Monday June 19, 2023
It was a little strange that it was now a new day and we didn't really have much of a "night". But we landed and we were ready to go. We just had to get through passport control and customs. That didn't take too long only about 15-20 minutes total. The driver I hired through Paris Disney Transport was waiting for us and soon whisked us away to Disneyland Paris.
I booked a driver instead of getting the shuttle bus or the TGV train because with 4 people and luggage it just seemed easier, it didn't cost much more, less stressful for me.
Soon we were dropped off at our hotel. The hotel we stayed at was Disney's Sequoia Lodge. Brad and I had stayed there before, it was the cheapest of the hotels situated on the "lake" which meant a shortish walk to the parks, we liked the theming even though I knew we would t spend much time there.
We passed by the Marvel hotel on the way. We never got a chance to check out the inside of the hotel.
I checked us in and got our tickets but our rooms were not ready so we headed to the parks. Even though Delta had fed us on the plane it was plane food so all of us were a little hungry. My niece which I will just refer to as A from now on had seen Mickey shaped pizzas online and that sounded good to everyone. We stopped at a quick service location in Disney Village, like a Downtown Disney, and got Mickey pizzas. It was a mistake for us all to get our own because they were bigger than we expected so we left stuffed.
The pizza was decent. It tasted like a Totinos pizza and while I know Totinos is t a high class pizza I like them from time to time (probably lets me relive my childhood). Now one thing Brad and I remember very clearly of our last visit to Disneyland Paris is how horrendous the food was. He and I only remember Bistro Chez Remy, Walt's, the breakfast at Sequoia, and the Buffalo Bills show as being palatable with Earl of Sandwich and Annette's being ok. So eating this pizza that tasted like Totinos was a huge plus that maybe the food would be ok.
And isn't the pizza cute?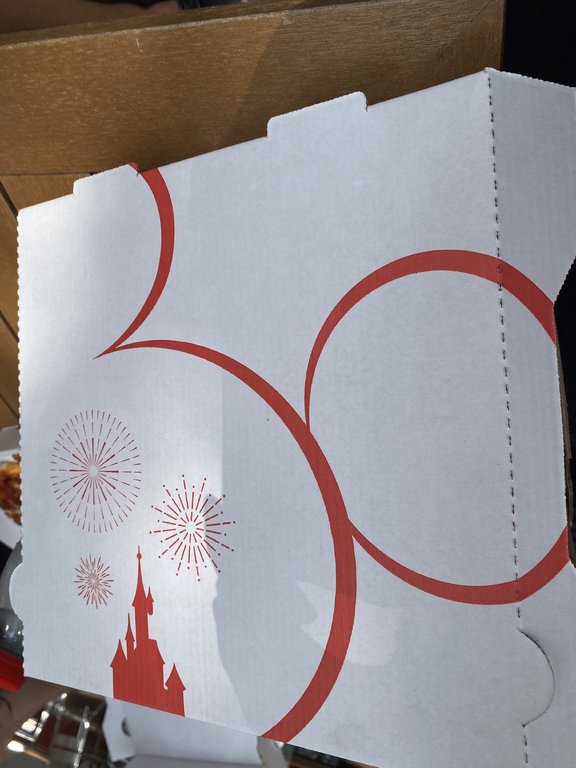 And the box was cool too. While ordering the guy in front of us was from Norway and he was flabbergasted that we were from America and had come all this way to Disneyland Paris, especially since in his words "we have the really Disneyland and Disney World so close". He was very interested in our California and Florida experiences. He was nice and actually ended up at the table next to us and kept chatting through our meal.
After lunch we walked to entrance of Disneyland and did some pictures in the pretty entry. At one point my sister (who I will refer to as T now) exclaimed. I can't believe the entrance would look like a hotel! And I was like that is because it is! The Disneyland Hotel is before the the main entrance but is currently closed for refurbishment.