Hello again my friends. We've just returned from our short, action packed, trip to the world. We had the hap hap happiest Christmas since Bing Crosby tap danced with Danny fu- oh wait, wrong thread! Anyways we had a great trip!
When:
December 6-9
Where:
Grand Floridian
Why:
Because we wanted to, and we were celebrating six years of wedded bliss!
Who:
Myself and my wife, A.
Featuring appearances by Bucky the popcorn bucket, The Orange Bird backpack, Chewbacca, Scrooge McDuck, Whoopi Goldberg, Creepy dancing reindeer, Sant Claus,
@Nunu
, and many more!
So just sit back, relax, and maybe try to stay warm if it's -4 degrees outside(looking at you
@ajrwdwgirl
!).
Travel Day/ Day 1. December 5-6.
I had been working nights all week and A works during the day, so we didn't get to spend any time together this entire week. This isn't unusual for us, but it did make packing a bit tricky, as we had trouble keeping up with what was in which suitcase. Also being a man, I didn't actually pack my suitcase until about an hour before we hit the road!
We handled a few errands at home and were westbound on the interstate by about 6:30 that evening.
Our usual rest stop on the way to Dallas. Anyone who's ever visited one will know why, it's like the Disney World of gas stations!
It's hard to tell from this photo, but that store is around 60,000 square feet of pristine clean awesomeness! It has 84 gas pumps and over 70 restroom stalls!
Anyways, we arrived at our good friends' place on the outskirts of Dallas at around 8:30. We were sleeping here for the night to avoid leaving our house in the middle of the night,or paying for a hotel near the airport. We quickly went to bed for a few hours rest, and were up and ready to head to the airport around 4 the next morning.
We got dropped off at the airport around 430 for our 6 am flight. Normally this would leave plenty of time for a nap in the terminal, but for some reason security at Love field this day was SLOW! First they stopped the line to bring in the dog, but then when the dog arrived, they only let people through 2 at a time. We ended up being in line for nearly an hour. Fortunately we still had time to grab a bite at whataburger for breakfast, and catch a small nap at the gate.
Our plane boarded on time, and we were in the air a little ahead of schedule. We had the smoothest, fastest flight we've ever had to Orlando. With a strong tailwind, the flight tracker showed ground speeds of nearly 700 mph! We were at the gate an hour and 40 minutes after takeoff. Our chief flight attendant was the absolute best we've ever seen. He was a huge Disney nut and was super pumped to be working the Orlando flight(he even wore his ears), his safety spiel was hilarious, and as we taxied the runway at MCO he played a little Disney trivia with everyone. When he gave his farewell message, people were literally screaming and cheering for him!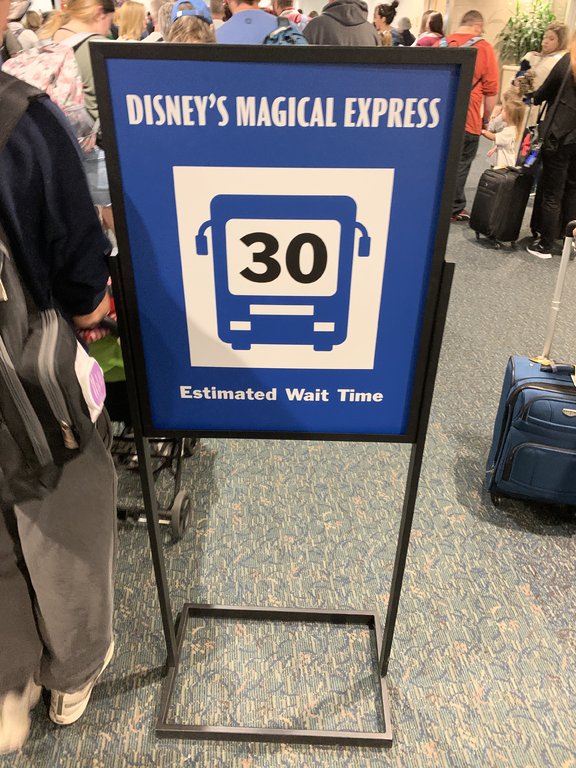 This was painfully accurate today, but we didn't mind too much!
We were the last stop on the magical express, but we finally made it to the grand a little before 11 AM!
The lobby is absolutely beautiful this time of the year!
The gingerbread house is really incredible to see! This was my favorite of all the special lobby decorations that we saw!
We grabbed a snack and headed outside to enjoy it.