Well-Known Member
Original Poster
Just wanted to let you know that I'm b-wolf95. Yeah, kind went on an Anarcey spree and had my species changed somewhere between all the crimes, it was a whole thing.
Duly noted. I will go back and edit things accordingly.
Y'all Chuck E. Cheese's may be good idea for kids for Village Marketplace near by Pleasure Island as it could opened in mid 1990s as the kids will enjoy to playing games, eating pizzas as birthday parties with Chuck E. and his gang.
Sorry, Chuck E. Cheese's will not be a part of Disney Springs. Besides, another popular, child-friendly restaurant is setting up shop in the Marketplace, anyway.
~ ~ ~ ~ ~

Village Marketplace


​
Ever since the Lake Buena Vista Shopping Village opened in 1975, the Marketplace has served as Walt Disney World's biggest hub for merchandise. As part of a massive refurbishment this area of Disney Springs received in 2021, the Marketplace was divided into two distinct areas, both united under the name "Village Marketplace." In the area closer to Town Center and Pleasure Island, known as "the Pierside", the American Craftsman style is prevalent. The Pierside was established in the 1930s, in the wake of the success of the marketplace established in the residential area.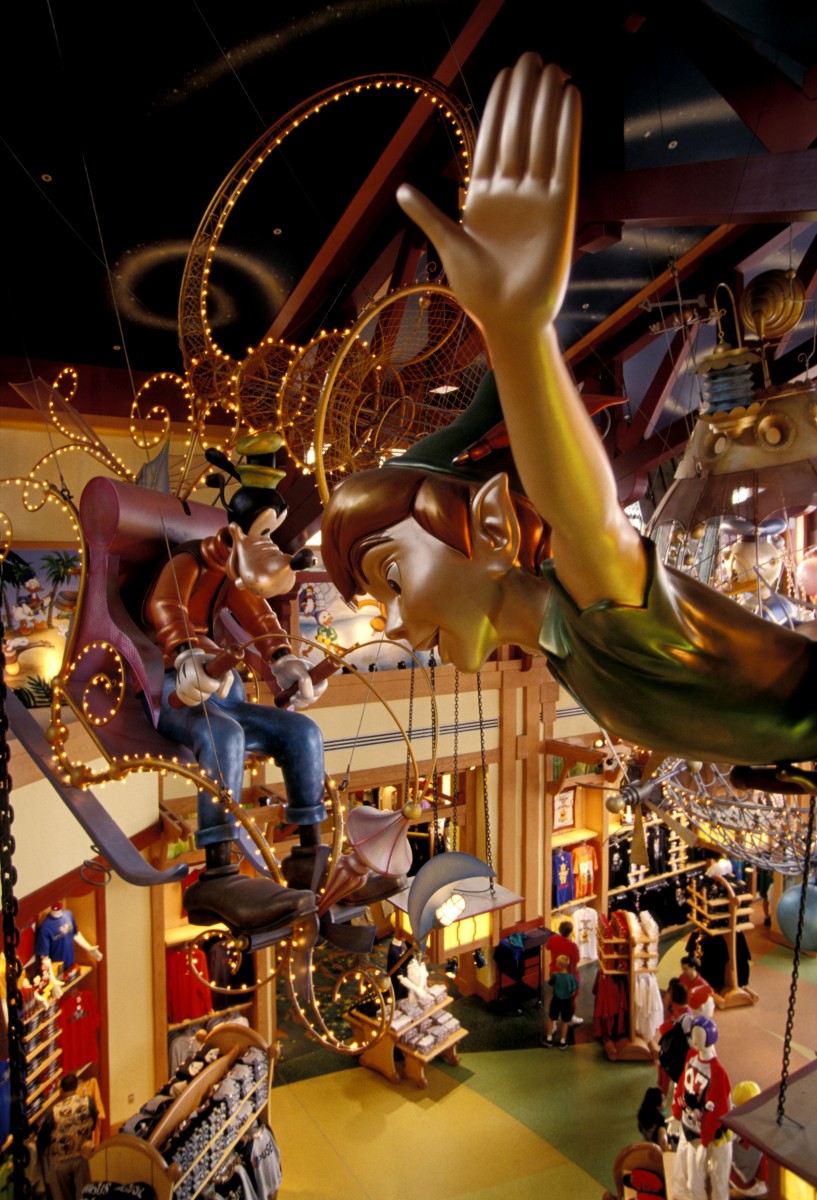 ​
Shopping at the Pierside
World of Disney: The largest Disney store in the world, World of Disney offers every kind of Disney merchandise you can think of. Elaborate murals and giant character sculptures depict the various Disney characters, while a giant screen in the center of the store plays classic Disney clips.
LEGO Imagination Center: Marked by a giant LEGO sea serpent and various LEGO depictions of classic Disney scenes, the LEGO Imagination Center offers all sorts of the popular building toys. Minifigures, elaborate kits, and even LEGO-inspired clothing are on sale here.
Crystal Arts by Arribas Brothers: Offering crystal goods, with craftsmen offering live demonstrations.
Basin: Offering bath, beauty and other healthcare products.
Sir Edward's Haberdasher: This favorite from the days of the Lake Buena Vista Shopping Village sells quality men's clothes.
Twenty-Eight & Main: Neighboring Sir Edward's is this old-fashioned shop selling vintage ensembles for men and women. It's quite a nice place to go if you want to find something to wear for Dapper Day.
Von Otto's Antiques: Named after Walt Disney World's original antiques buyer, Otto Rabby, this shop specializes in all sorts of antiquities from all over the world.
Tren-D: Offering the latest and greatest in Disney apparel and accessories, this is a store for any and all fashionistas.
Dining at the Pierside
McDonald's: Of course, one of the most famous restaurants in the world had to have a location at Springs. As part of the Disney Springs transformation, McDonald's opened a new location along the banks of the springs (where T-REX stands today). In a style similar to its old location, an elaborate carpentry style, marked by a clock tower, blends in with the American Craftsman stylings of the Pierside. Inside, artistic depictions of the McDonaldland gang – Ronald, Sundae, Grimace, Hamburglar, Birdie, and all the rest – can be found along the walls.
In addition, a new eating garden was built, allowing guests to eat with a great view of the springs. The eating garden involves a few tables with umbrellas to protect guests from the elements, as well as hidden fans and misters to alleviate the Florida heat. Of course, all the classics are on the menu, from Filet-O-Fish and Chicken McNuggets, to French fries and McFlurries, all the way up to the classic Big Mac. Another McDonald's on Walt Disney World property can be found along Osceola Parkway, along the road leading towards Disney's Art of Animation Resort.
​
Ghirardelli Soda Fountain and Chocolate Shop: If you want some of the finest ice cream treats in all of Walt Disney World, drop by here. Sundaes, shakes, floats and malts are all on the menu here, in addition to that famous Ghirardelli chocolate.
The Daily Poutine: A snack stand offering upscale takes on a Canadian delicacy.
Jamba Juice: Built along the water's edge, this is the place to go if a smoothie is what you're seeking!
Dockside Margaritas
Joffrey's
Starbucks
Wetzel's Pretzels

The residential area itself, known as "the Village", is greener with winding paths reminiscent of walking throughout a scenic park in a residential area. Many of the buildings in the area stay the same as they're reminiscent of a residential area, but some older buildings are reskinned to become a part of this scenic residential area. Plus, given that Disney's Mythica was finishing up construction around the time the refurbished Marketplace opened, these worldly influences helped serve as a nice gateway for those who wanted to visit the new park after spending some time at Disney Springs.

​
Shopping in the Village
Thingamabobs: Thingamabobs is a store dedicated to various pieces of Disney memorabilia that fulfills specific niches for fans while providing interesting things to look at for the regular guests. Much like Ariel, the store is full of a random assortment of merchandise, but unlike her, there's definitely more than 20 thingamabobs! Some examples of merchandise that can be bought here is a replica of a Tron disc, a Thunder Mountain Railroad Train miniature, a miniature replica of the Shrink Ray from Honey, I Shrunk the Kids, and many other pieces of memorabilia that a niche Disney fan would love to have.
Aromas: As if the name didn't tip you off, Aromas specializes in all things scent – candles (both one and two wick), incense, fragrance plug-ins, and wax for wax melts.
The Art of Disney: An elaborate display of art and animation, with all sorts of unique goodies on display: cels, lithographs, sculptures, paintings, figurines. Interviews with prominent animators and demonstrations of animation are often held here.
H&M: The exterior of this two-story store is reminiscent of Coastal Contemporary throughout Florida and combines the older wooden looking buildings with the newer buildings that incorporate less wood in a perfect blend combining both mediums. This store will be two stories with multiple entrances and exits. The home belonged to a former seamstress that lived at Springs, and this can be told by the decorations within the store with concept drawings depicting various fashionable outfits and old style plush mannequins and stands that show off the store's clothing.
Once Upon a Toy: Redesigned to be housed within a Germanic Baroque abode, this place is every kid's dream come true. The shop has been redesigned, top to toe, to be themed around the abode of a German toymaker. Charming wooden architecture and a whimsical atmosphere mark the store. Toys and games are on sale here, as well as, as Walt Dated World said of its predecessor, Toys Fantastique, "high quality toys ranging including Breyer horses, Madame Alexander dolls and teddy bears made from mink fur." There is even a Build-Your-Own Potato Head station, and an elaborate display featuring the resort's famous Monorail Playset. A toy Monorail glides past various toys depicting the various landmarks of Walt Disney World.
Disney's Days of Christmas: Continuing the Germanic Baroque architecture is this relocated and expanded store. The exterior is decorated with pine garland, and the rooftops are miraculously covered with snow. The smell of Christmas pine is pumped outside and inside the store. The interior of the store resembles what one would think Santa's Workshop would look like with plenty of work tables holding decorations for sale, walls of ornaments, various Christmas trees on display, and even a faux fireplace with stockings decorating it. Oh, and be sure to look out for displays all around the store, both inside and out, centering around a Disney take on "The Twelve Days of Christmas."
Bibbidi Bobbidi Boutique: Wrapping up the block of Germanic Baroque architecture is this iconic Disney experience. Here in this enchanted salon, children can be transformed into their favorite Disney characters.
2R's Reading and Riting: A French country cottage sitting across the way from Bibbidi Bobbidi Boutique houses an upscale bookstore.
Flower Garden: Specializing in plants – both real and fake – as well as elaborate floral arrangements. Found in the same complex that houses Earl of Sandwich.
The Spice and Tea Exchange: For tea enthusiasts, this shop offers all sorts of teas, spices, sugars, mugs, graters, and all sorts of other unique and relaxing wares. Found in the same complex that houses Earl of Sandwich and the Flower Garden.
Windjammer Dock Shop: You have to enter through here in order to reach Cap'n Jack's. The shop naturally sells all sorts of nautical things.
Pearl Factory: Retrieve a pearl from within an oyster and turn it into a most memorable souvenir.
Rainforest Cafe Retail Village: Merchandise – toys, clothing, snow globes and other home decor – inspired by the famous restaurant.
Goofy's Candy Co.: An elaborate candy store, with all sorts of confectionery on sale. It's also quite the popular place to have a birthday party!
Lefty's: A kiosk offering everything for left-handed people.
Swings n' Things: A waterside kiosk selling hammocks.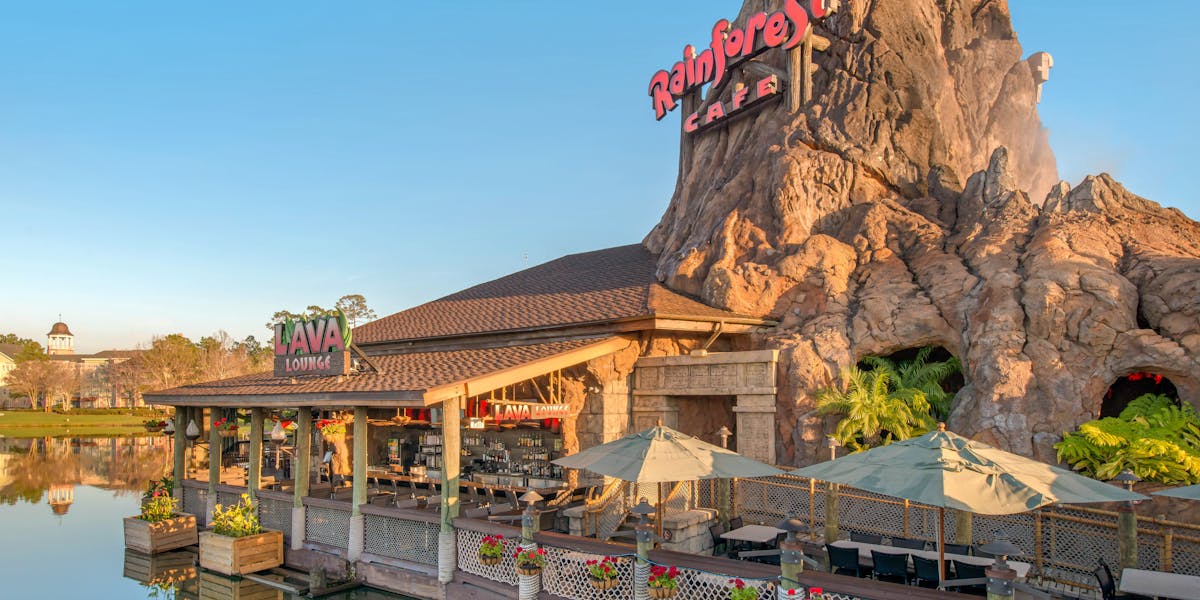 ​
Dining in the Village
Cap'n Jack's Oyster Bar: This Marketplace hotspot has been delighting guests ever since the Lake Buena Vista Shopping Village opened in 1975. This adults-only lounge specializes in cocktails and appetizers, and since this is a nautical-themed eatery, seafood is the biggest name on the menu. Plus, guests can enjoy these bites to the sweet sounds of live jazz performances.
Rancheros: One of the many immigrants to come to Springs was an Argentinian named Sebastian Fernandez, a man with knowledge of how to get good cuts of meat out of the cattle from years and years on his family's cattle ranch. When it came time to convert his ranch home into his dream steakhouse, he took the opportunity and ran with it. Guests are welcomed into the Fernandez household which has been converted into a restaurant, this is evident from the decorations throughout the restaurant being old photos of Fernandez's big family being rancheros in Argentina, heirlooms for Argentina, and other knick-knacks.
Rainforest Café: A giant volcano marks the entrance to the Rainforest Café, the legendary restaurant utilizing Audio-Animatronics and unique greenery to simulate the feeling of being in the rainforest. Within the walls of the Rainforest Café, guests dine in a heavily-immersive rainforest environment, complete with raging apes and elephants, heavy rain and sudden thunderstorms. There are also living animals in the form of fish, who live in a giant saltwater tank. On the menu are salads, sandwiches, steak, seafood and pasta, in addition to many unique desserts – including the legendary Volcano cake! This particular location is also home to the Lava Lounge, a full bar.
Earl of Sandwich: The famous sandwich shop set up its very first shop right here in Springs. I'm not kidding – the first Earl of Sandwich restaurant opened in what was then Downtown Disney in 2004, and has been delighting guests ever since! Their famous "hot sandwiches" are the biggest draw, but salads, wraps, and a wide array of desserts are also quite pleasing.
​
Entertainment at the Village Marketplace
Captain's Tower: This Disney Springs icon is a popular place for various events throughout the year.
Marketplace Carousel: A classic carousel, hand-crafted in Italy. During the refurbishment, the carousel was relocated to a new location surrounded by a stunning garden of native flowers and shrubbery. This new prime location enhances the carousel by giving it a better atmosphere, but the carousel retains much of its charm.
Marketplace Train: Found on the outskirts of the Captain's Tower, the classic Marketplace Train remains in place with some new updates! Its backstory now ties it to the Tower as the owner – Cap'n Jack himself – is also known for collecting miniature trains, and has set up a train for guests to ride. The miniature train now goes around a miniature set depicting modern day Springs with plenty of miniature details such as store logos, Disney characters shopping and dining, miniature food, and more!
Waterside Theater: This theater, located across the way from World of Disney, offers occasional entertainment throughout the year. It's quite the common place for Festival Disney and Disney Magic Music Days participants to perform at. During the holidays, the stage plays host to The Glory and Pageantry of Christmas, a live re-enactment of the Nativity.
As one can tell, the Village Marketplace was a concept I borrowed from
The Sorcerer's Apprentice
, as devised by Team Garfield:
@tcool123
,
@DashHaber
,
@MickeyWaffleCo.
,
@montydysquith-navarro
and
@TwilightZone
.
For the most part, the way I have the Village area of the Marketplace set up would follow
their map to a T
, with the following exceptions: The Art of Disney would replace Amazon 4-Star, Rancheros moves and replaces MrBeast Burger and Kylie Cosmetics, Once Upon a Toy remains
(so bye-bye, Build-a-Bear)
, and Goofy's Candy Company is rebuilt across the way from Thingamabobs – this is because where it is on the map is where Bibbidi Bobbidi Boutique is
(both in my Mirror universe, and in real life)
. And of course, this takes place in a universe where the pedestrian bridge spanning the lagoon was never built. Therefore, Cap'n Jack's remains open. Hence, Rancheros moves.
Join me tomorrow, February 27, for a trip to the West Side!