"Sure it's nice to open a gift that's tied up with a perfect bow. But the greatest present of all was given to me long ago. It's something I would never trade, it's the family that we've made. 'Cause when we're together, I have everything on my list. And when we're together, I have all I've wished. All around the Christmas tree, there'll be dreams coming true. But when we're together, then my favorite gift is you."
"When We're Together" has held a special place in my heart since the first time I watched "Olaf's Frozen Adventure." It is even more special now that we have the gift that we prayed and wished for, for so long. I am so beyond thrilled to be preparing to take our son on his very first Disney trip, and I can't wait to take you all along with us!
Who: By this point, many of you know me (Katie) and my hubby Jason
And now we have a little sidekick, our son Lincoln! He will be six months old on this trip.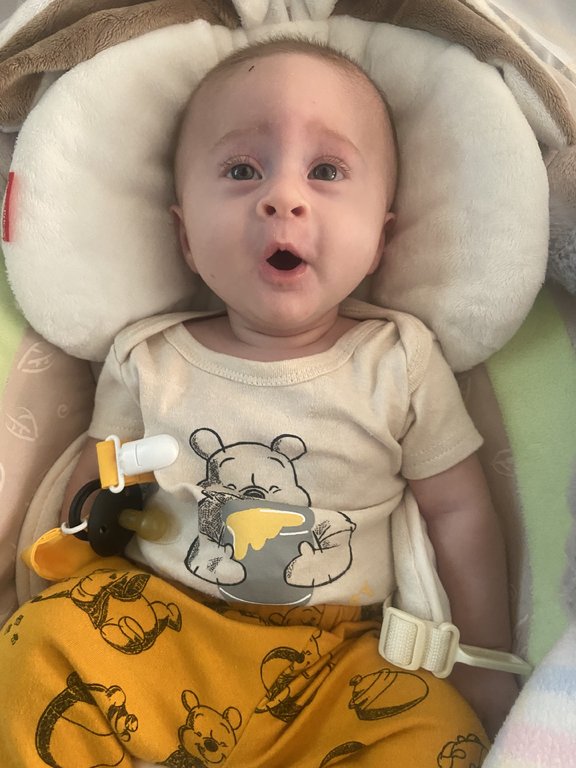 We will also be meeting up with some of my extended family while we're down there! My "Disney Aunt and Uncle" - they are FL residents and DVC owners; their son (my cousin) and his wife, and
their
son who is 8 months older than Lincoln. Not sure if I'll be posting any pics of the family on here, but you'll here about them I'm sure, so we'll call them Aunt D, Uncle B, C (my cousin), E (his wife), and CT (their son).
When: Saturday, December 11th - Thursday, December 16th! We normally do our holiday trip the week after Thanksgiving, but we postponed it this year so that we could meet up with the fam while they're down there.
Where: Pop Century! Remember when I said that I didn't think Pop was worth the extra money over an All Star Resort?
We did enjoy the Skyliner for getting to/from HS and Epcot, although I don't know that it's really worth the price jump from the All Stars to Pop.
Yeah, I ate my words as soon as we started planning this trip. We want to be on the Skyliner route, since you can push a stroller right onto the Skyliner. I wouldn't be surprised if we drive to AK and MK to avoid lugging a stroller onto the bus!
Why: A lot of people are probably questioning why anyone in their right minds would take a six-month-old to WDW. Well, first of all, I never said we were in our right minds.
In all seriousness, this is something that we had discussed long before we even got pregnant. We've known for a while that our child would grow up going to WDW at least once a year (as long as we are able to financially make that happen
), so we never saw the point in waiting until they were "old enough" to go on their first trip. We've always said that we wanted to wait until our first child was at least six months old before taking them for the first time, and Lincoln will be conveniently turning six months old on December 5th. Not to mention, he'll be essentially free! No, he won't remember this trip, but Jason and I will never forget it. Plus, that's what photos and videos are for!
We've set our expectations for this trip basically on the floor. If we get on one ride at each park, great. If we have to cancel our dining reservations and eat at the Pop food court every night, no biggie. We know we'll be spending less time in the parks than we have in the past, we're just excited to be going back! By the time we go back, it will have been a little over a year since we returned from our last trip. This is the longest we've gone between trips, so we are ready to be back in the Disney bubble!
Up next: Dining reservations and general plans
Last edited: