That's right...I'm back! And still kind of in shock! It's been one HE
of year right?? Our original trip was for April 2020 but then the Rona happened. So we moved it to the beginning of July thinking "it'll have to be done by then right??" Wrong! The Rona decided we didn't need a trip then either. So we gave up and decided to just cancel.
But then a few months later Disney sends you an email...

Let's go over the intros and details!

Who: Me (Megan), my husband (George), and our daughter Ryleigh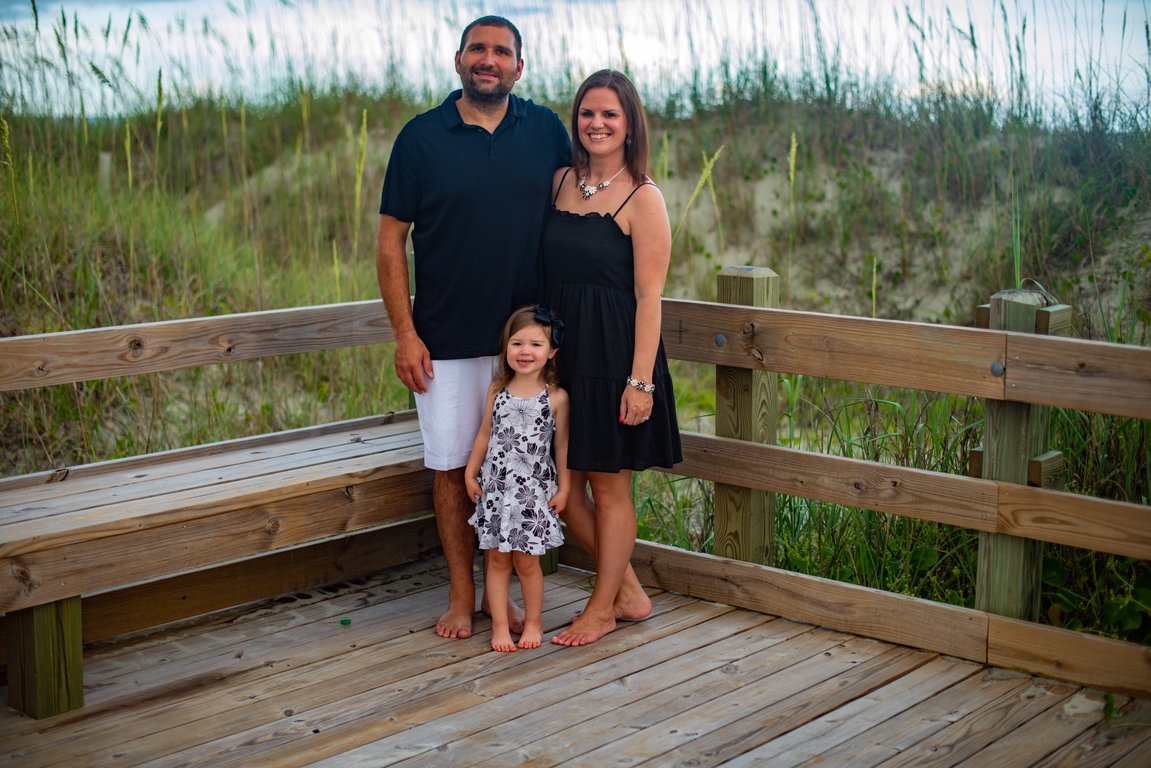 (Photo from our last minute "since we can't go to Disney" beach trip which consisted of eating at our condo and staying away from people on the beach)

When: November 5-8

Where: Art of Animation - Little Mermaid section (I know it's the furthest away but we're only 3 people and Ryleigh has become quite the Disney movie fanatic during quarantine so I think she'll love seeing the different sections)

Why: Does being tired of 2020 count????
Our lives got crazy around May this year. My husband was laid off for 6 weeks during quarantine. (Stinks but also nice when he has worked 6/7 days a week during our whole relationship). During this time, he helped his parents do some work around their house and clean out 30 years of "memories" that they have accumulated. (2.5 dumpsters full
) This lead them to decide that they were ready to downsize to a smaller home or apartment. Before my husband got laid off, we had been looking at new homes because we were ready for some more room. (God always has a plan!) So we decided to purchase their house once they found somewhere to move to. They built it when my husband was around Ryleigh's age and I love sentimental stuff like that. We figured if everything happened within the year that would be perfect. But it was more like a couple weeks
They were just browsing at options and within 3 weeks found somewhere that they couldn't pass up. By the end of June, they purchased it. We put our home on the market and within 4 days we had 7 showings and 3 offers. We signed contingency papers 5 days after the house went on the market. Our original closing was the beginning of August so that gave us one month and a few days to get them into their new home, clean out whatever they left behind, and get our stuff moved into our new/their old house. And that included one week being blocked out because we booked our last minute beach trip before we knew all of this would happen and we couldn't get out of our reservation. (My in-laws went too) Holy whirlwind!

Mixed in with all of this, life kept throwing us some good ones....we celebrated our 10 year anniversary, had to say goodbye to one of our dogs
, and our home kept giving us little surprises like a freak accident breaking our new air conditioning unit! But we managed to make our deadline to close and.....our closing got delayed!
Our buyers decided they wanted to start making some demands that needed to be met before we closed. We complied and were set to close the end of August and....it got delayed AGAIN!
More demands. We complied AGAIN (and also informed them that if they pulled that again, they would be finding a new house to buy). Naturally, our household was quite stressed. I had been reading trip reports and seeing posts of low crowds and the itch started. I mentioned to George if we closed by my birthday, we should book a celebratory trip to Disney. He humored the idea and then the signs started....
*I get an email the next day from Disney with a discount code and it was a price that we couldn't pass up but we weren't for sure yet

*During our closing last week (it FINALLY happened!!!), our buyers realtor started talking Disney with me because she remembered seeing all of our Disney decor when she showed our home

*The check we got at the closing was a tiny bit more than we expected...almost EXACTLY what my hypothetical trip would cost

*The cost of the flights is EXACTLY the amount of credits we had from our canceled trip

*Disney Jr recently started showing WDW's Christmas commercial and Ryleigh gasps every time and proclaims "I want to go there and ride Bumbo"


So to finish out my birthday yesterday, WE BOOKED OUR TRIP! We may be crazy for doing this during a global pandemic but we need some magic! I'm not doing too much broadcasting of our trip because everyone's got an opinion (entitled to them but it's to each their own). But I figured my fellow magicians were a good company to share the news with!