Welcome home!
Said no one in my house upon my return.
Who went? Well.....if you have read any of my previous trip reports (
Christmas
,
February
,
March
and
April
) you know I multitask when in Florida. This trip was no different. My oldest son, X, was finishing up his second year of college in SoFlo and I went down to help him pack up and move out.
The original plan (why is there always a plan A, B.. etc?) was to pack him up, drive his truck to WDW and put it on a transport. Then we would spend a few days in WDW and fly home. I even bought the plane tickets. But, do you know how much it cost to transport his car from Florida to Long Island? Just north of OMG!!!! Plan B: no transport, no flight home. We would be driving. We also had to trim 1.5 days from our Disney stay to allow for travel time. (Heavy sigh)
We stayed at Saratoga Springs in a studio,
May 10-13. I bought him a two day park hopper as he does not have an AP like the rest of the family.
Ok, we have the who, what, where, when and why. Lets get to it!
DAY ONE/MAY 10
I woke up at 4:00 am and left the house at 4:43. Ant drove me to the airport and we got there at 4:57 (he was driving slow this morning). My flight was at 6:10 going into Fort Lauderdale. My son's school is equidistant between FLL and West Palm (PBI) and they both have the early morning flight. One is 6:00am and one is 6:10am so I usually book the cheapest. However, if I am renting a car I prefer FLL. PBI has their car rental offsite and it can be a hassel.
The morning before, at 6:10am I had checked in and gotten A37
. What? I havent seen the A's since SW started charging for better boarding assignments. Maybe the flight is empty?
The flight was not empty! The announcement came that there would be about 10 empty seats. I sat in an aisle in row 4. ROW 4!!!!
There was a gentleman at the window and our middle seat remained empty. Go figure. I have decided that I do not love sitting up that close. I am not sure why but it felt different, bumpier or something. Perhaps I was thrown off because I had a shortened horizon to look at? Or maybe I am just used to the back? Who knows.
It was an uneventful flight and we landed 20 minutes early. My son had a 10:00am final (seriously, who gives finals on the very last day of class?) and couldn't be there when I landed. I could wait but it would take him 30 minutes each way which would have us close to noon. We still had a few trips to make to the storage unit and I wanted to be on the road to Disney by 1:00. We decided I would Uber.
Walking to the ride share area I passed the shuttle for the tri-rail. The tri-rail is a train that originates in Miami. I am not sure how far north it goes, I think it goes to West Palm. Thus the tri, as in three airports (I think). Anyhow, there is a station not 5 minutes from my son's school. I made a mental note to look into that for next time.
I found Marco, my Uber driver and said, "hello, how are you today?" He said, "NO English". Great. We hit some traffic and my 30 minute $36 drive became a 45 minute just shy of $50 (with tip) drive. On the plus side, I had time to research the tri-rail. If I read correctly there is a Free shuttle from FLL to the station and my trip to Boca Raton would cost $5! and take 30 minutes. Sorry Marco. No more Uber from FLL for me!
I had Marco drop me at a Dunkin Donuts near my sons school. (Yes,
@VincciL
, the one on Yamato). I got a tea and an egg sandwich and sat at a table outside.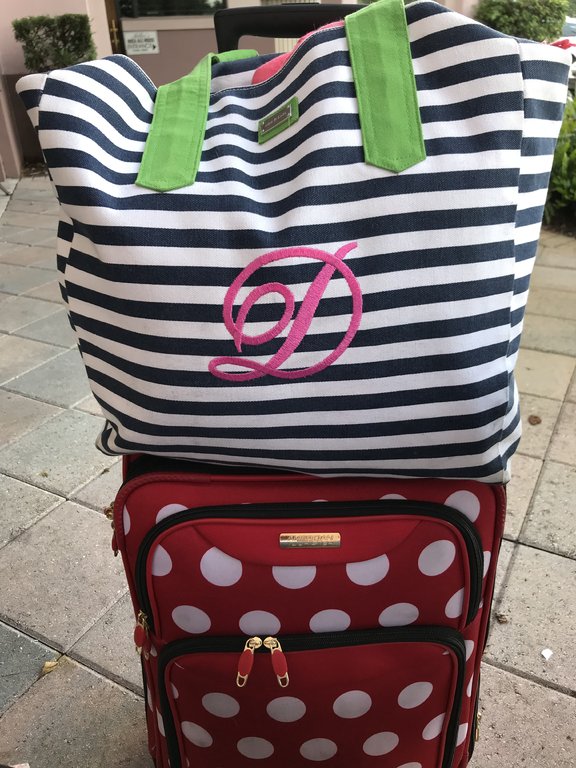 It sprinkled the entire time. Of course it did. It's ME!!! This picture is of the sprinkles on the table.
This picture is of a lovely palm tree I was sitting under.
I do love palm trees.
I was sitting there, eating, checking TR's to see what
@Back!Elbow!Shoulders!
@NunuBelle
and
@NothatDonald
were up to in their livish reports. I also knew
@Tuvalu
had left the day before and wanted to see if she made it home safely. A man pulls into a parking spot just in front of me. Then another man drives up and words are exchanged. Man1 cut off man2 or something. Man1 invites man2 to say it to his face. Man2 parks. Man1 gets out of his car and he is a huge bald guy (why are the always bald?) Man2 gets out of his car and he is smaller than man1 but not small. They are yelling, cursing etc. Man1 gets in man2's face. Man2 pushes man1 away. Uh oh. Do I call 911? This is not going to end well. Man1 just keeps going back in man2's face. Man 2 is, esentially cornered and keeps pushing man1 away. What do I do? Millers Ale house had just opened and I was hoping someone in there, having dealt with belligerent drunks, would know what to do. A scrawny, barely post pubescent guy comes out of Millers. Really? But another guy and his wife happen to be walking by and the guy (we can call him guy3) is bigger than man1 and man2 put together. Now man1 is throwing out racial slurs (man2 is hispanic man1 has to be a FLID) guy3 puts himself between the men. Man2 says he just wanted a cup of coffee. Guy3 says "I will buy you that cup of coffee" and walks him into DD with his arm still around him. Man1 turns to run his errand, notices me for the first time and says "sorry, that was bad" then went into Jersey Mikes to get his sandwich.
All before 11:00am.