Hey Everyone –
My daughter convinced me to jump back into the TR game.
She says this is going to be an epic trip, and I must agree.
It is the first time the family 4 pack is back together in almost three years (wooHOO)!
It's going to be our longest WDW/Uni Vacation ever (almost thirteen full days)!
Even more exciting?? We've got a couple of new (newbees) players in the game AND my daughter said she would help me along with the TR, so how can I not??
What I will be submitting for your approval is a
1 Pre-Trip Report
1 Live Trip Report
A regular old trip report seems like it MIGHT be too much work, but we will see.
Let's start with this PTR and see where it takes us.
We are less than 2 weeks away from our "Epic Trip" so I probably shouldn't waste anymore time.
Let's get rolling.
The Players:
Shookie, Mrs. Shookie, Son, Daughter...and their other halves!
We've always been park commandos, squeeze every little bit out of our vacation type family, so this will be a true test for our kid's other halves. I should probably warn them...but what fun would that be?
The pressure is on.
Anyway - here we are:
Daughter: Avery (25)
Son: Pace (21)
Shookie & Wife: Enzo & Tina (50 something old people)
All of us together on the last trip in 2018 last time we went as the family four-pack
And introducing our two new players:
(My Daughter &) Boyfriend: Chris
(My Son &) Girlfriend: Jill
Both Chris and Jill have been to WDW when they were young, minus a quick 4 day trip Avery and Chris took in August 2019 (That picture above is from that trip) anyway they're basically WDW newbs. Well as newb as you can be living in this household. These kids have been subjected to all things WDW since the day they started dating our kids.
Here is someone that is part of our immediate family that won't be making trip with us.
Meet Chewbacca:
I think he may have sensed he was NOT going to be part of this trip because yesterday he decided to take a little trip of his own.
First let me just let you in on something. My wife worries about that dog like you would not believe. She worries about EVERYTHING with him. What he eats, what he doesn't eat, is he sleeping ok, Is he hot is he cold, is his fur too short, too long, did he have bowel movement? It drives the household crazy.
Of course, when I first decided I wanted to start taking him for rides in the car she yelled after me "hold onto him, he's going to jump out the window"
I laughed at her and said, "come on, what kind of dog would do that?" Well, I know what kind of dog would do that now.
The kind of dog I own. The kind of dog that goes by the name of Chewbacca.
Chewie and I usually cruise around our neighborhood or out to get gas right down the street. He's just starting to get used to the car and honestly beside tug of war with his rope toys, these rides are part of how we bond.
I will keep the window down and he'll occasionally pop his head out. But usually just sits on my lap. Well yesterday I was pulling up to our house after our trip and I saw my neighbor.
So I waved hello, well apparently Chewie wanted to say "hi" too, so he jumped out the window of our CRV.
Yup. You read correctly he jumped out of a moving vehicle. He tried to land on his feet, but from that height with the car moving it kind of turned into a barrel roll/chest plant sort thing…I don't know how he's alive or how in the world he doesn't have any broken bones, I just don't know.
He did get the wind knocked out of him, but THAT'S IT. He got up and tried walking up the sidewalk to our house, but I tentatively picked him up waiting for him to yelp because his ribs were shattered or maybe his leg would be hanging there limp, I don't know, but there was nothing wrong with the dog. I don't get it.
I am grateful as heck but I just don't get it. My neighbor sat there with her mouth agape. We both couldn't believe what happened.
Yikes - I would NEVER have forgiven myself. My wife would have never forgiven me that's for sure.
This PTR would have been titled "Shookie's Solo Trip to the Doghouse, and Other Tales of Woe"
Did I mention I am grateful? Wow.
Sorry, I digress……back to my PTR.
The Dates
May 2nd – 14th
The Plan:
1 Night at an offsite hotel
2 Nights 3 Days at Universal Royal Pacific
8 Nights 9 Days at WDW (gotta save the best for last right?) Wilderness Lodge Boulder Ridge Villas
1 Night at an offsite hotel
The Breakdown:
May 2nd- Flying into MCO late afternoon. Shopping for snacks and beverages and staying at a cheap hotel acquired via Priceline.

Dinner: Maybe somewhere at DS
May 3rd– Checking into Royal Pacific at Universal first thing in the AM hitting the parks. IOA\US
May 5th– Getting up early and trying to get boarding pass for ROTR – If this doesn't work out, we'll spend the day IOA\US. Head to WDW check in and MAYBE hit EPCOT

If we do get ROTR we will plan our day based around our boarding group, but it will of course involve heading to DHS and then POSSIBLY back to Uni for a couple of hours to touch on anything we may have missed. At some point, during this crazy day check into the WL
May 6th– Our first full day at the World. We're kicking it off with MK and hopping to EP
May 7th– AK and hopping to MK

Dinner: Liberty Tree Tavern
May 8th- DHS – Don't know where we are hopping to but we are making a stop at Olga's Cantina
May 9th- We have a DHS Park pass but this is a safety net in case we miss (knock on wood) ROTR
May 10th- Park pass for DHS –This was real DHS day – We're scheduled to build a droid or two. We effed up on the light sabers. – More about that later
May 11th– Park pass for MK – Hopping to DHS
May 12th– Park pass for AK – Hopping to ???
May 13th- Park Pass for MK – hopping to ???

Dinner: The Wave
Staying at a cheap hotel acquired via Priceline
May 14th - Departure day – Our flight home was originally first thing in the morning. It has since changed to an evening flight home so we'll figure out something to do this day. Maybe DS who knows.
A couple of quick notes. I've always been the trip planner, my daughter has since started helping me out and she's pretty darn good at it too. Well the two of us had booked this trip last May then rebooked for July, then rebooked again...at some point we had made reservations at Savi's Workshop.
I say "at some point" because we BOTH thought we had it booked for this time around...Well that wasn't the case.
It slipped out minds...and we realized the other day that we missed out. We'll keep trying and see what happens, but like my daughter's boyfriend, Chris said,
"If we can't get in this trip, it will give us an excuse to go next year"
<< The kid is learning!
Anyway. Trip starts in T-minus 11 days.
I will be spending the next few days getting everything in order here at home. Believe it or not, I am fully packed.
To answer your question: Yes there is something wrong with me.
Speaking of packing. My last PTR was in 2016. At the time I included this pick of my brand-new luggage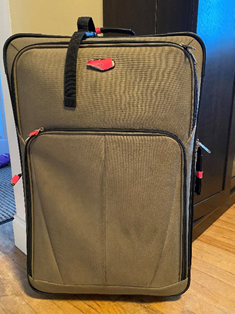 I probably should post a side-by-side pick of me then and now too…hahahaha
I'll tell you what: that beat up luggage has fared a lot better than I have.
I will add anything I think of between now and then, but I should probably just leave you all alone for now because LTR is coming next. And you're going to be seeing plenty of us in 11, 10, 9, 8……
Last edited: