Well-Known Member
Original Poster
After years of speculation that Disney's founder, Walter Elias Disney, was not deceased but rather cryogenically frozen under Walt Disney World's Space Mountain in Orlando, FL, evidence has been brought forward proving that he is not only still alive, but thawed out and ready for some adventure.
Islands of Adventure, that is.
It turns out that Walt, after being unfrozen and catching up the newest episodes of Fox's
The Family Guy
, the Man Behind the Mouse wanted to scope out the competition in Orlando's Universal Studios and Islands of Adventure. And according to our sources, he was very impressed.
"That effin' rocked!" he was rumored to exclaimed after riding The Amazing Adventures of Spiderman. It is then said that he grabbed a local teen's cell phone, called former Disney CEO, Michael Eisner and lambasted him for not staying on the cutting edge of theme park entertainment.
A Disney Company representative offered this statement, "We, (the Walt Disney Company), are excited to realize that the creative genius behind our corporation is alive and well. We hope that he will be able to provide us with a great deal of creative input as we move under the management of Mr. Iger."
Peter Gault, the President of Universal Studios Orlando, issued this statement: "Knowing that the incredible Walter Disney enjoys our resort is an amazing blessing. We look forward to him returning next week to visit our Halloween Horror Nights event. He mentioned that he interested in visiting our
Demon Cantina
house."
It will definitely be interesting to see how Walt Disney's love for Universal will play in the development of his own theme parks.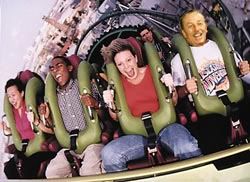 Walter Elias Disney enjoys a trip on The Incredible Hulk Coaster at Islands of Adventure.