Well-Known Member
Original Poster
Here is my idea for revival of Toontown Transit simulator to supposed to plan built at Disney-MGM Studios for Roger Rabbit's Hollywood mini land but it got cancelled because Steven Spielberg and Euro Disneyland in 1990s:
Title: Toontown Transit
Opened: 1994
Developed: Walt Disney Imagineering
Based: Who Framed Roger Rabbit (1988)
Minutes: 5 Minute
Ride: Simulator
Here is concept video I found (go to 3:06 to 5:27 about Toontown Transit simulator ride)
Plot:
Attractions
Toontown Transit
Toontown Transit was an ambitious concept for a simulator with a full wraparound screen to present animation on the sides of the vehicle in addition to a main screen.
As told in a 1991 story treatment[1], the story of the attraction would focus around Gus the Bus, a Toontown city bus that aspired to be an actor.
Driving us through the Toontown Tunnel
on his usual route, he quickly runs into Benny the Cab, who tells them that the studio is holding auditions for
new talent and offers to show him a shortcut. Eager to catch his big break,
Gus follows Benny along the steep and curving mountain road across the toon countryside. Gus ends up falling into the Toon River, sliding
across river rapids before diving underwater and
being briefly swallowed by Monstro. Monstro sneezes us out and sends us back onto the road back behind Benny as if nothing happened.
Entering Toontown and going the wrong way on
a one-way street, we meet Roger, who is dangling upon a firetruck ladder on its way to help Jessica out of a burning fireworks factory.
After crashing on the windshield, Roger asks for our
help to save the day. Climbing the ladder with Roger still aboard the front of the bus, we reach out to get Jessica, but Jessica and
Roger end up being pushed out the window down to the
ground, being caught by the fire fighters. However, a
wayward firework ends up bursting through the bus, sending us into space. After making a crash landing back in Toontown,
Gus happens to find himself at the audition, where the director offers him a movie contract on the spot, making his dream come true.
Though Toontown Transit was never built, the concept of a wraparound screen simulator would later evolve into Tokyo DisneySea's StormRider, with the
fireworks gag being turned into the Fuse device crashing through the ceiling.
Script:
(Queue)
This would takes place in Union Station, as Toontown sign under the roof instead Union Station sign.
As you are enter the building you will see depatures and arrivals boards
TOONTOWN
MICKEY'S NEIGHBORHOOD
WALLA WALLA
HOLLYWOOD
WALT DISNEY STUDIOS
WACKYLAND
WONDERLAND
NEVERLAND
DUCKBURG
MICKEYVILLE
NORTH POLE
LONG BEACH
SANTA MONICA
ATANTIS
ACME ACRES
SAN FRANSCICO
LOS ANGELES
OAKLAND
NEW YORK CITY
HOUSTON
UNIVERSAL CITY
BURDANK
LAS VEGAS
MEXICO CITY
CHICAGO
DENVER
PHOENIX
WASHINGTON DC
SEATTLE
MIAMI
ORLANDO
ATLANTIC CITY
As you waiting area you can see Toontown Transit sign with a cartoon hand point to loading area plus Droopy Dog as ticket booth master, as Toony Baggage Check like Star Tours queue.
(Pre-Show)
As you will see large projecter screen shows tours of locations like Hollywood, Maroon Cartoon Studios, Disneyland, Walt Disney Studios, etc...then it shows about Toontown Transit, which host by Goofy as he will tell us about Toontown Transit, to take a tour of Toontown to ride Toontown city bus tour. As the movie over. The boss, Peg Leg Pete voiced by Jim Cummings will tell the guests to safety stuff with Goofy too.
As we are aheading to the loading area at small garage building
, and we can see Gus the Bus is waiting for the guests to take a tour of Toontown, as we are enter the garage room,
as the penguin waiters are fixing Gus the Bus for his trip to Toontown.
We will see posters of Toontown Transit and says "TAKE A TOUR OF WACKY TOONTOWN - TOONTOWN TRANSIT", and other newspaper reads "TWO DUCKS PLAYING CRAZY
AT THE INK AND PAINT CLUB". We will see pictures of Roger Rabbit and CB Maroon at Maroon Studios.
The radio will play called WACKY Radio Toontown.
RADIO ANNOUCER:
You're listening to WACKY Radio Toontown.
SINGERS:
Toontown!
RADIO ANNOUCER:
This sponsor is brought by Pluto's Dream Dog House.
Pluto barks and laughing.
PENGUIN WAITER #1:
I love dog houses.
PENGUIN WAITER #2:
Yeah not in igoo house in cold weather.
RADIO ANNOUCER:
And now here is Toontown News Report.
NEWS ANNOUCER:
This just in flash! Mr.Toad is crashing through the fireworks factory minutes ago, Toontown police told that Roger Rabbit's wife, Jessica was just visited the fireworks factory before that toad crashes into the fireworks factory. But she was trapped inside the factory because fireworks goes crazy, destroying half the streets of Toontown.
PENGUIN WAITER #3:
W-W-Wait, Jessica Rabbit was trapped in fireworks factory!
NEWS ANNOUCER:
Yes, penguins, she is TRAPPED!! WE'RE DOOOOMMMM! Toontown Firemen is on the way to stop the fireworks for destroying the streets of downtown Toontown. Also Clarabelle's Ice Cream Festival got cancelled too. And now back to our program.
PENGUIN WAITER #2:
What the heck is going on this news, this is nightmare!
PENGUIN WAITER #1:
We've should go back to help Mary Poppins back in London months ago.
RADIO ANNOUCER:
This program is brought by ACME Factory, yup you getting alot of hit by many gags such as bombs, TNTs, anvils, sling shots, tons of bricks and (heards the piano drops him) AND BEING HIT BY GIANT PIANO FALLING FROM THE SKIES AGAIN! (gets crashed by piano) Or a TNT to take care of this. (explodes) And that is ACME Factory. I bet Wile E. Coyote will love this to catch Road Runner...ooohhhhh...And now here is the tune you want to hear...(Smile Darn Ya Smile) Keep smile, Toontowners!
And that is the script for Penguins are fixing some Toon bus parts. Someone will finish this script hopefully...
(Ride)
As we are entering inside Gus the Bus, we are enter our seats. and it shows ads for Toontown Transit like ACME Warehouse, WACKY Radio Toontown,
The Ink and Paint Club, Mickey's Kitchen, and more.
GUS THE BUS:
Why you hurry up boys, my tires are runnin' like a smoking spears now. Now let me see, according to Roger's plans, he was telling me that he is aheading to
Toontown to save his wif--wait a second the phone is callin' me again. (calls his phone) Hello, I'm picking up the passengers now.
ROGER RABBIT:
No talking now, Gus! I'm on my way to save my wife, so don't worry about me! I'm with Benny so talk lat--
GUS THE BUS:
Shut up, Roger, we don't have time for this, my cousin, Benny is already on his tracks to meet me at Toontown so don't
hit by Mr. Toad again please?
ROGER RABBIT:
Don't worry about me, buddy! That old toad needs more attention about (getting hit by Mr. Toad) Hey, watcha going pal!
Sorry, Gus, see you in Toontown bye and P-P-P-Please don't be late!
GUS THE BUS:
Aye aye captain! (getting screwed by penguins) Hey, what are you doing?! Passengers are in their seats now!
PENGUIN WAITER:
Sorry, boss, your tires are flatted again. So we will fix that again.
GUS THE BUS:
Finally, thanks guys, (sees the passengers) Oh, hi folks! My name is Gus the Bus, I am Benny's cousin. He is my cousin at all.
I'll be your driver, because I've been as Toontown Transit bus a while. But I want to be a movie star someday but I'm just as a Toon Bus.
Now sit and relax and enjoy the ride! Now off to Toontown!
We are crashing into garage door and zooming around streets of Hollywood Blvd, we dodging by angry drivers getting our way and passed by the
Chinese Theater with celebrity stars such as John Wayne and Judy Garland. As we passed by Eddie Valiant and Dolores walking into Terminal Bar & Grill near by
his old office, Valiant & Valiant.
DRIVER #1:
Darn Toons!
DRIVER #2:
Move out of my way!
DRIVER #3:
Go back to Toontown!
GUS THE BUS:
Ah, horray for Hollywood! The movies of the dreams. (sees drivers cars getting our way) Out of my way, loser! (take a look at celebrity movie stars)
Hi, John Wayne! I love your movies, pal! Now let's quick through some movie studios folks before we are aheading to Toontown.
Ah, Maroon Studios my favorite! (sees Woody Woodpecker riding his Toon car) Move it, woodpecker! Heh, some Toons can't listen.
WOODY WOODPECKER:
Ha-ha-ha-ha-hahahahaha!
As we will passed by Maroon Studios with some Toon cameos working with workers, we see the nurse woman carry a baby carriage with Baby Herman smoking his cigar.
Gus sees detour sign which takes to the road to Toontown tunnel as construction builds a new street.
GUS THE BUS:
Uh, oh. The road is closed. We have to detour to Toontown hold on folks don't worry I'll have to shortcut this detour.
As we will detour into Walt Disney Studios, and as crashing through props, costume sets, etc...
GUS THE BUS:
With the right side is Walt Disney Studios, the best movies in the whole Hollywood. My favorite movie is Snow White and the Seven Dwarfs.
As we will enter Soundstage 10, we crashing sets of Alice in Wonderland, as Queen of Hearts angry at Gus the Bus ruining her scene as Alice runs away with White Rabbit and Mad Hatter, Walt Disney seen as cameo.
QUEEN OF HEARTS:
AHHHHHH! Off with his head!
GUS THE BUS:
Sorry! I'm in the detour here!
DIRECTOR:
Cut cut cut! Who the heck this toon bus doing in this scene during filming a movie.
WALT DISNEY:
I'd rather go to the park with my two daughters about now.
As we are out of the studio backlot and aheading to the road again.
GUS THE BUS:
Sorry folks about delaying, looks like we are in time to aheading for Toontown.
Then Gus takes passengers to the road to Toontown tunnel as we enter Graffi Park, before Gus zooms into Toontown tunnel we will see Grumpy as toll booth who sees Gus
speeding passed by him.
GUS THE BUS:
Hold on, folks! We are almost there! A tunnel to gateway to Toontown!
GRUMPY:
Hey! You gonna pay for it destroying my gate!
As we are enter the tunnel, Gus the Bus will put the tune his radio.
GUS THE BUS:
How about some music?
RADIO ANNOUNCER:
... From the tippy tip top of
Toontown's Tip Top Club, this is Mellow
Melody Matinee. Here's our favorite
cricket, Jimmy, with 'Give A Little
Whistle'.
JIMINY CRICKET:
(on radio)
'When you get in trouble, and you don't
know right from wrong...'
(continuing)
'... Give a little whistle
Give a little whistle...'
GUS THE BUS:
(turns off radio) I love Toontown!
As we are inside the tunnel, we see the toon curtains are rising out to reveal the sunny day of Toontown.
Toons are singin "Smile Darn Ya Smile!" as trees and birds are singing around with Toons too.
It's looks like Max Flesicher world of animation which Toons living in Toontown.
GUS THE BUS:
Ah, open the road! Guys, welcome to Toontown! It's beauiful day today. A lot of Toons are enjoy their best day.
As we will see more Toon cameos such as Mickey, Donald and Goofy are playing a golf, Three Little Pigs are aheading to their school.
Mickey's nephews are chasing Winnie the Pooh's honey pot. As Figment makes his cameo, we will see Willie the Giant was playing with his toy bunny.
Windmill carries many diapers on windmill which is Mother Goose's house. Clarabelle Cow is watering her flowers at her farmhouse along with Minnie.
GUS THE BUS:
Even Toons are having alot of fun too. (sees golfball came from Goofy) Ouch! That old Goofy never learns his lesson.
As we will enter the toon valley which the passengers take a look at downtown Toontown miles away from cliffs with Dumbo flies around us as toon mountain hills
with Toontown sign smiles at Toontown, Droopy flies his toon bi-plane soaring over Toontown to see us.
GUS THE BUS:
We are almost there folks! Downtown is this way! What a great view!
Then we will see Roger & Benny are passing by us middle of the roadway.
BENNY THE CAB:
Hi, cousin! Nice to see you again! We're aheading to fireworks factory!
GUS THE BUS:
Me too, Benny. I'm taking a passengers on a tour to Toontown.
ROGER RABBIT:
We're speeding up to downtown Toontown, you need to help us!
BENNY THE CAB:
Also, Maroon Cartoons is holding talents for auditions for new movie, Speeding Through Long Highway! I think you are going to be star afterall, Gus.
ROGER RABBIT:
They are really need wacky toon who can be best work to be a movie star.
GUS THE BUS:
Really?! I'm on my way boys! This is my chance!
BENNY THE CAB:
Hold on, Roger! We're speeding to downtown Toontown faster speed than a bullet!
ROGER RABBIT:
Slow down, Benny, you're getting too FASSSSSSSSSSSSSTTTT!
Roger was driving faster as he was zooming out of Benny and crashed into the bus's ceiling.
ROGER RABBIT:
Ow! Jeepers, I think I broked my nose already.
GUS THE BUS:
Roger, you dumb idiot Toon! Get out of our way, you gonna crashed through fence---
We know that Gus speeding to destroying a fence as Roger falls down into the Toon River as Benny keeps zooming into a roadway
as he stops and sees miles away from Toon River.
ROGER RABBIT:
Uh, oh. YIKES! AHHHHHHHHHHHHHHHH!
As we will see Roger was falling down into Toon River as Gus falling down into the Toon River too as we see Roger as swimming into the safety as he falls into the waterfall.
GUS THE BUS:
Roger, you idiot! We can't swim that well, the rapids are too powerful to make way to safety back into the roadway.
ROGER RABBIT:
Don't worry about me, Gus, but WATCH OUT FOR MONSTROOOOOOOOO!!! (falls into waterfall)
GUS THE BUS:
Monstro? Uh, oh....Rapids!
Some toon cameos make appearance in Toon River such as Popeye is driving his tugboat along with Captain Hook.
As we are in middle of the rapids overing Toon River as Gus the Bus dives into water, as we will see Ariel and Flounder swimming together as we saw Felix the Cat
makes his cameo.
GUS THE BUS:
Like Captain Nemo says, "DIVE DIVE DIVE!"
We are in undewater,
Monstro the Whale swims faster to swallowing us, then we are inside Monstro, as Gus the Bus uses his smoking tires to get us outta here.
As we will see some Toon cameos stucked inside the whale as Geppetto and Pinocchio are fishing.
GUS THE BUS:
Don't worry guys, I've seen that movie many times. I'll use my tires to speed to smoke out this whale! Here I go!
As Gus makes Monstro sneeze out of his hole, we flying over the skies and landed in the forest while he crashing into the trees,
we see some more Toon cameo such as Bambi, Thumper, and other Toon wild animals.
GUS THE BUS:
WOOOAAAHHHHHH! (lands and crashing through trees) Oh, geez. Mr. Park Ranger is not gonna like this.
As we will see Aracuan Bird was makes driving us into the forest as we still crashing into the trees.
GUS THE BUS:
You stupid little bird! Get off me!
We see Bugs Bunny is running away from Elmer Fudd because it's wabbit season, Gus let him inside the bus.
GUS THE BUS:
Look it's Bugs Bunny, my favorite Hollywood star! Get in my pal!
BUGS BUNNY:
Eh, what's up doc?
We will zooming into the end of the cliff as we are about to fall down again.
GUS THE BUS:
Brakes! Brakes! Where is the brakes! Oh there it is!
As the bus looked down many miles away from the ground, as Gus and Bugs are about to shocked to death.
BUGS BUNNY:
(looks at the passengers) This makes us scream folks.
Bugs, Aracuan Bird, and Gus screams aloud as they are falling down into many miles.
GUS THE BUS:
What shall we do now?!
BUGS BUNNY:
Wait a second! I'm getting outta here! (uses his portable hole)
GUS THE BUS:
Wait, I got Acme Portable Hole later Bugs!
We jumped into portable hole as Aracuan Bird escapes his own portable and we are in the Toon desert as we will see
Wile E. Coyote holds the blouder and he sees and thinks Gus the Bus is Road Runner.
GUS THE BUS:
Beep beep! (sees Wile E. Coyote on it) Ouch!
As the blouder goes up and landed on the bus with Wile E. Coyote on it, we will see Road Runner was makes his appearance as Speedy Gonzales zoomed passed us.
Wile E. Coyote holds his sign "Oops. My mistake." As we will see José Carioca and Panchito Pistoles riding their magic carpet to meet with Gus.
PANCHITO PISTOLES:
Hello, amigo!
JOSE CARIOCA:
Did you see our amigo, Donald Duck? He's supposed to meet us at Hollywood Bowl tonight!
GUS THE BUS:
Sorry fellas, can't talk about now because I'm aheading...umm...
JOSE CARIOCA:
What he's talking about it, Panchito?
PANCHITO PISTOLES:
I think he want us to fiesta time!
The colorful lights came no where in the ceiling as music starts to mexican dance, as Gus the Bus forced to dancing around the roadway as Toon cameos dance to the music
such as Speedy Gonzales and Road Runner.
GUS THE BUS:
Stop it please! I'm late for the audition talent in downtown Toontown!
Gus enters the wrong way and aheading for railroad tracks which takes them to the train is coming speeding up.
PANCHITO PISTOLES:
Okay, amigo, but watch out for A TRAAIIIIIIINNNNNNNNNN!!!
As Jose and Panchito leaves behind Gus and Wile E. Coyote, sees a train is speeding to crash them.
GUS THE BUS:
AHHHHHHHHHHHHHHH!!!!
The train is chasing after us, as we see Wile E. Coyote holding his sign "YIKES!" as we see he falls from the bus and gets squashed by a train.
Gus uses his ACME Portable Hole again and jumps into the highway.
Now we are in Toon Highway as there alots of Toon cameos droving their cars, trucks, and buses.
We will see Toon cops cars are chasing Mr. Toad, as we see Mickey & Minnie driving their car, as alot of traffic jam too.
As Gus sees sign portal says "Downtown Toontown - 10 miles away", "Wackyland - 1,00000,00000 miles away", and "Mickey's Toontown Fair - 6 miles away".
But a speeding train is still catching with us.
GUS THE BUS:
Phew that was so close! "Downtown Toontown" 10 miles away. Getting close people hold on! We're speeding up to the scduele.
We will see Benny the Cab speeding up to catch with us again.
BENNY THE CAB:
Gus, my cousin, what's happening to you?
GUS THE BUS:
A lot of delaying my tour to downtown Toontown for passengers, Benny. I'm out of the time now!
BENNY THE CAB:
Look out for a train! RUN!
GUS THE BUS:
Uh, oh. Looks like I tooked a train into the highway. Hold on guys we're outta here!
BENNY THE CAB:
Hang on, cousin, I know the shortcut to the downtown, follow me!
As we escaped from the train, as the train speeding into crashing alot of traffic cars, as we will enter roadway into downtown Toontown, as
we will follow Benny to the downtown. As we are enter Toontown, as we going to one way street as we crashing into the fruit market stands, egg stands
and make Toons away from us.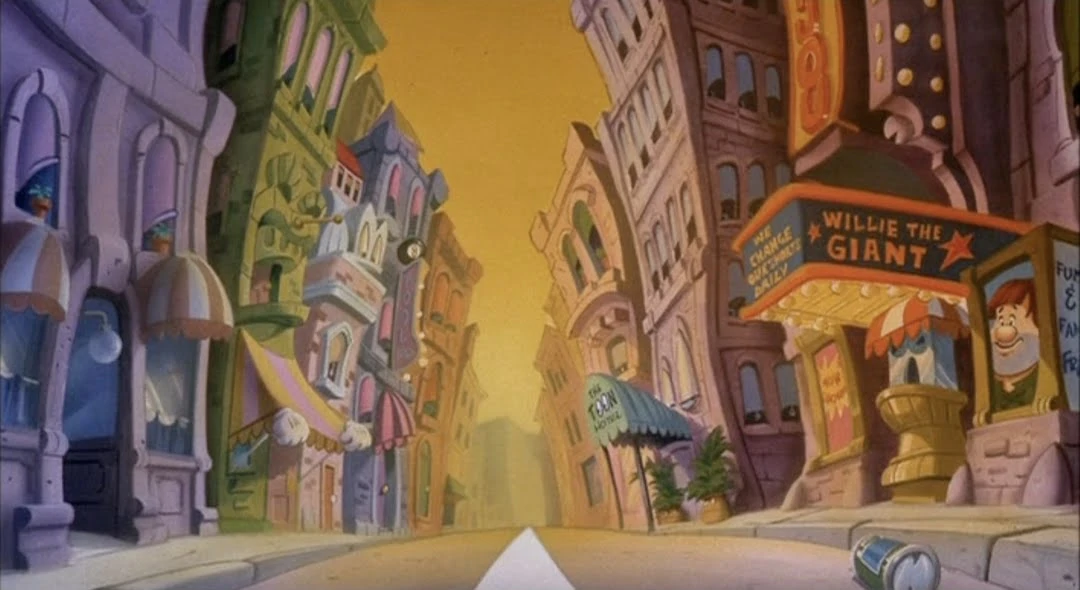 BENNY THE CAB:
Here we are! Welcome to Toontown folks and....H-H-Hey, wrong way, stupid! This way!
GUS THE BUS:
Wrong way?! OH NO!
As Gus find way to find right way, as Roger holds his firetruck ladder on firetruck.
ROGER RABBIT:
Gus!
GUS THE BUS:
Roger! Nice to see you again pal, right now I'm busy, I'm aheading to auditions for studio talent now!
ROGER RABBIT:
No time to explaning, pal. I'm off to save Jessica! The fireworks factory is on fire you got to help us!
GUS THE BUS:
I'm on my way, Roger! Hold on guys we got to detour for rest of tour in downtown Toontown.
We will see anvils, safes and pianos falling down from the buildings as we dodging them, as Aracuan Bird with his spinning wheel to make fun for him.
GUS THE BUS:
Not you again! WOOOAHHHH!!
As Aracuan Bird forces to crashed into firetruck to inside fireworks factory and send Roger flies and crashed into windsheid, as alot of Toon cameos such as
Mickey Mouse to Bugs Bunny, Dumbo to Snow White to Tinker Bell, Tweety Bird & Sylvester to Chip N' Dale, Baby Herman to Bongo the Gorilla
, and other Toons are watching the burning fireworks factory. As firefighters are Droopy Dog, Goofy, Daffy Duck, Donald Duck, Foghorn Leghorn and
Horace Horsecollar are spraying the water to spread down the burning fire. As Toon cops, Porky Pig, Peg Leg Pete, and Screwy Squirrel forces Toons out of the area.
JESSICA RABBIT:
Roger! Save me!
ROGER RABBIT:
Don't worry, Jessie! I'm coming to save you!
GUS THE BUS:
Hurry up, Roger! The fireworks factory is burning faster!
ROGER RABBIT:
I'm TRRRYYIINNNNNNNNGGGGG!!!
As Roger reaches front of Gus, as Roger's ladder goes crazy up to save Jessica.
JESSICA RABBIT:
Roger, my darling! Help me! The fireworks are about to start anytime soon!
ROGER RABBIT:
Hold on, Jessica! I'm coomMMMMIIINNNNGGGG!
JESSICA RABBIT:
OH NO!
As the window falls down both Roger and Jessica to the ground as Toon firefighters rescue them.
DAFFY DUCK:
Gotcha, you love ones! We got ya.
JESSICA RABBIT:
Oh, Roger. You are my hero! (kisses him)
ROGER RABBIT:
Ugh, shucks.
GOOFY:
Gawsh. This place is about to have new show now!
FOGHORN LEGHORN:
I say, look out! Here comes the fireworks!
As the fireworks goes up and goes everywhere in the downtown area as Toon cameos are running away.
We will see a firework goes on through Gus's ceiling as Roger sees Gus is about to send him into space.
GUS THE BUS:
Look out, people! (sees rocket on ceiling) Uh. Oh!
ROGER RABBIT:
Jeepers!
As Roger holds Gus and a rocket sends Roger and Gus into a space, we will see Marvin the Martian in his spaceship,
as Toon moon look at us, then we are falling down back to Earth, as we are falling miles away in Toontown,
as we will crashing into ground as Gus and Roger screams to the death as we crashed we will see stars around us as we landed, then we are middle of the set at downtown Toontown with
human actors, the director and CB Maroon, as Toon cameos makes appuasle for stunt effect.
We will see Roger's shaped in ceiling as stars are floating around us.
DIRECTOR:
And cut that's perfect!
GUS THE BUS:
Ugh, my head....Ugh, is this audition talent?! Am I'm going to be a star?
DIRECTOR:
Yes, you're going to be a movie star! And we are all filmed you are touring around Toontown for a new cartoon short
called Toontown Transit all long. We are filmed you in toon countryside, inside Monstro, joining Bugs Bunny,
getting almost hit by Wile E. Coyote,
a train smashing into the highway, saving Roger's wife, Jessica, and falling back to Toontown.
GUS THE BUS:
I did it! My dreams came true afterall! I'm movie star now!
ROGER RABBIT:
You did it, Gus!
BENNY THE CAB:
You are in Hollywood, cousin! Congrations, pal!
BABY HERMAN:
(smokes his cigars) Great, another Toon kicks out of the can. Glad he is the movie star now.
GUS THE BUS:
Now I have to do to drop the passengers off the bus to downtown Toontown and---(sees Aracuan Bird) Uh, no.
Aracuan Bird makes to drive Gus the Bus into streets of Toontown, making dodging human actors, director, CB Maroon, Toons, Baby Herman, Benny and Jessica way
as Roger grabs on him and they are both screaming into ACME factory.
, as we are crashing through all ACME gag products such as fireworks, anvils, portable holes, bombs,
as Aracuan Bird holds TNT and lights it up.
ROGER RABBIT:
Nice little bird, don't blow us again p-p-p-please?!
As TNT blows us up as the we will see blackless smokes as Gus and Roger coughs.
ROGER RABBIT:
Jeepers, what a ride....
GUS THE BUS:
Ugh, what a lot of crashing and delaying, at least I got to be a movie star.
Well I hope you having fun tour in Toontown with us, please unseatbelt you bucker and carry your belongs, please exit left of the bus.
Remember, smile darn ya smile, and enjoy your day in Toontown. Bye!
ROGER RABBIT:
See you real soon! Visit at Maroon Studios!
As Roger speeds into the window as rabbit shaped hole.
Aracuan Bird drops ACME Tons O' Bricks fell on Gus.
GUS THE BUS:
Ouch.....my head.
As the black screen goes and Porky Pig shows up in portable hole.
PORKY PIG:
T-T-T-T-That's all folks!
As we look around as damage the bus as he takes as like Roger's rabbit shape hole in windows, anvil holding in ceiling, Roger's face in the ceiling,
some damage around lights, broken windows,
couple TNTs around behind seats, couple firework rockets in ceilings, broken wheel control and buttons as Maroon Cartoon / Horray for Hollywood theme music plays.
We will talk into exit as Acme tons of bricks which Aracuan Bird drop us. Some ACME gag products can been seen we passed by.
(Post-Show Aka Gift Shop)
We are enter ACME Warehouse as gift shop, there was interactive ACME gag boxes which makes sounds like crazy. We will
see Tasmanian Devil's crate which is aheading to Toon Zoo from Tasmania. ACME Musical Band Organ which play music from cartoons like
Mickey's Melody, Al Jolson Medley, Merry Go Round Broken Down, etc...we will see some hanging anvils around the warehouse, TNTs, bombs,
mousetraps, birdseeds, Wile E. Coyote's shaped hole around wall. There was Jessica Rabbit cutboard with Roger Rabbit's rabbit shaped hole in the wall.
There was toys, action figures, plushes, T-shirts, ACME gag products and more are from Who Framed Roger Rabbit. There was Benny the Cab cutboard too along
with Toon Patrol weasels with a Toon Patrol car too. Sometime WDW worker who plays a piano from the Ink and Paint Club.
As you exit from the store you will find more rides in between Maroon Studios and Sunset Blvd like Dick Tracy's Crimestoppers, Baby Herman's Runaway Baby Buggy Ride,
Benny the Cab Ride, RollerCoaster Rabbit, Hotel Mel or Mickey's Movieland. As you walk into Sunset Blvd between Maroon Studios and Terminal Bar & Grill is the Ink and Paint
Club.
Last edited: