Well-Known Member
Original Poster
We took a trip back in August and while I don't have the energy to do a trip report, there are a couple things I want to share with those who will appreciate them.
This one I already put on the Chick Chat and Guy Gab thread. These were our "costumes" for MNSSHP: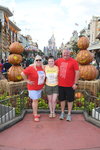 We received a lot of compliments from both guests and cast members. A's Jungle Cruise FP worked for us and we were escorted to the front of the line! I can't for the life of me remember the CM's name, but we did give him a cast compliment. Sadly, my POTC FP was deemed expired by the CM there.
At HS earlier that week, E & I went on ToT. In the boiler room when you have the choice to go straight or right, E & I chose straight. There was no one in front of us and no one followed us. The CM asked what happened and we had no idea. She loaded us on by ourselves!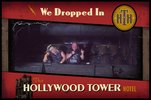 It was pretty eerie, but at the same time an amazing experience. The CM who was unloading asked what happened and we explained. He then asked if we wanted to ride again. Ummm, absolutely! We were taken back up the chicken elevator and loaded back in.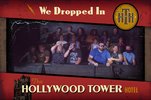 So just a couple of magical crumbs that keep us going back!