Hi all! I always love reading reviews and trip reports so I'm going to share one too. I'm not going to post one that recaps each day…it would probably get boring…Instead I've reviewed different aspects of our trip and I'll post some pictures.
May 11-19
Me, husband, and our five kids
Saratoga Springs
It was our first time on site since we've had kids (we've done VRBO in the past). We were so excited to be staying at a Disney resort! I saw that we could rent points for a 2 bedroom for just a bit more than I was paying for the two rooms I had booked at Caribbean. We switched and I'm so glad we did. The room was beautiful, clean, and the space/ layout was perfect for our family of seven. I liked the split bathrooms and extra sinks, and the foyer was great for dumping park bags and germy park shoes. Beds were really comfortable. The tub was amazing. It's much deeper than my soaking tub at home so I used basin bath bombs a couple nights. Heavenly. I loved the Murphy style beds instead of sofa beds.
I felt the kitchen area was lacking in storage. They don't have any open cabinets for pantry food so we moved some pots/ pans/ dishes around so we could put our things away.
We did not get my requested section and I was disappointed when we got assigned to Carousel. It ended up being perfectly fine. It was quiet and we had a pretty courtyard view.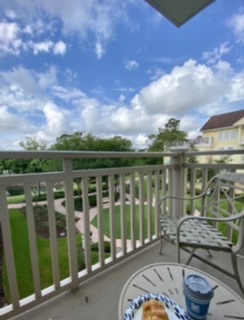 We only went to the pool one day and we just drove over to Paddock. The pool was nice, but felt too small to me and it seemed chairs were in high demand. We arrived around 11:00 one day and found just two open loungers. The family at the shaded table behind us started packing up and offered their table to us…perfect! As we set bags down a lady came over and angrily asked us if we were taking that table. I said yes, we have seven people. I guess she was stalking shaded seats but was across the pool area. She sort of yelled "I only needed one chair." I said we could share a chair with her and asked where she wanted me to put it. She said nope and stormed out of the pool area. Yikes.
On the subject of rude guests …I had to call down to the balcony below me one morning because a woman was smoking and it was all drifting up to me. Gross. I asked her to please stop or I was reporting her. She quickly said, "Not a problem." Obviously didn't want the $500 fine. (Also saw a few other guests smoking in the parks. I'm allergic to smoke so it's frustrating when people break the smoking rules. I think sometimes they don't realize how far it drifts.)
We also had a teen boy steal my son's balloon as we left the park. My son set it down so I could get a picture of him by one of the 50th statues in the hub and we turned around and it was gone. I looked around and saw him walking quickly away with it, so I chased him down and told him to give it back.
Most guests were wonderful though and we had fun talking to people on buses and in lines. I noticed people often kindly helped our large family stick together in queues where you merge from a big group. My kids got to share some magic too and passed out glow sticks while waiting for fireworks and danced/ played with some little toddlers around us.
Buses: The bus stop was an easy, shaded five minute walk. We didn't utilize them as much as we had planned. On our Hollywood rope drop day the bus was still 22 minutes away. Add in the loop around the resort after our pick up, possibly ECV loading, and the drive over to the park, and we would have been late for early entry. We rushed back to our car and drove over instead. The next evening the Hollywood sign showed no times. Not good. We waited for 30 min. All the other buses came several times and the crowd was building. I finally asked a group who was there before us how long they'd been waiting and they said an hour. We changed plans and went back to the parking lot to drive in. It was late enough that they were doing re-park and we got a close spot.
Oh one thing I learned…you can't pay for preferred parking with a magic band. Weird. On Epcot day we split up and my husband took the older four kids on the bus. I stayed back with the youngest, who was exhausted and not feeling great, so she could sleep in. I drove in around noon and tried to do preferred parking but didn't bring any cash or credit cards. We had to park far out in "C" for Crap, we've got a long walk.
I would agree with other reviews about the resort…I wouldn't want to stay at Saratoga without a vehicle.
Good stuff:
-Cast members
It felt like a lot of the magic and great customer service was back. We've done two short trips during Covid and I was pretty let down by the interaction we had. Even had some pretty unfriendly moments with cast members which took me by surprise. I wasn't sure I wanted to go on this trip, but in an effort to cut down on more "stuff" we had given this to the kids as their big Christmas gift. So I couldn't cancel.
The first time we brought our kids five years ago, I told my husband that I was coming back because it was magical, everyone was so nice, and they care about us. He said no they don't, but they're running a really good business. Haha! I know it's all about the bottom line, but their customer service is what makes me want to spend my money at Disney. It felt like things were getting back on track this trip.
-Longer hours
While it makes for an exhausting trip, I'm glad they've extended hours. Animal kingdom was amazing in the early morning. We went to Everest and it was practically empty. We rode twice with no wait and could have done more.
-Genie+
We had gotten a handle on how Genie+ worked when we went down for a couple days in January. I hated it passionately then, but have since made peace with it, and we got it for all seven of our park days. (I'm annoyed to learn they are not going to allow advance purchase soon. It's like they're plotting how they can make the system even worse for the customer.) I felt like it worked well for us, and since we also had deluxe evening hours and did some rope dropping, we just didn't really wait in many lines. Our longest line was meeting Belle in MK at about 30 minutes. My older daughter really wanted to do the meet and it was her birthday, so we did. We had a few other lines that were about 20 minutes. But mostly 15 or less.
When you know the system and know which rides to book first, it works pretty well.
-Deluxe Evening hours
If we go again and they still offer this, I'll book deluxe for this perk. I loved it. On our arrival day we entered MK at 8:00 pm. We rode our stacked LL rides. Rode Astro during the fireworks. So much fun! Did low wait rides until park close, got a snack at sleepy hollow, and then did some big rides during magic hours. We rode 13 rides that first night and we weren't running around frantically. We got in line for 7DMT at the end of the night and waited 20 minutes. No waits for other things during extra magic.
Epcot isn't as great because the fireworks cut into your time and there's a lot more distance to cover. We rode Remy first with a 15 minute wait. Then meandered up to test track and did that twice. If we hadn't stopped for bathrooms, several pictures, and maple popcorn we would have been able to get on soarin too, but we were done for the night.
-Character hugs!!
We had great interaction during meets, parades, and meals. It's part of what makes Disney special. One pre trip disappointment was that Crystal Palace hadn't brought back characters yet. My youngest is a huge Pooh fan and Piglet is her favorite character. My two younger girls were wearing Taylor Joelle Piglet and Tigger dresses one day and we were hoping to at least wave to them in the trolley. When we arrived at the park a CM said they come every two hours. As we were walking out for lunch we asked for the next time and another CM said "oh the trolley is only till 12:00." Womp Womp. But she said they come to the train station balcony and she gave me those times, so we planned our return from lunch when they'd be coming out. The characters jumped up and down and made heart shapes to my girls when they saw them. We had such great interaction even from a distance. Then another CM directed us to the ramp area where they leave. Tigger and piglet literally ran to my girls with open arms and gave huge hugs. My youngest said it was the best day of her life. It was a magical moment that I didn't think would happen.
-Capture your moment
I was planning to do this but then the price went up so much, I decided it was a nope. Then I waffled and booked it when I made our dining reservations. The latest time available was 3:45. I kept my eyes on the weather knowing we could cancel the day before if necessary. I had low expectations. Doing a photo shoot with five kids at the end of your trip, in the middle of the afternoon, when it's 95 degrees is a recipe for disaster. But they suffered through it and I was so happy we did it. We had a great photographer (though for quite a few of our castle shots we are blurry and the castle is in focus. Not my favorite.) He started early with us so we actually got a longer session. He did garden shots first, which I loved. Then he walked us up the backstage walkway to the hub and we did some shots there. After that we moved to the castle. I had planned on getting Mickey balloons for the kids to hold but they didn't have any classic balloons this trip. So sad. We did the next best thing and let them pick whatever one they wanted. The overall look isn't what I first envisioned, but still cute.
-Food
We had good food and great service. Some meals we liked more than others, but we really didn't have any bad ones.
Our food line up:
Polite pig/ sleepy hollow
Grand Floridian cafe/ Crystal palace
Sanaa/ satuli canteen
Woody's/ Sebastians
Earl of sandwich/ Docking bay 7
Les Halles/ Biergarten
Chef mickeys/ CRT
Homecomin
Topalinos
A surprise favorite was Grand Floridian cafe. We loved the chicken and waffle and lobster burger. We also loved CRT. Food was delicious, we had the best server of our trip and the kids loved being in the castle. I was a bit disappointed with Satuli canteen. Maybe my expectations were too high but I thought it would be something like Cava or Core Life. I got the rice and beef and the whole thing lacked flavor. The noodle base my husband got was better. The blueberry dessert I've heard great things about didn't do anything for me. Well, it turned my mouth blue. So there's that. Homecomin' was amazing. Topalino's was yummy and fun.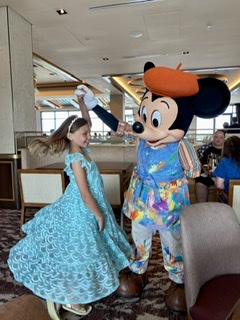 -Typhoon lagoon
First time at a Disney water park and we loved it. We've taken the kids to great wolf a few times and it's okay. Some locations are better than others. We also tried our local theme park's water park two years ago and I hated it. (Dirty, no shade, crowded) I vowed at that moment to make time for a Disney water park on our next trip.
I wish we could have stayed two more days just to hang out at TL. I would have brought a book and lounged the afternoons away. When do they extend hours? 10-5 was too short for us.
-Rain!!
Yep, this was a positive because it cleared out the parks. We had an evening rain storm a few different days. But it didn't affect what we wanted to do too much. FroggTogg ponchos for the win. Our second HS night we had a big thunderstorm and thankfully we wore waterproof shoes because we ran through puddles that had turned to small rivers. Normally I wouldn't walk my children through an electrical storm…but when you have MFSR LL and you're only in the park for a few hours that day…you determine the chances of being hit by lightning are slim and soldier on. I did want to ride Slinky at night and it shut down (I had two rides on it the day before so I can't complain) so instead we jumped on Rise at the end of the night and we waited six minutes. Six minutes! So much fun. During the storm at MK we had a break in the rain so I got my fireworks on our last night in the parks and the finale included more torrential rain and people running and screaming. It was one to remember. Tink didn't fly but we got the rest of the show. We stayed and took cover until it stopped, then had fun in a pretty empty park from 10:00-1:00. Only bad part was some of our crew had wet sneakers for a few hours. But rides! And ice cream sundaes! And no crowds!
-Rides
We didn't deal with excessive ride closures. I was worried. When we did have some, it actually worked to our advantage. Slinky was down at rope drop so we went to MMRR, then went back over to slinky and we could tell it was about to open since they were testing vehicles and there was a CM walking out with a "line starts here" sign. We hopped in line and waited about ten minutes before the line started moving. We walked through almost the whole queue. So we sort of got to rope drop two rides. Remy was down right before Harmonious. That got me worried because it was our one chance to ride it. But it opened right as evening hours started! We hustled over and only had a 15 min wait. We loved this ride. Maybe I had low expectations but it was really fun and charming, and had us all laughing and talking about our favorite parts when we got off.
I think pirates was down once when we had a LL, so we just did it later.
*Always have a back up plan for rope drop at HS.
-Mini golf
We mini golf at the beach often enough, and it's usually an exercise in patience for every single one of us. I'm not sure what made me decide to do this in the middle of the hot afternoon before we left, but there we were. The area needs some love and updating (those giant computers at the end brought me back to my childhood), but I thought it was super cute and the special effects were fun. I'm glad we tried it.
Bad stuff:
-Genie+ (this goes under good and bad)
We skipped park hoppers and spent on this instead. It's pricey for seven people. But DH said he was already spending thousands on this trip…he didn't want to wait in lines.
It's a little frustrating to stack when you're just going in the evening. It took effort and attention to keep refreshing, waiting for times to advance. I wanted to sleep in and sit by the pool, not be on my phone searching for ride times. I'd be in the middle of a conversation and then suddenly startle and remember I was supposed to be checking the times. Not relaxing.
I had one instance when my time changed as I booked at 7 am and ended up right when we had reservations for lunch outside the park. The blue umbrella people helped me change the time for later and also booked another LL for me since my 2 hr clock started over when he changed my time.
-Not enough characters
They need more character meets and character meals. The turtle speed return to normal is disappointing. Also…why isn't Minnie meeting with Mickey in her iridescent outfit at town square like she did in her confetti outfit
for Mickey's 90th?
(But I was happy they had a new plain blue background!) We did love some of the wandering/ distanced characters though. KEVIN!!!
-Epcot harmonious. I was optimistic because I actually like Enchantment and most people seem to hate it. (Disclaimer: I never got to see HEA. They started it right after our first trip with the kids and there were no fireworks for our Covid trip.) The only good part of Harmonious was the finale. I wouldn't waste time watching it again.
-The AC in ride queues!!! Oh my goodness. This is not a place to cut spending. It was so bad I'm going to email them about it. So many lines and areas where they pack you in like sardines and tell you to move in as far you can were hot and sticky this trip. Yuck. Yuck. Yuck. When you're already hot and you go indoors to escape the heat, the last thing you want is to be smashed with other humans and still be sweating. The worst ones were Philharmagic, monsters, MMRR, and Millenium falcon.
On the other hand, Star tours was so nice and cool that it stood out because it felt good.
I'm sure others are bad too but some of them we rode at night when the heat index was much lower.
Overall it was a wonderful trip and I'm so glad we went. It was good to be there with things mostly back to normal. I said this was our last time, but I have a feeling we'll be back. I'm already thinking about which resort would be fun to visit.