Hello everyone, it's been awhile since I did a trip report. Actually it was August of 2022. I admit I've been lazy but I haven't been absent from the parks. My husband (Brad) and I have taken quite a few trips together to WDW. I've taken some solo WDW trips, gone to Disneyland twice (once solo and once on a girls trip) and I had intentions of doing trip reports but it never happened. Oh and on some of those trips I have been able to meet up with a few magicians have have some fun. Some magician meet ups were planned and some of you kindly spotted me in the park and said hello.
So anyway, I feel it is finally time to add to the fun trip reports on here with one of my own again. And if I start this as a pre-trip report, the rest will follow. I am a completist.
So when: I leave in a couple hours. So November 22-28
Where: Disneyland!!!
Hotel: Best Western Park Place Inn (right across the street from Disneyland and so much cheaper than a Disneyland hotel)
Leaving from: Minneapolis/St. Paul (I live in Wisconsin)
Flying into: SNA (John Wayne airport) NOT LAX because I'm not crazy.
Who: me (Amy) and my husband (Brad)
Who we have to leave behind: our beloved schnauzers Kapono (she's 11) and our new puppy (obtained in August) Baxter (named after our favorite Imagineer)
The plan for tonight: Check out Downtown Disney. Brad wants to buy a Magic Band + to do the Bounty Hunter game and maybe a beer for me at Ballast Point. Tomorrow is a Disneyland day with lunch at Cafe Orleans, drinks at Trader Sam's and Ogas. We were going to do the Main Street tour with a visit to Walt's Apartment but after hearing reviews about it I cancelled it. We have been in the apartment before.
Thanksgiving Day we will be at DCA and checking out Festival of the Holidays. On Friday will be our Holiday Tour and Fantasmic. Other fun stuff breakfast at Goofy's Kitchen, World of Color dessert party, all the holiday stuff, and Brad's first time at Avenger's Campus.
Hope you enjoy the report, I'll try to post a few things while there and add more once we have returned.
Oh and if anyone reading is in Disneyland at this time and sees us please say hello!!!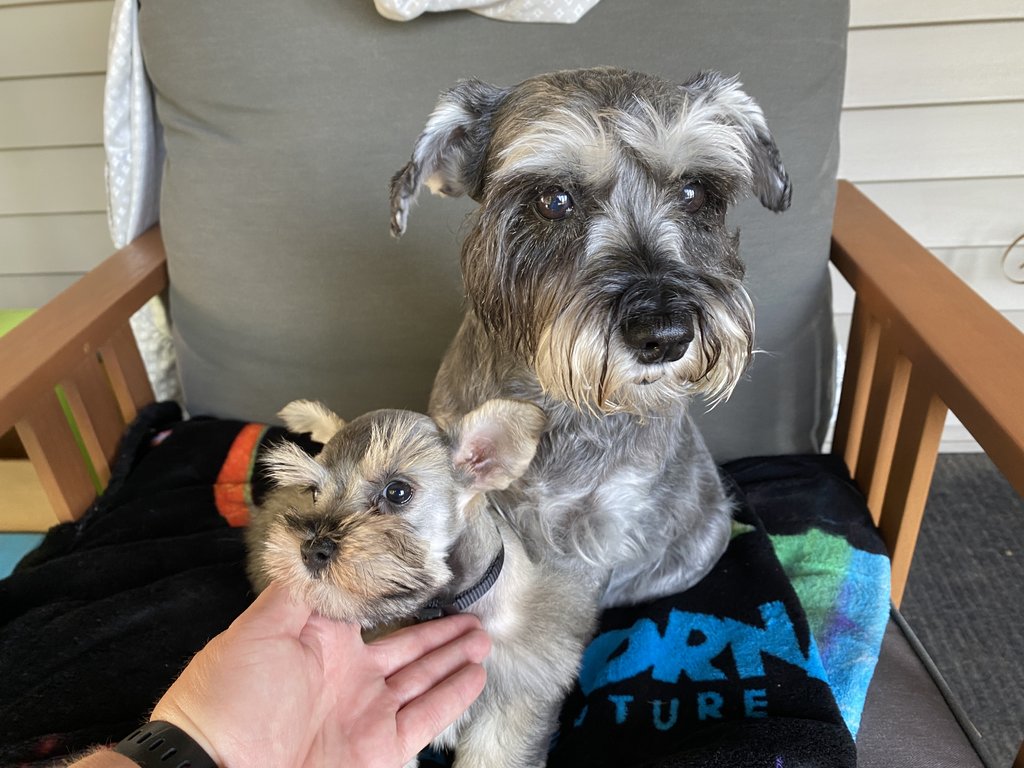 Last edited: