Well-Known Member
Original Poster
We've been planning this trip for 2 years.
I'VE been planning this trip for 2 years. More than 2 years actually. After our 2019 Disney trip, my husband asked me if I minded doing a girls trip next time with my daughter....he's not a huge Disney fan, and my son gets overwhelmed and mostly wants to stay in the hotel and play on his computer. For our next family vacation, we decided to go to Yellowstone, which my daughter has been wanting to do for years. My husband isn't so much invested in trip planning. I'll ask for his input and he'll tell me just to tell him where to be at what time, and he'll be there. Not particularly helpful.
I read books, I downloaded maps, I looked up websites. When you live in Europe, you don't make a trip to the US for just a week. It's not worth the price of the tickets. But visiting Yellowstone for 3 weeks did not seem like a good idea either. And my daughter happened to have an assignment for her school program to work in an English Speaking environment to prove that she can, in fact, understand and speak English with native speakers. My brother happens to own a restaurant in Centennial, Wyoming, a perfect opportunity for her to show her English skills. I also have a cousin who lives in Pinedale who was told he was going to die within days several months back, but the doctor misread some blood tests, and he is in fact not in danger of imminent death, but I had not seen him for decades. So we decided to do a whole Wyoming tour and also catch the Badlands, which we had missed on our 2016 trip. 4 weeks to make the rounds.
Who: My husband, myself, E (16), and A (14)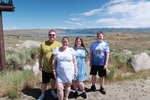 Where: Wyoming, South Dakota, Colorado.
When: July 11th - August 11th (12th if you count landing back in the Netherlands)