Hey everyone! After being a long time
stalker
peruser of these forums and occasional commenter, I figured I would give this a shot. I enjoy all of your trip reports, and while I'll admit this could get overwhelming, I figured what's the worse that'll happen? I don't think there's a punishment for getting behind in your own report, right?
So anyway, for the introductions. I'm Frank, a Disney loving Dad, Excel nerd (this will come into play in a bit with our plans) currently living in Virginia, although in a lot of ways I'm a NYer at heart (in the good ways, I promise. And the occasional accent.) I'm married to K, who I met through college 12 years ago (sheesh that sounds like a long time ago), and we have a just turned four year old, C. Rounding out our family is Toby, a lovable (most of the time) pup of 6 years. In text heavy posts, I may insert random pictures of him for fun. As an introduction, this is probably a good first impression of me-
Last year we took our first trip as a family to WDW, and it was amazing. Dare I say magical? I went very often when I was younger with my family, yet once I hit HS, we pretty much stopped going. There were a lot of reasons I won't bother getting into, but by not going I lost the bug. It wasn't that I thought I was too cool for it (even back then I would've told you I was anything but cool), but I just didn't think of it. I had friends who still went often as DVC members, but it just didn't appeal to me. And then last year, that all changed.
I blame my co-worker. His family is DVC, and he goes with them and on his own at least 2-3x a year. During downtimes we would talk about Disney, as he would mention things that I never heard about. A Nemo ride? What in the world is a New Fantasyland? Which would lead to a discussion on the history of the parks. As he is younger than me, he would find some of my memories quite amusing. Like when I got off the slide at River Country and had a fish in my bathing suit
. Anyway, from those conversations I would google, and come across websites like this. And wouldn't you know it - this is when free dining was about to be announced. And I read that kids under 3 are free! Long story short (or at least shorter then it could be) after some waffling back and forth, we decided to take our first trip at the end of September 2017, staying at All Star Music for a wonderful week. Other than it being a lot hotter than we expected, a very stressful flight experience, and nervously watching Irma, the trip itself was great and we got bit by the bug. We started looking at DVC membership, and couldn't wait to go back.
Of course though, life then hit, and it seemed we would wait to go back. We were just there we said. Maybe C can go on a few more rides, but we don't need to go back. Right? Since I'm doing a PTR, you can guess that didn't hold up. All because of that glorious free dining again. I know it doesn't always make sense, but with a young kid who would want their own meal yet won't eat the whole thing, and with the character meals being nice yet pricey option for us, it works for us at this time.
When I booked the trip, the main thought was "we could always cancel", which we were fairly certain we would do. We were moving across states in the summer (right around our 180 day mark actually), and it just seemed to be too much. But then as that 180 day mark came up, we figured "why not? We can always still cancel!" So we booked our ADRs. It was actually a nice break from moving. Remember when I said I was an Excel nerd? Yeah, I find the combination of Disney and data sheets to be especially calming. So I went a little nuts. Like 15 ADRs nuts to "keep options open". Like making bar charts of expected crowd levels nuts. Like making graphs of expected wait times from Touring Plans nuts. You know, for that trip I was planning to cancel. Because as I said to K who was probably doubting my sanity, "the planning is almost as much, if not more fun, for me than the trip". Here's a slight window into my craziness: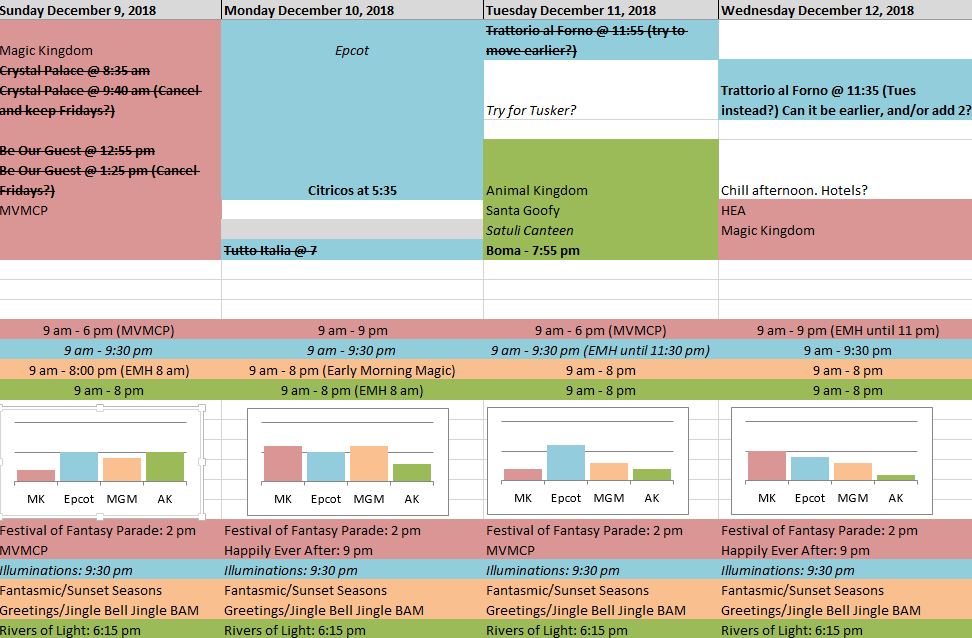 Come the summer months, and we figure, yes, we definitely will cancel. We'll go next year, or the year after. It's ok. But something felt off. The move was admittingly hard, and finally we sat down to have a serious conversation about wit. At 70 days out, aka the last minute to cancel. Or 10 days before FPs. We both pretty much admitted we needed this trip. With the move we never got to go on any vacation over the summer, and we wanted something special.
Especially because, come April we'll be expanding by one more mouseketeer! This in itself was a reason to cancel - K won't be able to do a lot of the rides C can now do that she couldn't before. Kids are expensive. And we have no idea how K will feel. But then there was that little voice in our heads - do something special for you 3 when it's still you 3. So at 70 days out, we decided to keep our trip, and get those flights booked! But we figured we'll keep it a secret for now from C. We'll find the right time, and surprise her with the trip. Which is extremely hard when you're trying to talk about the trip with each other to get the FPs planned. Let's just say there's been a lot of acronyms around the house... And since I'm a child at heart, a certain ride involving green aliens has been my favorite
If you're still reading, congrats! I will try to not ramble as much as I go on, I promise. So, down to the details:
Who: Me, K and C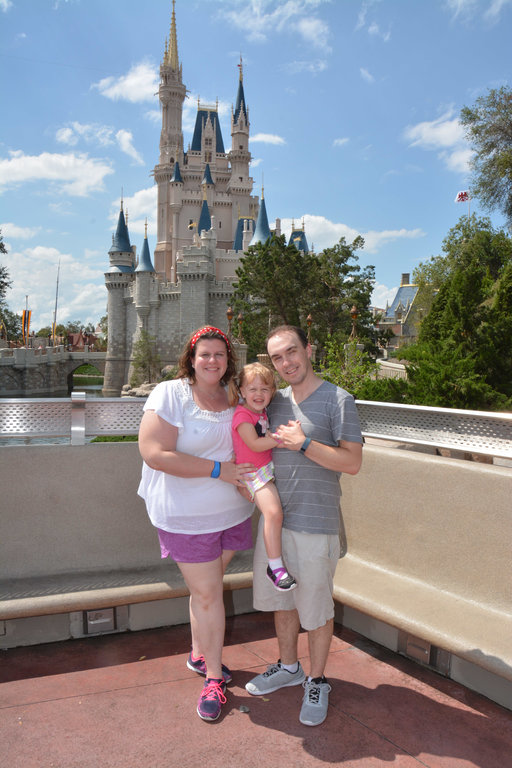 When: December 9-15
Where: Caribbean Beach Resort (so glad they did actually re-open OPR in time, since that was one of the ways I sold it to K)
But there's more! As we're trying to figure out our FPs within 10ish days, we tell our family we're going. Around 65 days out, K gets a call from my MIL who says she (G) and my FIL (P) would love to come for part of the trip, if that's ok with us. No pressure if we want it to just be us, but the offer is out there they said. C is their first grandkid, and before we moved to VA, we actually lived very close to them and they have a wonderful relationship. We looked, and found there were rooms available in CBR for the first three days of our trip. After a couple days, they found they could get off work, and they booked at day 62. When we do tell C about the trip, we aren't going to tell her that G and P are coming and let them surprise her.
I have never been so happy to have a slow day at work as I did then. Of course MDE wasn't working correctly, but after a bit of going back and forth, I got them connected to mine so I could get their FPs booked the next day. Luckily most of our ADRs were for later in the trip, so we didn't have to add them. We did change our plans slightly, but thanks to the 15 ADRs, we were mostly covered (don't worry, we've cancelled the ones we're not using to not be greedy). After a late night phone call, we came up with priorities for when they're with us (Dec 9 - 12).
I'll admit, I'm not completely innocent posting this PTR here. While I love planning Disney, not knowing how K will be feeling, and also having an extended family trip makes me a little nervous. I know a lot of people here have had experiences with similar trips though, so any and all advice is definitely welcome!
We're still finalizing some plans (like do we go to HS? Or try to rest more at the pool?), but I'll post our tentative plans in a separate post. Lastly, I may turn this into a mini trip report from last September (13 months isn't too long to wait, right?), because this pretty much sums up the experience we had: