Well-Known Member
Original Poster
I've been around here for a little while now, and I've come to really appreciate the contribution of some of the members here. I don't know any of these people personally (at least, I don't think I do!), but they help make this a place I like to come back to. To that end, I want to post some of my favorite members and what I like best about their presence here.

One of the kindest and most thoughtful members I've encountered here is
@LittleBuford
. He consistently gives the benefit of the doubt in a disagreement, and he gives his opinions without tearing down others. My favorite thing is how he puts people first. One of my favorites!
Memorable participation: Every time he comes in a provides a more charitable interpretation of what someone's trying to say.

I love how
@MisterPenguin
always does a bit of research to add to his posts. He frequently adds links to support his thoughts, or to help challenge ideas in a thread. He's extremely clever, has a quick wit, and he's obviously a huge fan (the Parks, Imagineering, Marvel, streaming, etc.). Never takes himself too seriously, which makes things fun!
Memorable participation: Every time someone brings up Star Wars, the pandemic, or Zenia Mucha!

Whenever I see
@Disney Analyst
's avatar, I know I'm going to see a solid contribution to the discussion. In fact, it's a bit creepy because his posts routinely say exactly what I was going to say, only better (and certainly more succinctly!). Always on-topic and dealing with reality,
@Disney Analyst
makes these boards a more interesting place for me.
Memorable participation: Every time he asks someone to clarify something crazy. "Are you saying…?"

If you ever want to know anything about construction—costs, project management, materials, operations, safety, etc.—
@lazyboy97o
is your go-to person. He shares his insights in a matter-of-fact sort of way, and he only posts what he's pretty sure about—no speculation or stretching the truth from him! And except for that one time he said I was being obnoxious (which I was), he expresses his disapproval with some of Disney's decisions without drama or personal attacks. He's another of my favorites.
Memorable participation: Literally every mention of "cement," construction timelines, and "this ride is an exact clone…"

One of the members who comes across as a fan in the truest sense,
@Californian Elitist
participates on these boards like someone chatting with fellow fans. She's very good at getting to the point about what she likes and doesn't like and not engaging with people who aren't posting in good faith. Usually found on the Disneyland side of the boards, her natural conversation style is neither pretentious nor condescending, which makes her seem like someone it'd be fun to hang out in the parks with.
Memorable participation: Splash Mountain thread(s)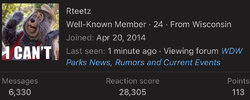 I don't know
@Rteetz
in real life, but I sort of feel like I do! I've followed/interacted with him for years on this and another Disney fan site for years. He always provides solid information and insight, and seems to be a down-to-earth sort of person who only posts when he has something to say (which is refreshing, given how many seem to post when they have nothing new to add).
Memorable participation: Every time he points out that someone doesn't really know what they're talking about.
——————————————————————————-
There are many more members who I appreciate, but these are some I've interacted with recently. Maybe I'll post more later. Who would you add to this list?