Well-Known Member
Original Poster
Hello, everybody! Summer will soon be upon us, and I fully intend to make use of that glorious season to return to two of my most prevalent ideas on the forum. I intend to return to Disneyland Maine, and as for the other...well, as we all know,
@MANEATINGWREATH
has started a very unique project called "Mirror Disneyland", which is basically his vision for what Disneyland could have been like if WestCOT did become a thing. And that inspired me to once again take a look at ideas regarding my home resort. So, if you're ready, prepare to let your imagination roam free!
===========================================================================
There is a place where where amazing things happen just to put a smile on the face of a child...
Where skies sparkle in moments of wonder that get to live forever as your memories...

A place where brothers and sisters actually get along, and families get to experience that rare delight of simply being family...

There is a place where magic lives...

Welcome to Walt Disney World.
~ ~ ~
Walt Disney World: New Horizons



~ ~ ~
Introduction
​
If you've ever had a dream, and had that dream come true, then you probably know a little something about the magic of Walt Disney World. Walter Elias Disney was many things: an animator, an entertainer, a family man, a pioneer in movies, television and in the modern-day theme park. But above all else, Walt was the very definition of inspiration. Time after time, this man has inspired people to follow their dreams and shoot for the stars, no matter what the circumstances. To this day, thousands of people continue to be inspired by the legacy of Walt, particularly the legacy he left that is Disneyland.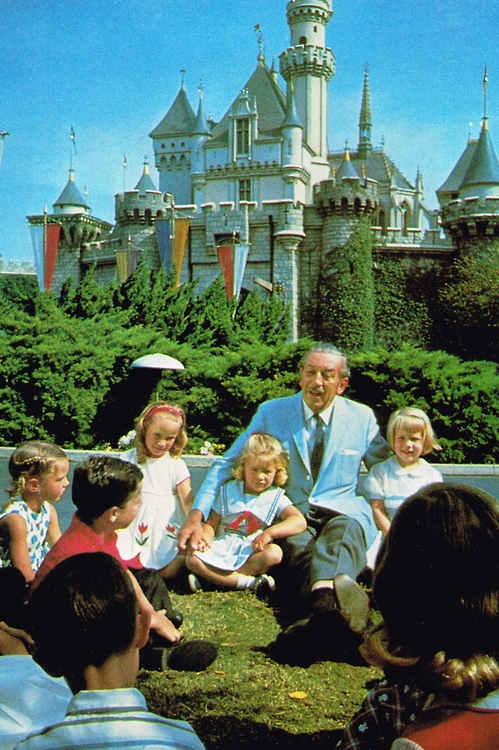 ​
Perhaps the most audacious experiment in a career filled with audacious experiments, Walt Disney built this "happy place" in the hopes that it would create a whole new form of family entertainment.
"Disneyland really began,"
Walt said, "when my two daughters were very young. Saturday was always 'Daddy's Day', and I would take them to the merry-go-round and sit on a bench eating peanuts while they rode. And sitting there, alone, I felt that there should be something built, some kind of a family park where parents and children could have fun together."

And on July 17th, 1955, Disneyland opened its gates to the world, and welcomed its people into a place like any other amusement park. Disneyland was never meant to be just another "county fair" or traditional amusement park. Instead, guests found themselves immersed into a land of three-dimensional fantasy. It was - and remains - a place where the world of today was left in favor of yesterday and tomorrow, fantasy and adventure.

But, old Uncle Walt was always looking for ways to "plus" his craft. He had heard that only 5% of people east of the Mississippi River (75% of the country's overall population at the time) came to Disneyland. Plus, he disliked how other businesses were springing up around Disneyland, and wanted control of a much larger area of land. And so, in 1959, they began to look for land for a second theme park/resort to supplement its Californian brother. In November of 1963, Walt flew over Orlando, Florida. Seeing the well-developed network of roads, including the planned Interstate 4 and Florida's Turnpike, with McCoy Air Force Base (which would later become the Orlando International Airport) to the east, Disney selected a centrally located site near Bay Lake. Although they used fake company names in order to get cheaper prices on the land, the news soon was made public, and on November 15th, 1965, Walt announced that Disney World was being built.

However, thirteen months after the announcement was made--December 15th, 1966--Walt passed away from cancer. But his brother, Roy O. Disney, did not want to see his brother's final dream fade away, so he deliberately postponed his retirement to oversee construction of the resort's first phase. He even had the resort's name change from Disney World to Walt Disney World. In his own words: "Everyone has heard of Ford cars. But have they all heard of Henry Ford, who started it all? Walt Disney World is in memory of the man who started it all, so people will know his name as long as Walt Disney World is here."
​

Although the resort opened on October 1st, 1971, the resort's official dedication would take place twenty-four days afterwards on October 25th, 1971. On that day, all eyes turned to Town Square as Roy dedicated his brother's final dream.

"Walt Disney World is a tribute to the philosophy and life of Walter Elias Disney... and to the talents, the dedication, and the loyalty of the entire Disney organization that made Walt Disney's dream come true. May Walt Disney World bring Joy and Inspiration and New Knowledge to all who come to this happy place ... a Magic Kingdom where the young at heart of all ages can laugh and play and learn — together."
— Roy O. Disney, October 25, 1971​
Today, Walt Disney World continues the legacy of Walt's dream, bringing joy and laughter into the hearts of those who wish to unlock its magic. Here we find acres upon acres of vacation paradise, where endless enjoyment, fascination, illumination and a lifetime of happy memories are less than a dream away. The following is, for your enjoyment, a virtual tour of how I would personally change things at this wonderful place. We will go over the four parks of the resort: Magic Kingdom, EPCOT, Disney's Hollywoodland and Disney's Animal Kingdom, as well as take a few detours to explore some other points of interest. Of course, there will be plenty of surprises ahead, so keep an eye out. But for now, I invite you to sit back, relax, and make sure your hands, arms, feet and legs are inside the Internet at all times, because our adventure is just about to begin...