Hey there, it's been a while. I've had little time to participate on these boards, between navigating this crazy world with my little ones, and keeping somewhat of a distance from Disney after the pain of canceling our 2021 trip. My 2022 New Year's resolution was to not let the pandemic stop me living my life (which it very much had). I don't regret it, as it has kept my family safe, but it obviously came at a price. They have lost a lot. As I looked to May, I had moments of elation, thinking about how this trip would open their eyes. But I also had a lot of emotional breakdowns... scared, stressed, and worried that this trip wouldn't be what it should be. I truly did not let myself believe this trip was going to happen until two weeks to launch. One night, I randomly decided to check park reservations, and I saw our arrival day filling up. I didn't know they were filling up so fast! I literally thought it was only a few days prior. I panic-bought tickets and that was that. Guess we were going! Of course, no vaccine for my kids came, and the numbers were creeping up, but I was holding true to my resolution. It was time for some faith, trust, and pixie dust. I could finally shout it from the rooftops. We were going home. To Walt Disney World!
Who:
Me, Husband J, Nemo (3yo son), and Boo (1yo daughter).
Nemo was 15 months old on his first trip in September 2019. He's grown so much and is the brightest kid. Amazing memory. He loves to sing Happily Ever After, and also shout "DADDY! HELP ME!" a la Finding Nemo: The Musical in public, which draws some concerned looks from folks nearby. Boo likes... whatever her brother likes. Oh, and dress up. She wears her Moana outfit every day and demands "Moana song". During lunch time, nap time, you name it.
What:
Our first trip to Walt Disney World as a Party of 4!
When:
May 4th - May 14th
Originally, this was supposed to be our typical week-long trip… but when I started looking at flights, I found significantly cheaper arrival flights a few days prior. When I calculated the flight savings against the cost of extra nights, it was shockingly close. Before I could even finish my proposal to J, he said, "Book it." I don't always have the time or energy to remember why I married him these days, but this has got to be one of those reasons. 10 whole nights and 11 whole days at our happy place! We're making up for lost time.
Where:
Pop Century Resort
Yup, I still love my Values. Plus, kids are expensive. And, we need to try out that Skyliner!
Why:
When people asked me how many kids I wanted, I always said two. Because Disney was made for a family of four. They laughed, but I was being 100% serious.
Clearly I didn't do a pre-trip report because within those two weeks, I realized how much studying I had to do on all the changes Disney has been through. I wasn't even going to do a trip report because I don't know how interesting this may be to others, and I might not even have enough pictures to share for each day, and also, what is free time? But I'm giving it a shot because it helps me relive our memories, and that makes me happy. So here we go!
Our flight was at 6am. Yup. So you can guess how much sleep I got that night. And yes, I woke two babies at 3am. Despite all this, the flight actually went really well. Nemo was zoned in on the iPad, and Boo fell asleep on me the whole time. Thank you, Universe. We arrived at MCO before 9am and hopped on Mears Connect and were standing in the Pop Century Lobby before 10. It felt so familiar. The smell of the lobby, the sounds of the food court… and this happy sign.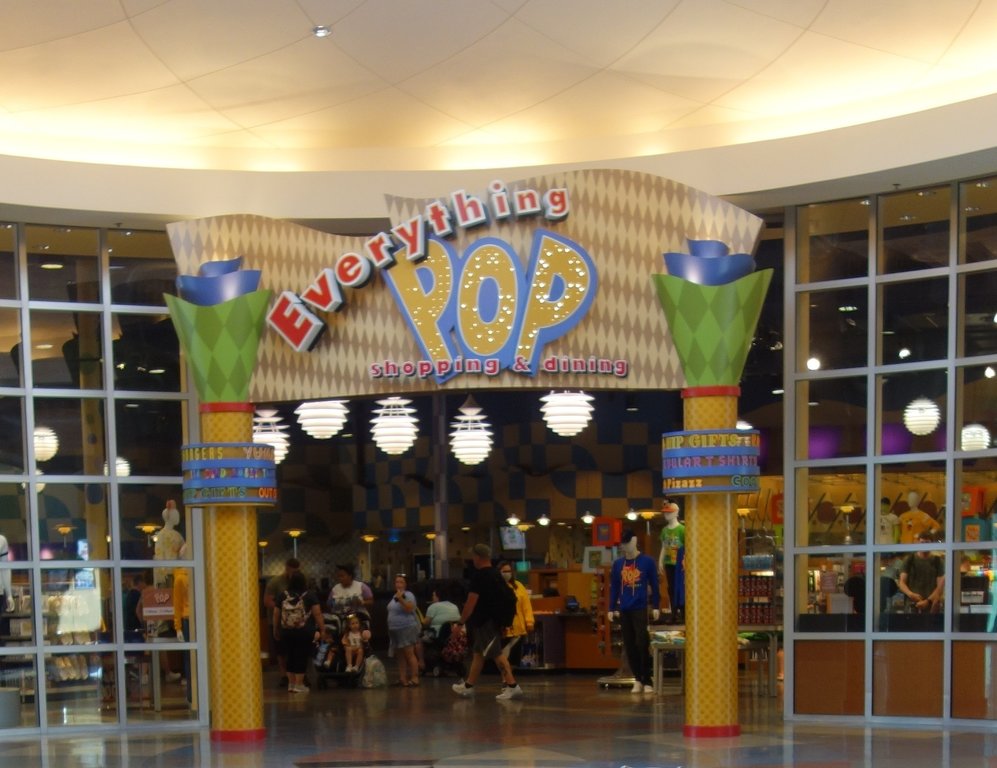 Our room was not ready, so we carried straight on to what was sure to be one of the highlights of our trip: visiting the Cars section of Art of Animation. Nemo is an absolute Cars fanatic and had no idea what was in store for him. He talked nonstop about 'meeting Lightning' at Disney, but he didn't know he'd be meeting all the Radiator Springs gang, or seeing the Wheel Well or the Cozy Cone Motel either. We had anticipated this moment for a long time. He walked casually towards the back of the Cars section and started to trot, then run, then before he knew it, he was standing right in the middle of Radiator Springs.
I loved this sign. A Happy Place. I plan on making a version of it and putting it on his bedroom door. We'd be back to visit our friends many times, that's for sure. But now we had to acquire sunscreen. Very important.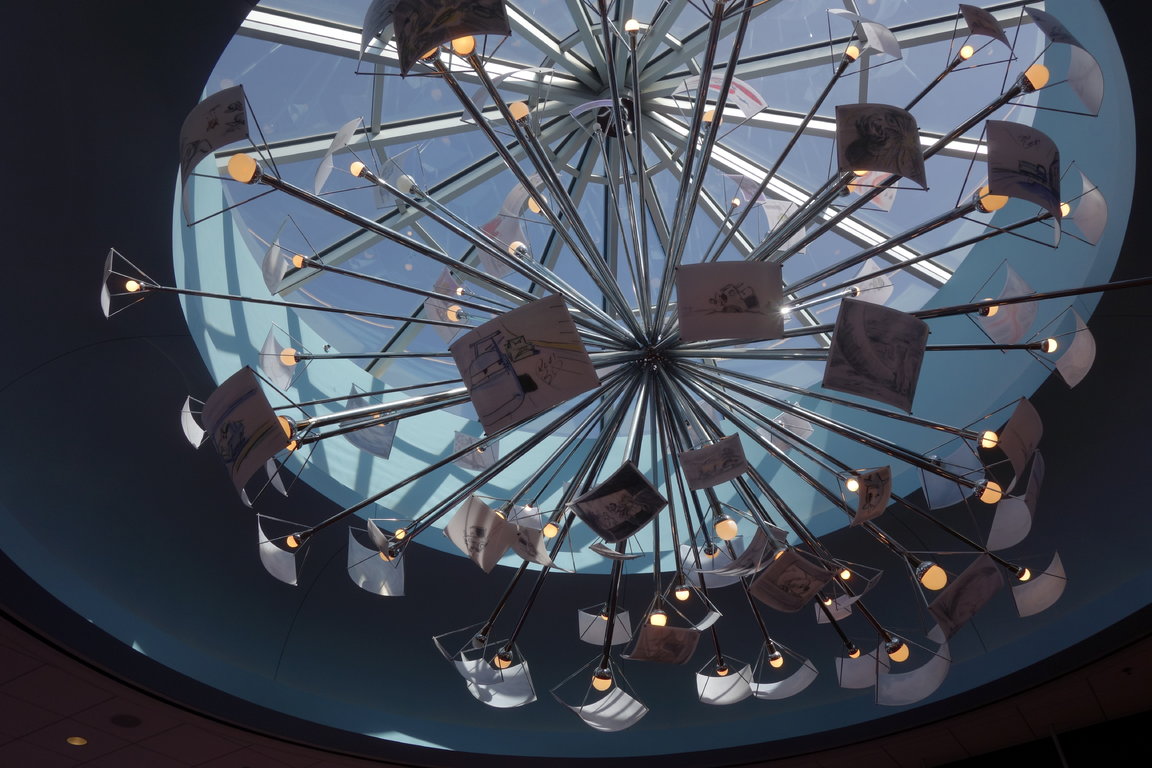 The kids were very intrigued by the chandelier fixture and excited to see familiar faces on the walls. Every little detail was something to talk about. Keep in mind these kids have not been in a store for two years (which is to say, Boo has never been in a store before). But it's time to live life. And they were SO excited to see all the toys in Ink and Paint - it's like they couldn't believe their eyes. And then the concept started clicking for Nemo. "Let's buy this!" So now he knows that buying things doesn't have to be delivered in an Amazon box.
We promised them we'd buy things later, and headed back out to explore the other sections of AoA. Saw an elephant graveyard, a dinglehopper, and snarfblatt… and Boo's seemingly favorite Disney princess at the moment, much to J's dismay. (He thinks Ariel is the dumbest princess).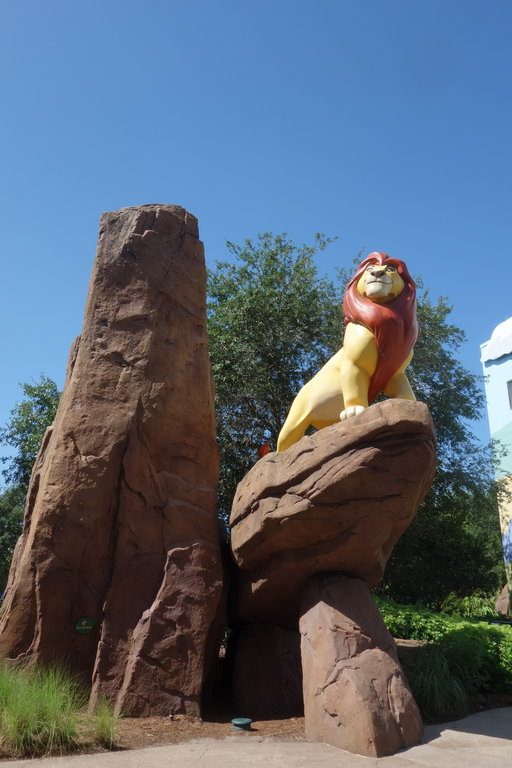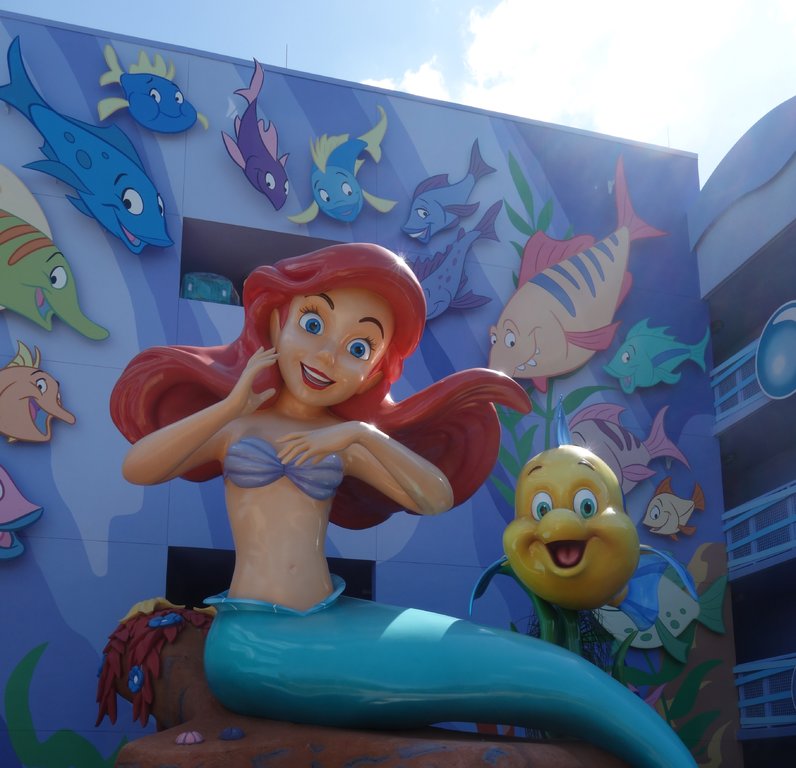 We went back to each lunch at Landscape of Flavors. Per usual, I spent two weeks poring over Quick Service menus trying to preplan what my kids should eat. J was on his own. Which would explain why he got some Orange Chicken "Special". I got the kids a Turkey Sandwich kids meal which looked kind of sad, but I didn't know how picky they'd be and this was about as bland as it gets. Plus, I liked the milk and fruit that came along with it. They devoured it and I realized that they would probably not be able to share a kids meal anymore. I got the Shrimp and Grits which was SO tasty, albeit salty, which is probably why it was so tasty.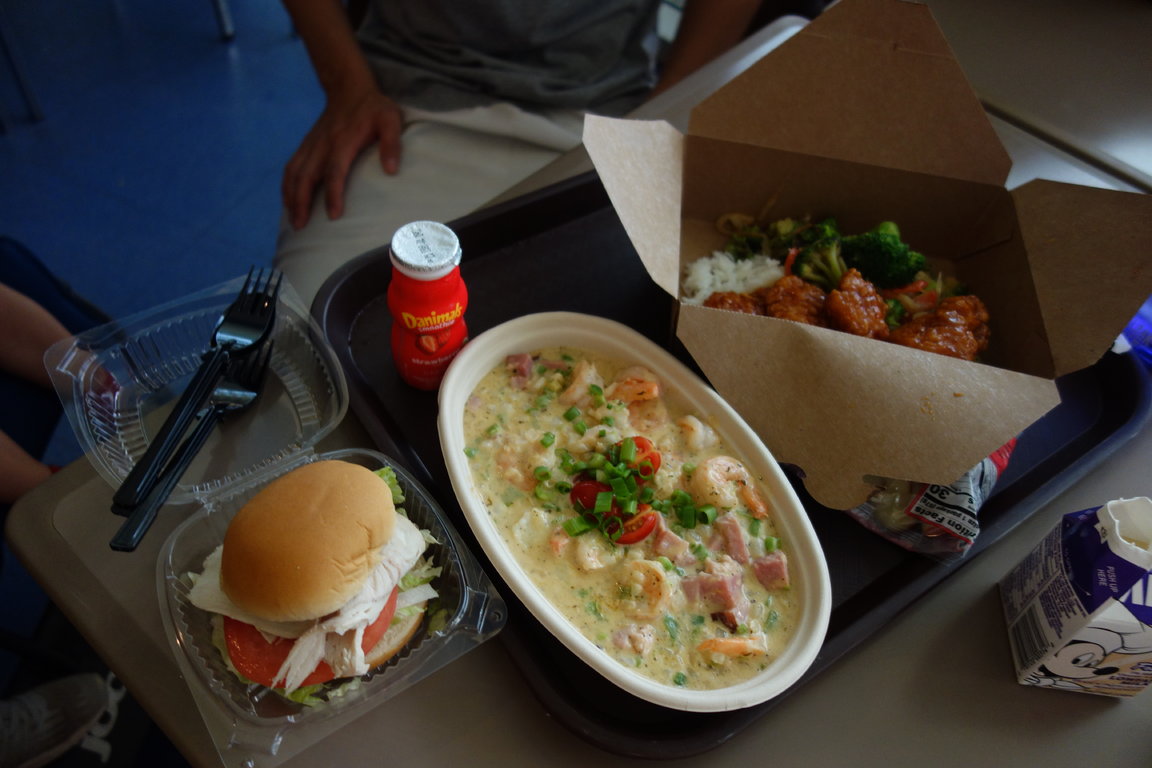 We got the text that our room was ready so we started to make our way back to Pop Century. They ogled at the gigantic Crush along the way, and then we just had to stop at the Righteous Reef playground for a while.
As we walked across Hourglass Lake, a new attraction took hold of their attention. The Skyliner. To say Skyliner was a big hit this trip would be an understatement. All four of us were OBSESSED with this thing. We would test it out later, but for now, we needed to go to our room to unpack and relax a little. Our room was in the 50's Section, and kind of a far one at that, but it was on the corner, nice and quiet, and we had a blissful view of the lake and Skyliner that we'd admire every day. The refreshed rooms were wonderful! Sorry for the shoddy pictures. I did not have a good relationship with our camera this trip, and I eventually gave up on it and used my phone.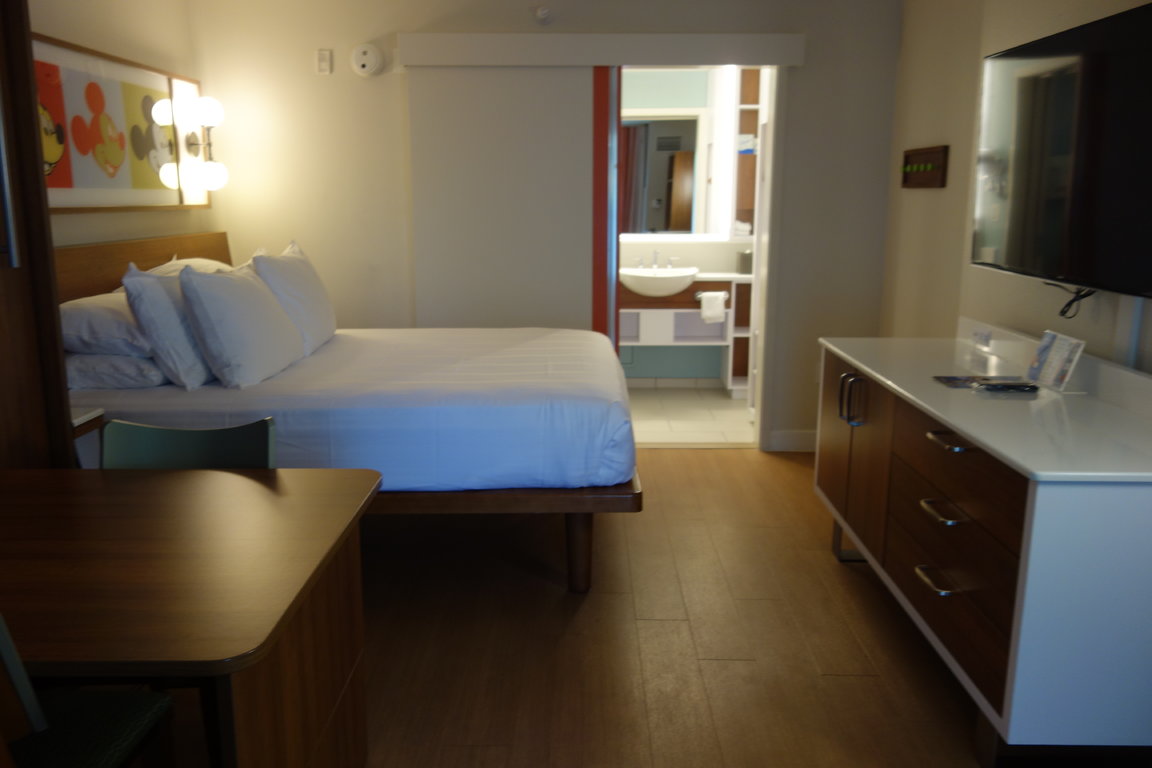 The Murphy Bed was the perfect gift I didn't know I needed, with our gigantic double stroller and all. The kids immediately started jumping on the bed and Boo looked at the Mickey painting and waved and said "Hi Mickey!" and I could not stop smiling. We set them up with a few cartoons and started unpacking. I love unpacking on Disney vacation. Then it was time to hit the pool! We went to the Bowling Pin Pool just outside our room, where Nemo had a great time paddling around in his lifevest, Boo stuck to me in Koala position, and we talked about our new friends, Lady and Tramp.
After a while, we decided it was time for our next activity:
Skyliner joyriding. And it indeed brought us lots of joy!
Last edited: