Hello friends!
We have been back from our most recent trip to WDW for over two months, but I have just wrapped up my September trip report, so I am a little delayed in starting this one. Nevertheless, I am excited to share this trip report with you, and hope you all enjoy following along! Let's get down to the nitty gritty!
When: Sunday, November 29th - Saturday, December 5th. Six nights! That's a long one for us.
Where: The Cabins at Fort Wilderness! If you read my trip report from September 2019, you may recall that we absolutely fell in love with Ft. Wilderness when we stayed there, and we were itching to go back! When I found a great deal on the cabins for our favorite week to go during the holidays, it was a no brainer!
Who: By this point, many of you already know me (Katie), and my husband Jason:
We also had another passenger along for the trip, which brings me to the reason for the title:
We are expecting! I am due with a baby boy in June! Due date right now is the 10th, but he's measuring a little big, so I'm hoping they'll move that up, because I'm not trying to give birth to a 10-pounder!
. Some of you know that we struggled with infertility for a few years, so we are over the moon to finally be welcoming our firstborn. I was around 12/13 weeks pregnant while we were on this trip, so an alternate title for the TR could be "The One with All the HoRmOnEs."
And because I have made you wait so long for this TR, here's a bonus pic of Little Man. He does have a name, but we won't be sharing it until after he's born. And I'm not 100% decided on whether I want to share it on this platform...we'll see.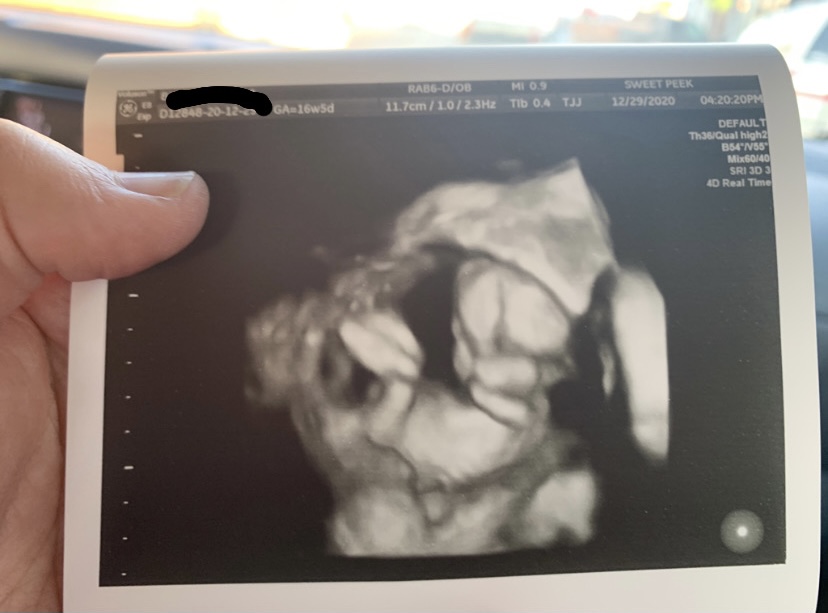 Doing Disney while pregnant was a totally different experience, and I hope that this trip report can shed some light on what that is like, in case any of you are planning future pregnancies, or traveling with a pregnant woman in the future.
I hope you all enjoy following along on our trip, and make plenty of popcorn, because this is going to be a long one!