Well-Known Member
Original Poster
Ok, I have been on these boards for several years but never posted a PTR or TR. I have read just about every TR on here and feel like I have a LOT to live up to! My very first PTR was HollyBelle's pre-wedding report and that set the bar HIGH. From there I proceeded to read her wedding TR, sobbing when she finally got to the ceremony! I then found myself devouring TR's from sweetpea, blackthidot, disneyfalcon, fashionista007, fractal, millerpoppins and sooooo many more of you. Thank you guys for sharing your trips....your reports gave me ideas, helped me order my meals and kept me from making (some) of the mistakes you made.
The title for my PTR comes from blackthidot's last TR and his captions on the SSE photos. You will have to go read his TR to get the reference, but suffice it to say that my husband and I just burst out laughing when we read it and I hear "For real son!" at least every 30 minutes at my house! I can't wait to ride SSE and yell "For real son" when we get to the appropriate scene. Yes, we are easily amused! Thanks John for the inspiration for the PTR title and all the laughs!
Now, for a little bit about myself....My name is Heidi and I am *gasp, cough* 42 years old. I am a family law attorney....meaning I do divorces, child custody, child visitation and child support cases with a little dab of dependency, abuse and neglect of children cases thrown in for giggles! My job is often depressing and very draining so I look forward to my escape from reality and heavy dose of happy at WDW. I am self-employed so my hours are wonderful and I do not claim to be overworked or highly stressed. I am blessed and I acknowledge that.
Going on the trip with me are:
My husband, Ryan, age 39 (yes, he's younger). Ryan had never been to WDW until our first trip in 2007. He had no real desire to go, but went along with a great attitude. After the first few minutes at WDW, while in the lobby of POR, he was in love! He was amazed, thrilled and had a much better time then he ever anticipated. We vowed to return again and did in 2010. That trip was just as wonderful and we decided that we had to return sooner, so planned our 2012 trip. Ryan is a thrill ride junkie, while I prefer Soarin'.
My sons, Tucker (13) and Will (11). Tucker is an avowed Disney fanatic like his momma and his career plans are to study animation at the California Art Institute (or some such) and work as an animator at Pixar. Lofty goals, but we like to aim high! Will is a soccer mad boy whose entire life revolves around practicing soccer, playing soccer games, watching professional soccer....you get the picture. Will likes WDW but is ready to vacation somewhere else.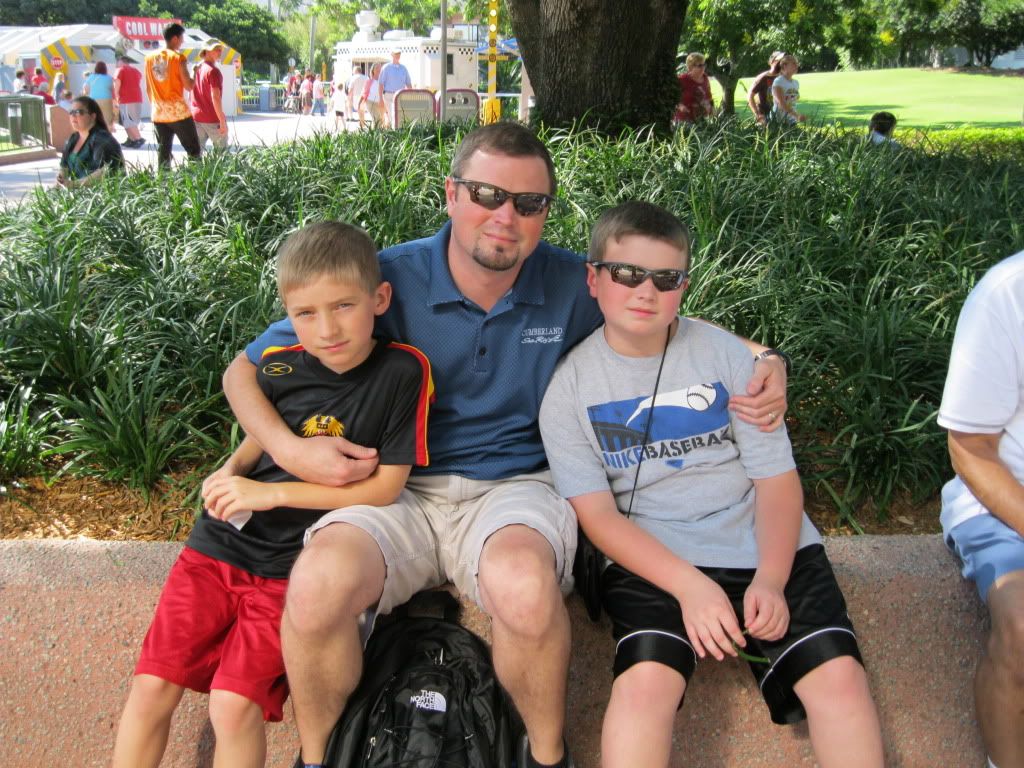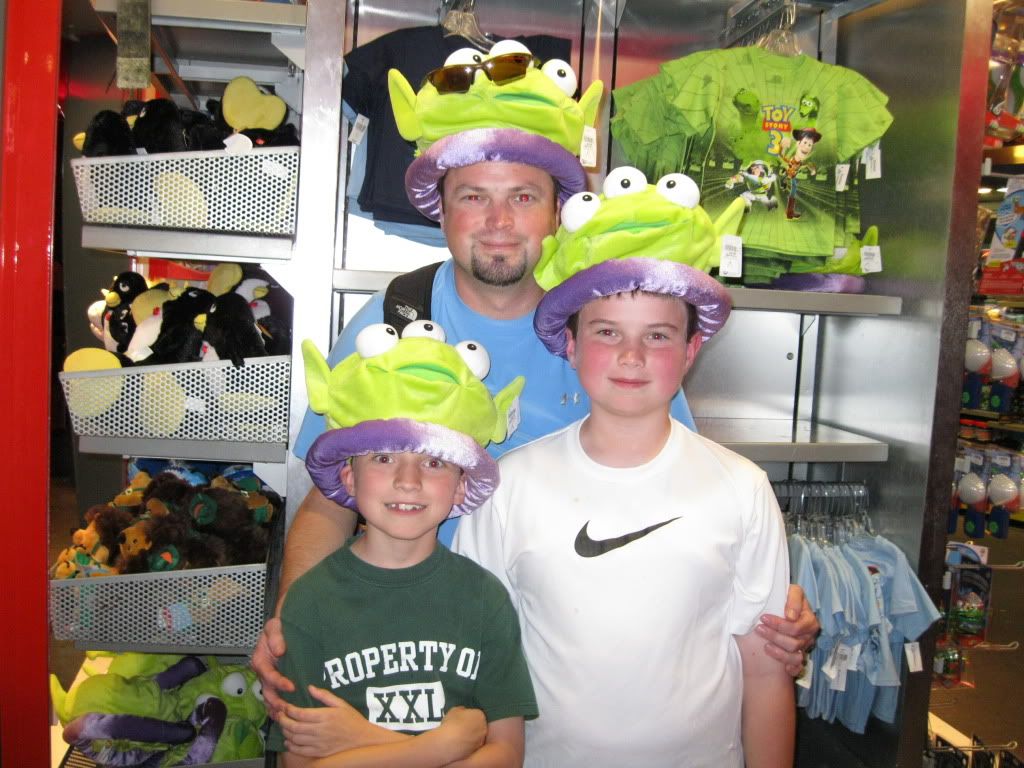 And here's the whole family
My father, Fred, and my father's wife, Connie, (I hate to call her my stepmother as it seems to have such negative connotations!) are joining us for part of the trip. They joined us for a few days on our last trip and rather unexpectedly, fell in love with WDW too! I really think they just fell in love with my awesome planning--which gave them short lines, great meals with no wait, secret places to eat with no crowds and a plan everyday.
Did I mention that I am an obsessive planner??
The fact my father now loves WDW is a source of great amusement to me. My parents took my brother, sister and I to WDW in 1974 (I think) and it was, to put it bluntly, the trip from h*ll! My parents had no hotel reservations and no plan whatsoever. They had lived in CA and visited Disneyland and I think they thought there would tons of hotels near WDW. We arrived at WDW to find the Contemporary (was it the only hotel at WDW in 1974?) booked. We ended up driving to Cocoa Beach to get a hotel room. We drove in to MK for a day and I insisted on wearing my brand, spanking new Mickey Mouse tennis shoes with NO SOCKS! The term "blisters" did not begin to describe what was on my little tender 5 year old feet by the end of a hot day in July. OUCH! My father complained about the endless lines and the terrible food quality...I remember eating a hot dog and chocolate pudding in the Contemporary and my father complaining loudly about the unhealthy food options....good grief, it was 1974, no one had heard of health food yet!!
I have some slides of that trip which I am going to try to post on here. It is pretty cool to see MK nearly 40 years ago. My dad almost threw out all the slides while converting his slides to a DVD recently, but I rescued a few from the trashcan!
Anyhoo...my dad swore WDW was his idea of h*ll on earth and he would never be back. He ate his words in 1984 when he and I returned together for a medical conference he was attending. We stayed at the, then, Buena Vista Palace, near the current DTD and spent lots of time at Epcot, which was the new park. He seemed to thaw a little towards WDW. Never would I imagine he would go with us in 2007 when we jokingly invited him along! I guess old age mellows you, LOL!
Ok, I am going to go ahead and try to post what I have so far. I have no idea what I'm doing and this will probably come up with links to pictures instead of my actual photos. I should have taken a TR tutorial before I tried this or at least read some instructions! Well....here goes!