We should be able to visit the past without feeling like we are hoarders or people unable to fit into the world of new technology. It was those now obsolete personal, in your home, media that got many of us hooked, but others feel that now that you can push a button on your computer that we should completely abandon and destroy our past and embrace the new that we can touch via that same computer button. Just not the same thing. After I'm dead I'm sure my family will just find the closest dumpster for my 30+ years of collecting those memories. At that point I will probably be fine with it. I still feel that their lives are much colder due to that attitude.
oh absolutely and I've got scrap books, old pictures and 8 mm tapes galore but Goofy, we're not talking about individual mementos per se. We are talking about a business marketing tool (and those dvd's were not some special gift, they were a marketing tool) so the question becomes does one keep producing something that holds value to a smaller and smaller demographic.
I liken it to picture taking in general. When I started I use to have the old 35 mm film camera, then we progressed to digital and now the technology on cameras is becoming so great that many folks simply whip out the old cell phone.
Yes there is a small group that still uses analog 35 mm cameras, I took a photography class that specifically used them so people would learn the functions on a camera but the reality is, its not a popular technology
It's not really a cold attitude but imagine if every generation was required to keep all the previous ancestors stuff. My late husband collected signed sports,
memorabilia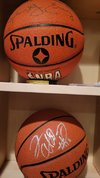 It'd all over the basement. The reality is the kids don't want it. They have fabulous memories of football, baseball and basketball games with their dad but what are they going to do with this junk?