Well-Known Member
Original Poster
This is my first ever TR and our third trip to WDW since 2007. If you want some background info on me and my family, I direct you to my Pre-TR at
This trip was kinda funky....just different than our other trips. @
ShookieJones
discussed this is his TR also...something was off...we still had fun, but things were weird and our schedule was off the whole trip.
The title for this TR "A Trip of Excess" comes from too much rain, too much food, and too hot. The "puke in the parking lot good"...well, you're just gonna have to read on to find out where that came from!
Now, without further ado....onto the TR!!
Day One- September 29:
We made our reservations for this trip in November of 2011, so our trip countdown began in the mid-300 days. I rented DVC points from David's DVC Rentals (shameless promotion) and in order to get the resort we wanted (Boardwalk Villas) we HAD to book as far out as possible. Food & Wine Festival began the weekend we arrived, so the EPCOT resort hotels were in hot demand.
Regardless of the near 344 days I had to get ready for our trip, I still didn't pack until two days before we left! I know, I know...this site is full of obsessive planners and people who pack nearly a month before they leave...I am a slacker and a first class procrastinator, what can I say?? In my defense, I did have a WDW box in my closet in which I had been depositing the WDW specific items that we were taking (ponchos, cross-body bag, stickers, travel size stuff).
Anyhoo, I began packing on Wednesday night...we were leaving Friday at 5:00, so yes, it was last minute.
We had been saving our change since last November when we planned the trip. We keep our change in Simply Orange bottles that we "Disneyfy". We managed to fill three jars and when we took them to the bank Thursday, we had $505.00!! SCORE! We always have a contest too, in which we guess how much money is in the jars and the winner this year got to do whatever he/she wanted for three hours during the trip. I guessed $510.00 and I WON!! Since I planned the trip and we were doing what I wanted most of the time anyway...I deferred my prize!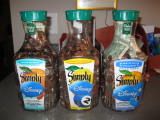 The boys had school on Friday, Ryan had to work until 5:00 and I had family court in the morning, but was leaving work at 3:00 to pick up the boys and head home to finish packing. I finally made it out of family court (but not until after sitting through a meeting with a mother and father who were cursing each other out in front of their children...nice...I was SO ready for my happy place!) around 11:30 and decided to go to lunch with a friend...bonus, her in-laws joined us and they insisted on paying for my meal! Yay, more dollars for Disney! I headed home to change out of my "courting" clothes and take our dog to the kennel.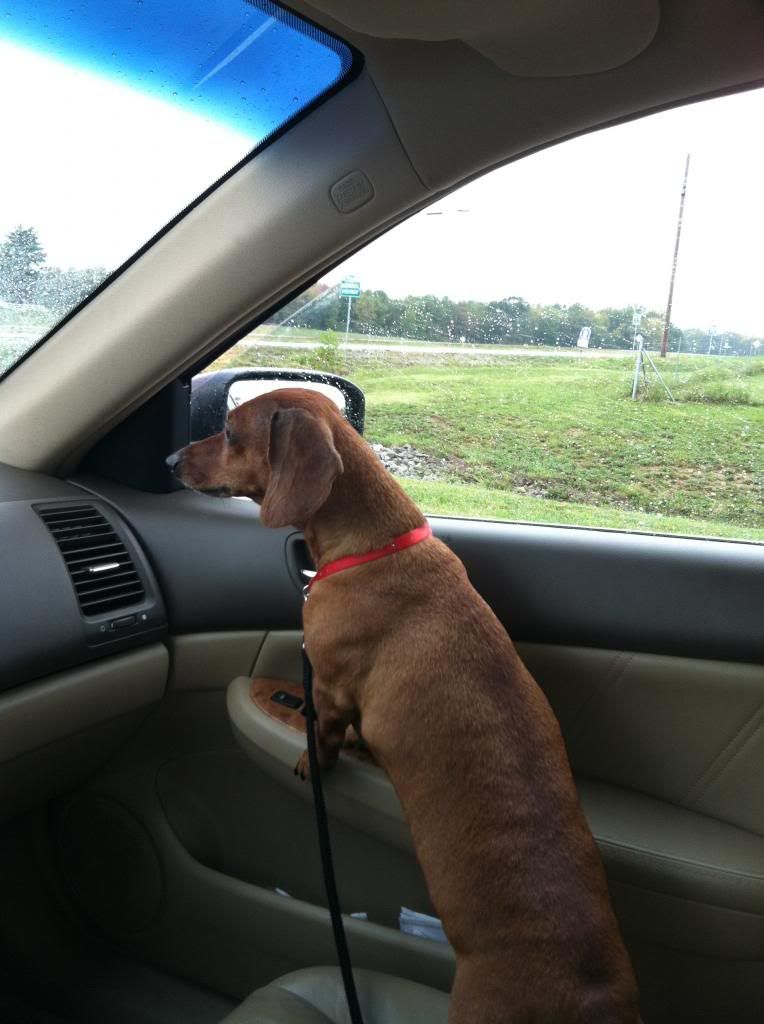 I went back in to work after leaving Slinky happy and contented at the kennel. I actually cleared my desk and returned ALL the calls that I needed to make...I was kinda freaked because I have never been able to get everything done that I needed to before vacation...hopefully a foreshadowing of how smooth our trip would be!
Here is my desk, all clean and tidy...or as clean and tidy as it has ever been.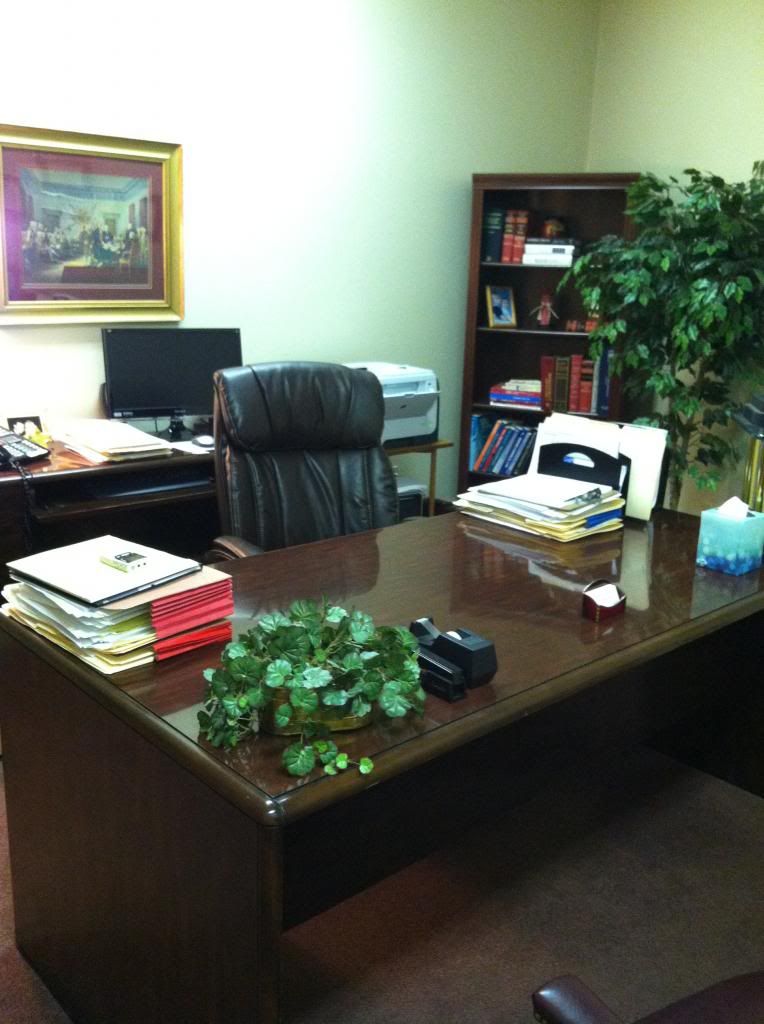 Picked up the boys at school...they were SUPER excited that we were leaving in just 2 hours!! You may recall from my PTR that when we scheduled our trip we did not yet have the school calendar for this year. After we booked our (nonrefundable, nontransferable room) the school calendar came out and Fall Break had been pushed back a week...like the week AFTER we were going to WDW. I decided the boys were just going to miss a week of school. I prepared a lengthy "Educational Enhancement Opportunity" application so the boys' absences would not be unexcused and they would be able to make up their work.
At home we finished packing all bags and had them next to the door awaiting Ryan's arrival home.
Ryan got home around 5:20 and we were on the road at 6:00....a little off schedule, but I was trying to relax...we had nowhere we had to be until tomorrow! Well...I say I was trying to relax, but I nearly choked him when he sauntered in the door at 5:20 after we had been anxiously watching the driveway since 4:50! Then, he had the gall to go in the garage, get out some tools and announce that he needed to do some work in the car. WTH!!! Turns out he was wiring some sort of contraption that let both boys have I-pod chargers in the backseat. Didn't take long, but you know how it is when you're ready to go and your spouse is diddling around (that's a Southern expression for "not doing much of anything"0.
Anyhoo....I was TRYING to be patient and not stress out.....
The boys were absolutely perfect in the car....no fighting, no griping. This is NOT usual! They both fell asleep fairly quickly. That's my "baby" Will!
We stopped at our favorite Pilot station just before getting on I-75 in Tennessee for "road snacks". My husband is addicted to "road snacks" and has to have a stash of junk food that one acquires at a gas station and several Monster Energy drinks in order to make the drive.
Tucker at the Pilot station....the thumbs up became his "signature" photo pose throughout the trip.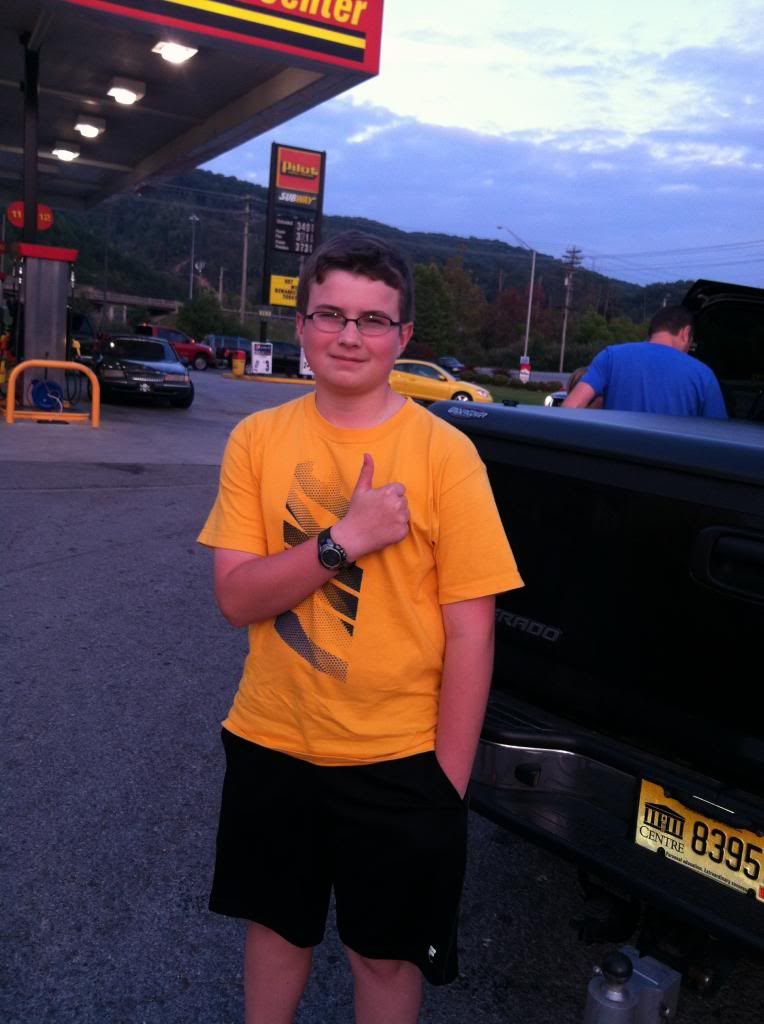 Dinner was Zaxby's (we are addicted to Zaxby's...to be fair, they do warn you that it is addicting in their advertising) We drove six hours to Macon, GA where we had reservations at a Hampton Inn. We arrived around 11:56 ( to be precise!) and headed straight to bed.