Pandemonium in a Pandemic- Semi live edition!
Okay, so here we go!
For those that have read my previous trip reports you know that 2020 for us was about as glorious as was for the rest of the world.
This is the longest gap that I have been absent from my Happy Place since the horrid 5 year stretch from 2009- 2014.
After many thoughts and almost canceling- I think that I mostly thought about that gap and even if most of my family thinks I am nuts, I feel like I have to live. Living to me, is going to Disney. So many things have been taken away from us and even as a germaphobe, the thing that scares me the most will always be not living life. Does that make sense??
I chose a few days ago to stop worrying and go have fun. The fact is...I Lysol bombed the room my whole life anyway. Clorox wipes and hand sanitizer have always been two of my best friends.
Think the show Monk. I relate to this character so much.
With that personality, I am also the first to want to be silly. I actually lucked out in that regard,(all regards, actually) We have the silliest family ever. And a tight bunch to boot!
So the car is loaded, B is asleep of course- and Stinker and I are binge watching Mickey Mouse Clubhouse! (He hasn't watched that in forever, think he is excited!)
This is the longest, hardest part for me. Not near as long as it would be for B, if he drove during the day when I was awake. Stinker rides in a car better than I do.
And with that, I will start this thing off with a few Griswold gifs-
Here is to hoping that this Trip, will be Real Nice!
And that B will not drive like this, once I fall asleep.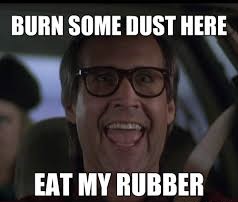 If you guys are like me, I miss live trip reports! Heck, I miss making a live trip report.
Few hours left!
pre trip report here-
Pandemonium in a Pandemic! A DisneyGigi Pre-trip Report 11-1~11-7 Even if this can't happen this trip and I wish it was 2019 again- I am going home! 2020... what a year thus far. I don't like you very much by the way. I can't wait to slam the door as you go out the door. Here is hoping for a...
forums.wdwmagic.com