Who: Me, my husband, and our 3 kids (6yo, 3yo, and 1yo)
Where: Art of Animation
When: Oct. 25-31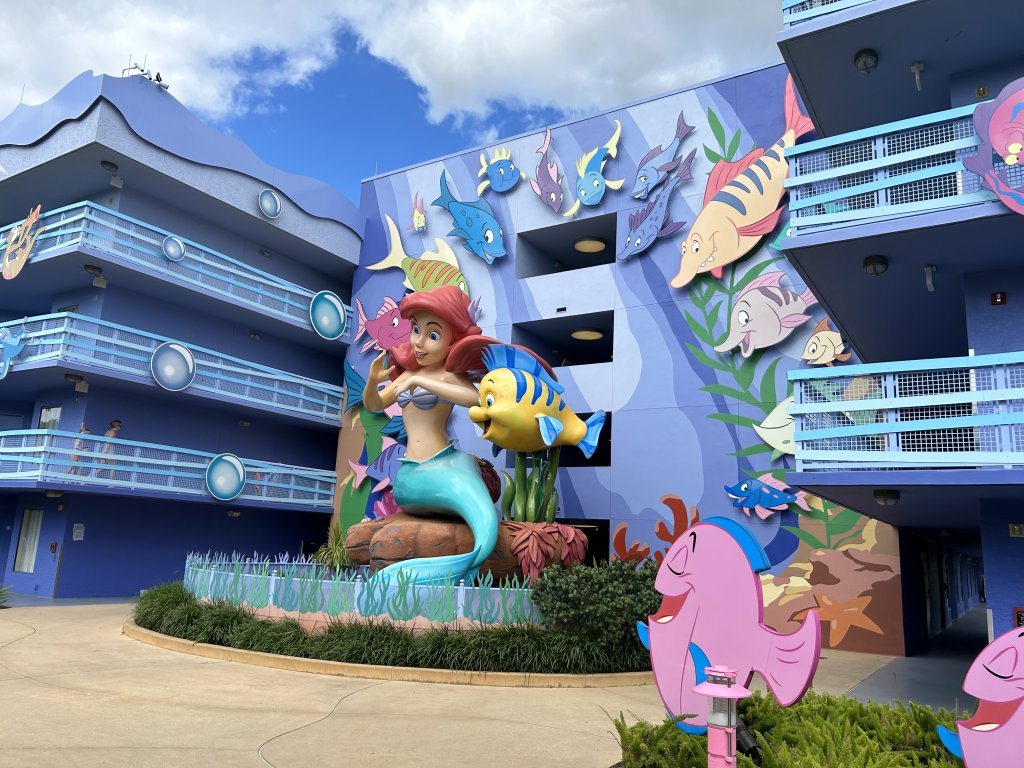 Background: my husband had a conference in Orlando Oct. 23-25, so we were throwing around the idea of me joining him for a few days before or after, to go to Universal. (We both love roller coasters and the last time I was there was before Hagrid's Motorbike and Velocicoaster.) But we weren't able to find anyone to watch our kids around that time frame, so we decided instead to surprise our kids with a trip to Disney!
We booked at the beginning of September, which is probably the shortest planning time I've ever given myself. But this was also the first time not having any extended family with us, so it really didn't require as much planning. We planned one day at each park, with a break day thrown in. We planned to rope drop as much as we were able and to buy Genie+ only on our Magic Kingdom day. We made just one dining reservation, at City Works Eatery, for brunch on our break day.
We managed to keep the trip a secret and my husband left for his conference on Monday, after telling the kids he'd "see" them on Wednesday. He had packed in a roller bag carry-on and taken as much of our kids' stuff as he could. I was flying out on Wednesday, with all 3 kids, 3 backpacks, 1 duffel bag, 1 baby carrier, and a double umbrella stroller (and a partridge in a pear tree
)
In the middle of Monday night, 3yo randomly threw up a little bit, making me very nervous about the coming trip. I let her stay home from daycare on Tuesday, just as a precaution, and thankfully she was fine all day.
On Wednesday, I took all 3 kids to school/daycare as usual, but told them I'd pick them up early so they could see Dad. I finished up the packing, got everything ready to leave the house for a week, and picked them all up before it was naptime at the daycare. I didn't want to interrupt their naps, so we left earlier than necessary, rather than waiting until after. We stopped back at our house briefly for me to repack 6yo's backpack. She was oddly unsuspicious about me putting in her favorite stuffie, blanket, etc.
We parked our car and took a shuttle to the airport. At this point, they believed we were picking up Dad from the airport, and it cracked me up that they didn't ask why we were bringing so many bags with us to do that. While on the shuttle, 6yo even told me next time we go to Disney, she wanted to fly (we drove last April).
At the airport, I was wearing 1yo in the baby carrier and made the other 2 ride in the double stroller. I absolutely felt like a pack mule with all the things I was carrying, but security went surprisingly smooth.
Once through security, kids started asking where Dad was, so I suggested we call him to ask. He was at Disney Springs having lunch at D-Luxe Burgers.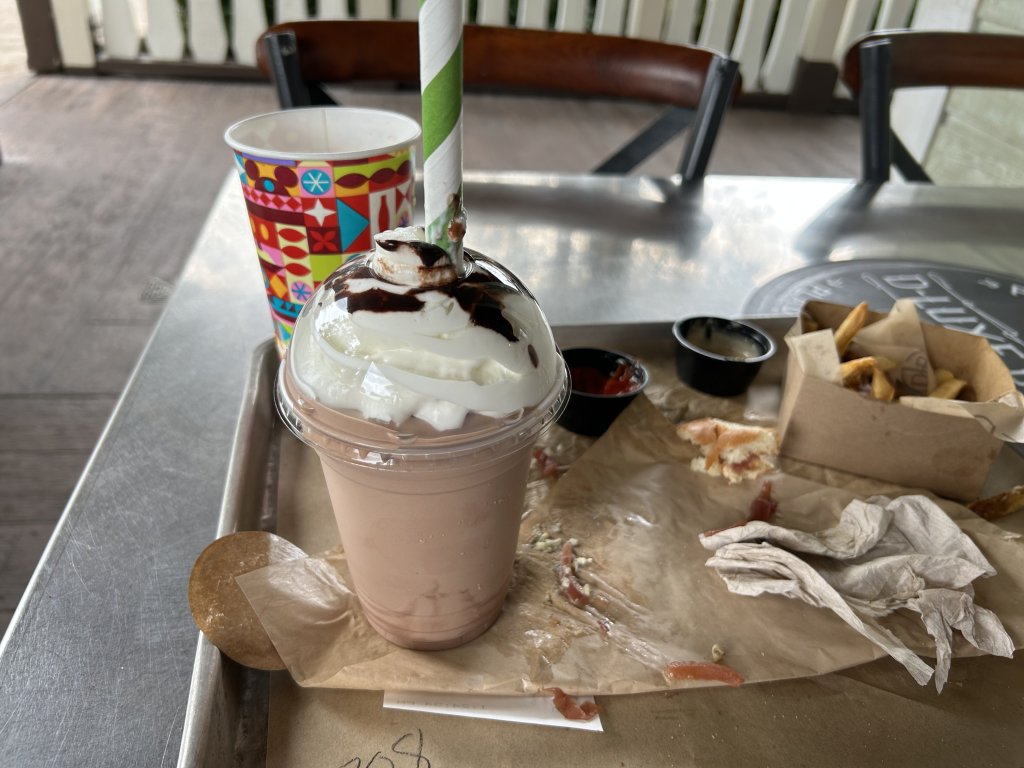 But we had actually arranged for a video call so that he could record us telling them where we were actually going.
It was so fun seeing 6yo working through the fact that Dad wasn't here at the airport, but that she was still going to see him. She was especially excited about Disney, 3yo was excited but also asking to go potty, and 1yo was oblivious
We ended up with way too much time to kill, but 1yo did take a nap in the stroller.
Once boarded, my husband sent me the following text "Y'all have a great flight! You can do this!" I had been super nervous about flying with 3 young kids by myself, so I appreciated the encouragement. I was pleasantly surprised that the flight went as well as I could've hoped. I was slightly annoyed when the flight attendant informed me I had to remove 1yo from the baby carrier for take-off and landing. I know I've done it before and said as much to her. But I of course complied. But she still came back, after I had taken off the baby carrier, to show me the rule on her phone. Overkill as far as I was concerned.
Anyway, while we were at the airport, hubby had transferred from his conference hotel and checked into Art of Animation around 3:30pm. We had requested a pack & play for 1yo, so he made sure it was set up and picked up our Shipt order. Drinking the tap water in Orlando has given me tummy troubles in the past, so we got bottled water, as well as our kids' standard snacks of applesauce, yogurt, fruit snacks, & goldfish, and some pop tarts for on-the-go breakfasts. Oh, and some bottled Frappuccinos for me & hubby!
View from our room:
We had been scheduled to land at 8:14pm, but our flight was delayed a bit. By 9pm we were off the plane, had all gone to the restroom, and were headed to our Mears bus. The bus waited quite a while for more people to board and we left the airport at 9:35. I was glad to hear that we were the first stop! I think within 10 minutes on the bus, all 3 kids had fallen asleep
. I had packed some uncrustables for my kids to eat on the plane, but I hadn't had dinner yet. So hubby picked up a kids' chicken strips meal for me, and met us as we got off the bus.
We had booked a Little Mermaid room, for cost efficiency, but not surprisingly that meant we were about as far from Animation Hall as possible. It didn't end up being a problem, as the giant characters and props kept the kids entertained all week. They especially liked the elephant graveyard and wanted to go through the cave every time we passed!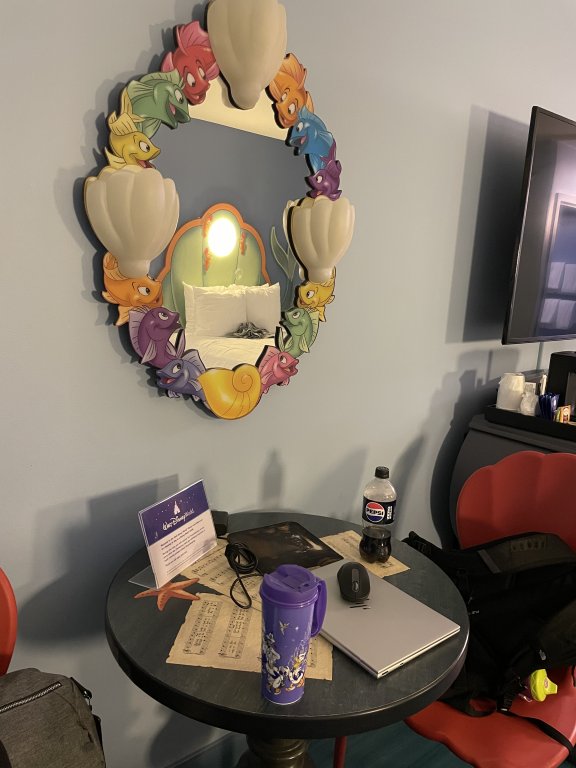 We checked out our room and quickly got everyone settled into bed since it was way past everyone's bedtimes. 6yo declared the room "too Ariel", but by the end of the week was obsessed with all things Ariel.