Howdy howdy howdy, and welcome to our fun lil trip report! Hopefully y'all will enjoy it. If ya don't, my apologies in advance, heh. Anyways, I wrote a pre-trip report ("Insert Witty Title Here" Pre-Trip Report) two months ago that discussed all of the fun things we were doing on this trip. But if you're too lazy to click that link and read for a few mins., I'll give ya a short 'n sweet version: we were going to Walt Disney World for four days to enjoy Epcot's 30th anniversary shenanigans and the Food & Wine Festival, and expected to have a great time - which was definitely had!
I'll start this trip report off on departure day, which included a visit to Universal Studios Hollywood - so let's get this bad boy goin'!
FRIDAY, SEPTEMBER 28TH
I just barely slept the night before. I was so excited the entire week for no reason. I even packed a couple days before, when I'm usually a "night before/day of" kinda guy! I mean, everyone's excited before a trip to WDW, but I'd never felt anything like it before. But that was fine by me!
Laura was originally going to have to work all day Friday, which is why we had to take a red-eye flight. They definitely aren't fun, but it's better than flying out the next morning and wasting most of the day. I was mostly worried about getting to the airport that evening - we were flying out of LAX, which is 90 miles away, and we'd be driving there on a Friday evening. Anyone who lives in Cali knows Friday evening traffic is the WORST. Originally Laura would be getting home at 5:30, and we'd have exactly five hours before our flight left to get up there, have dinner, and get into the airport. It wasn't exactly impossible by any means, but I was still worried. Anyways, she asked her boss if she could leave an hour early that day, and he told her to take the whole day off!
UGH! I mean, that's great and all, but he could've done this two months before when we booked our flights. I could've had an extra day in WDW!
I wanted to leave the house first thing Friday morning, but Laura would never allow that to happen. The house has to be spotless before we leave. She spent the morning finishing cleaning and packing, while I had to go to a physical therapy appt. (lower back problems - lame!) and stop by Target for some last-minute things. We wound up leaving the house just after 1pm.
Getting to L.A. was mostly a breeze. We hit up a McDonald's drive-thru in San Clemente and split a 20-piece McNugget meal for lunch. Traffic wasn't a factor until we approached downtown L.A. on the 110. I wound up getting off at one point and driving through town like a mad man before getting back on at the 101. Traffic was a mess through Hollywood but we eventually made it to Universal Studios Hollywood!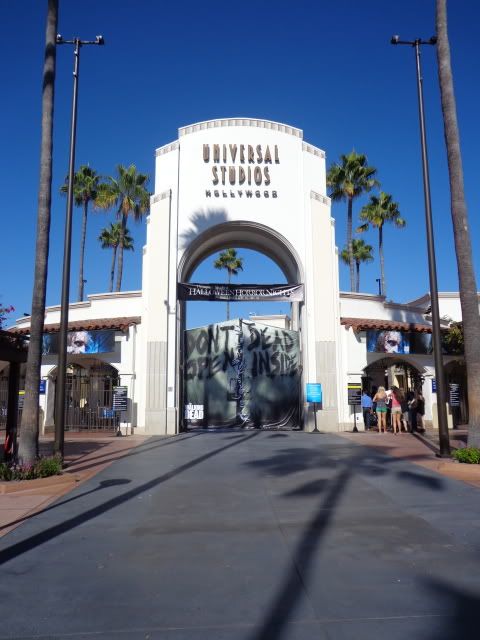 I think stopping at the park is going to become a tradition for us when we've got a red-eye out of LAX, haha. We did it back in June, too. I just wanted to run in for a bit to check out the Halloween Horror Nights decorations and ride Transformers. And that's basically exactly what we did!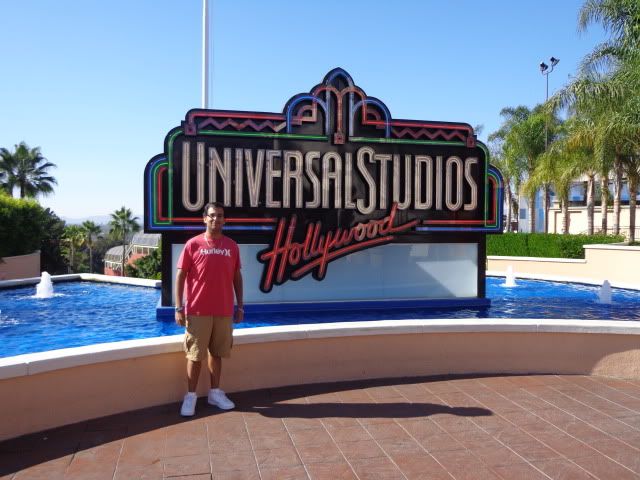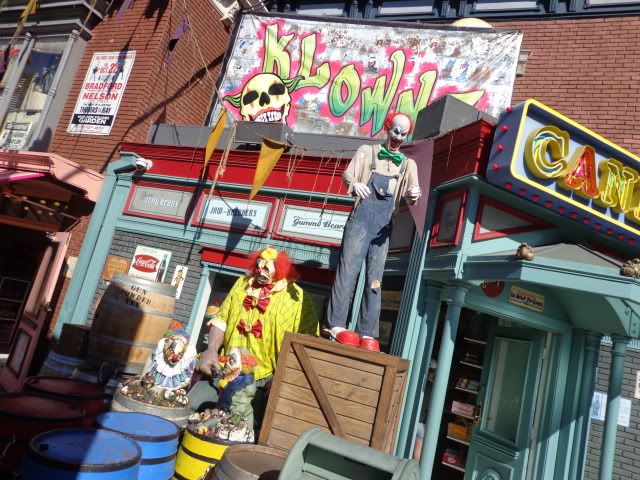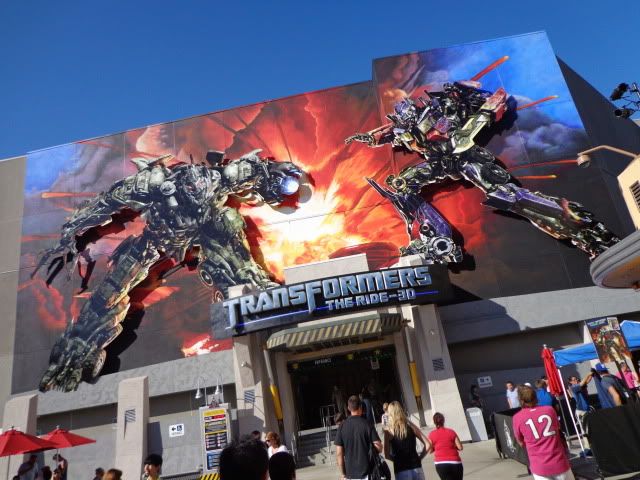 The park was actually quite busy for a Friday. I was expecting little to no people. There were a ton of Asian tour groups in there, though. Most of the rides had 30+ min. waits. We simply rode Transformers as a walk-on through the single rider line and still rode in the same car together. It's such an awesome ride!
It was still wicked early to head to the airport area once we left the park, so I scrambled to find us something to do. I figured this was a good time to drive a few miles north to show Laura the filming location for The Office! Haha. I've been a huge fan since the beginning, but we recently watched most of the series (through season 7) on Netflix and now Laura's hooked too. The show's set in Scranton, Pennsylvania, but they film in L.A., and the office building is in an industrial area of the city. Anyone can drive right up to it.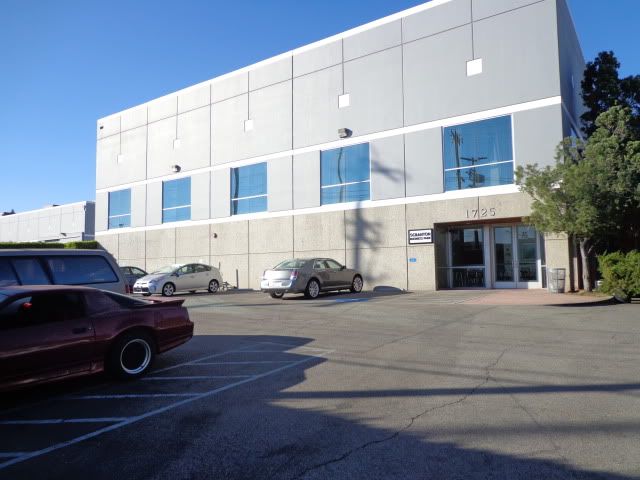 After that little diversion, we hopped on the road to the LAX area. We had to take 405 south, and it was like 5-6pm, so traffic was nuts. Going north was worse, though. That was barely moving.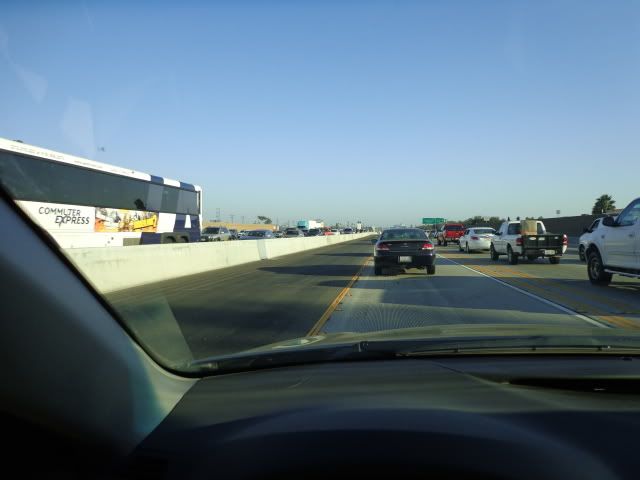 We stopped in Culver City, which is just north of LAX, and went to a mall there. It's super cool… very "modern" and they have stores like Target and Best Buy, in addition to the usual suspects like Macy's and JCPenney. Laura bought a larger purse at Target to carry in the parks and we walked around the mall for a bit before going to the attached BJ's Restaurant & Brewhouse for dinner. Laura had an individual Hawaiian pizza and I went with one of their giant baked potatoes with cheese & bacon on top. Super yummy! Laura also had a baked beignet for dessert, but I decided to skip that.
It was around 7:45 when we finished dinner, so Laura figured it was a good time to get over to the airport. I stopped at a nearby CVS to buy some ThermaCare heat wraps for my back (that I'd wind up never using!), and then we went to the offsite Park 'N Fly lot to park. Once we were in the terminal I had to check the board and make sure our flight wasn't canceled, heh. The last two times I've flown out of LAX have been scary (a few years ago, I was three hours late to ATL, missed my connection, and spent the night in the terminal - then in June our flight was cancelled in the morning and we couldn't leave until 12:45am that night). Everything was fine, though! The security line was even nonexistent at that time so getting to the gate was simple. We had time to kill so we charged our phones and browsed some shops. I grabbed some pretzel M&M's and water as I was getting a tad hungry before boarding. Soon enough we were on the plane, which took off right on time at 10:35, and then we were off to Florida!