It's always been a dream of mine to visit Walt Disney World during the holidays, having only done it once before, a long time ago. But we've always stuck to what we know and love. However, with Nemo growing up so quickly and about to start school next year, we decided to just go for it. It had only been a mere six months since we made our inaugural voyage to Walt Disney World as a Party of 4, but who says no to a bonus Disney vacation? Not us!
Who:
Me, Husband J, Nemo (4yo son), and Boo (2yo daughter)
What:
Christmas at Walt Disney World
When:
November 12th - November 19th
Where:
Pop Century Resort
Why:
Because we want to embrace this time in our lives. Right now, the kids are absorbing the magic, yet they also are growing so fast. I don't want to miss a thing. Oh, and Christmas decorations.
I hardly have time to be on the boards anymore, but I did find myself rereading my past trip reports every once in a while and getting completely engulfed in all the memories and feelings. So that's why I'm writing this. Whether the quality is decent or not, it will at least give me something to look back on and share with my kids one day so they can see how much we did and how loved they are. Would love to have anyone who wants to join in follow along! So here we go...
We arrived at Pop Century around 11am relatively unscathed after traveling with two toddlers via "car, plane, train, and bus" as Nemo liked to say. Boo fell asleep on me on the bus ride over, and remained asleep in the stroller as entered the lobby. Immediately as the automatic doors opened, I was hit in the face with that sweet Disney lobby smell and found myself breathing it in euphorically. It was followed by the lights, the sounds of chatter, and the excitement of rolling our humongous double stroller towards this now iconic sign for our family:
Our room was not ready, but I went to the desk to reiterate our requests (Ground Floor, crib) and the CM offered to look for a ready room right then and there. That would be a huge help to us, so I gratefully accepted, and we were given a room in the 90's. With that secured, we went to lunch right away.
As I was waiting at the Mobile Order counter for our order, I looked up at all the funky circular lights and couldn't stop smiling. We were here. J salivated over his POP'ing Pimento Burger, and lost a good chunk of his fries to the kids. I didn't want anything heavy after all the travel, so I just got a Greek Salad with Chicken and gave the kids all the cucumbers and chicken. I myself ate a lot of feta cheese and olives, yum. (As always, my pictures are not that great, but you get the idea). We sat in front of the TV and the kids watched Disney music videos while we unwound.
After lunch, we set out to find our room. We obviously got our room circled on a map, but I didn't register that our room was literally in the farthest building possible. Probably the 4th farthest room in the entire resort, to be exact. Luckily for us, we are pretty much a leave-and-return one-time-a-day type of family. It also gave us the opportunity to walk past all the different landmarks on that side of Pop Century. The kids particularly loved the Mickey phone, foosball field, and Big Wheel.
We finally reached our room and it was like an explosion of excitement. Kids were itching to jump out of the stroller and jump on the beds. This equaled no pristine room picture. We got them settled in front of the TV while we unpacked. My OCD self loves organizing all our outfits by day and displaying all our snacks on the shelves/in the fridge. Then we popped the kids back in the stroller and presented them with their very own pairs of sunglasses (very exciting stuff) and we were off on our first adventure.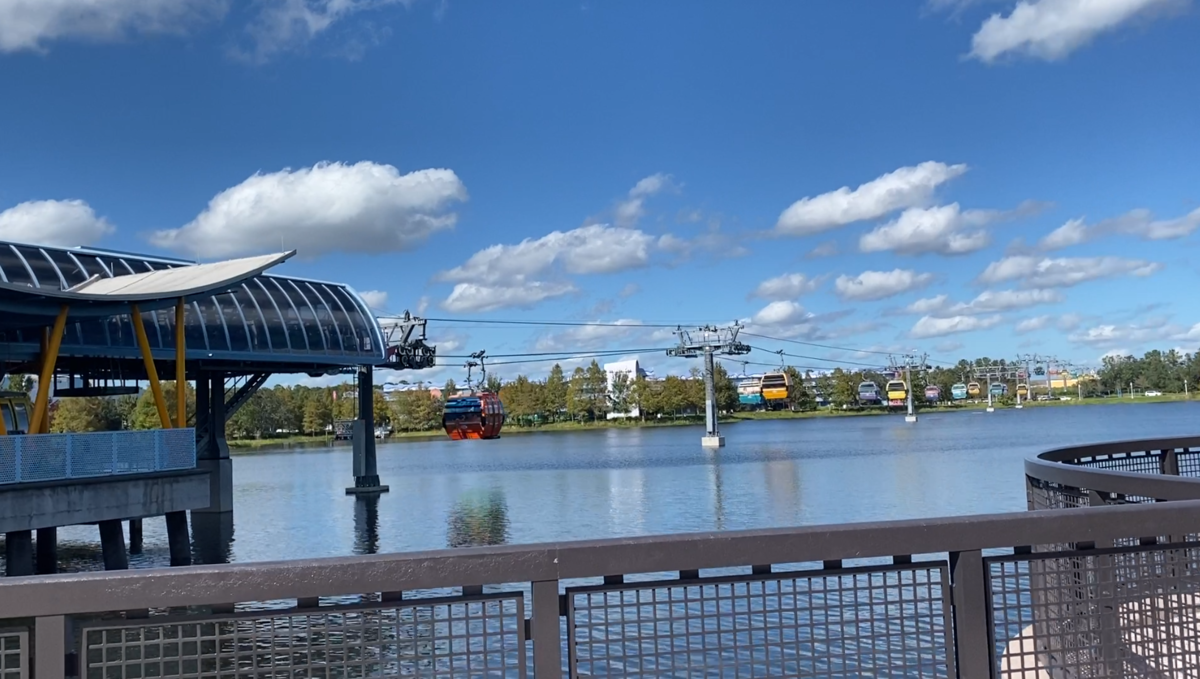 Good thing Skyliner cabins are often private, because the kids love to scream as we take off. Nothing gets them going like the Skyliner does. They run into the cabins and immediately climb on the benches, go "ahhhh", and turn around and yell "don't crash into us!" when another cabin comes into the station after us. Our first destination was Riviera. Nemo talked endlessly about 'playing chess', which we did. Also bocce ball and Connect 4. We ventured inside briefly to enjoy some of the artwork, but we were drawn back to the outside. It was a beautiful day. 80 degrees, sunny, and breezy. Just a few days after Hurricane Nicole, which we certainly weren't expecting to have to follow. We felt very grateful.
I grabbed two cups and spoons from Primo Piatto for some sand play, and we moseyed over to Caribbean Beach. Nemo basically belly flopped onto the sand and dug in right away. He filled his cup to the top, packed it in, and turned it upside down to find that he created a sandcastle. He was beaming with pride. Boo elected to sit on the sidewalk and reach into the sand from there, not wanting to get any on her. We have such a boy and such a girl on our hands.
We walked to the pineapple fountain, where Nemo discovered his favorite phrase of the trip: "It's-a-pine-apple" in a robotic tone. He also discovered that he love gift shops. Everywhere we went, he would ask if there was a shop and wanted to buy things. Not even toys, just things like the bagged popcorn. We peeked into the Caribbean lobby briefly before visiting the playground and cannons for a bit. Our original plan was to walk back to Riviera to eat an early dinner at Primo Piatto, but it was a little too early, even for us. We didn't feel like sticking around, so we took the long walk to the Caribbean Skyliner station. We enjoyed the empty pathways and colorful buildings along the way.
We got off Skyliner and went to Art of Animation for a plethora of activities, starting with the Righteous Reef playground. The theming of this resort is just so perfect. I love larger than life Disney, and it's done so well here. Especially the Cars section. The road, the desert-like foliage, and all the characters for the kids to walk right up to and interact with. This sign now hangs in Nemo's room. When he saw it, the biggest smile appeared on his face. As we walked down the street toward the Wheel Well, there were more smiles because "LIGHTNING MCQUEEN, HE'S BACK!!!" He had been under the blanket the last time we visited.
We visited the Lion King and Little Mermaid sections before settling down to eat outside with a view of the Nemo seagulls. Landscape of Flavors always delivers. J got the Tandoori Chicken and I got the Braised Beef. It was A LOT of food - plenty enough for me to share with the kids. I also got them the kid's Macaroni and Cheese, and realized that I created a monster because they would ask for mac and cheese for every single meal after this.
For good behavior, we promised to go to Ink and Paint after dinner and buy a souvenir. You know, a half day in. But hey, it brought them so much joy. Nemo chose a pack of three Toy Story cars: Woody, Buzz, and Aliens. He brought it to the cashier himself and placed it on the counter. These cars became his best friends this trip. He wanted them everywhere with him, accompanying him to breakfast (in bed), watching TV, and the bathroom. While wearing his Woody pajamas, he said, "Hey, you're wearing me! Said Woody."
We trekked back to our room, passing by Baloo and Mowgli. Boo asked, "Where's his clothes?" We walked by Goofy and his red convertible. Of course, we had to stop so Nemo could examine the car. We admired the 90's computer which really did bring me back. Those icons!
Finally back in our room, we did bathtime and then it was time for bedtime stories on TV, a common topic at home. "When we go to Disney, we can sit on the bed and eat snacks and watch bedtime, stories!" They know the drill. When it was time for bed, Boo started snoring comfortably on her daddy right away. Nemo lay awake a little longer, pretending to snore, and mumbling "I wonder what's for breakfast" a la Pooh in Pooh's Grand Adventure.
When all was calm, I asked J how he felt. He said, "It feels like we never left." We were settled in, and ready for a week for magic spent with our little family.