My husband Justin and I went on a Disney Trip a long time ago. We spent NYE at Disney and started 2018 in the land of magical mice and friends. Some of you may remember us. If not, that's cool. I remember reading many of your travel reports in preparation for that trip.

We even rode Splash Mountain about ten times or more in a row during a freezing cold front. We also got trapped on Splash Mountain. We wanted to go back to Disney one day. Still, instead, we camped out at Dry Tortugas National Park, visited Big Bend National Park, visited all the Utah National Parks, and almost died during the government shutdown of December 2018 on Mount Caramel Highway en route to Zion National Park when we got caught in a snow squall. Then COVID happened. During COVID, we enrolled in graduate school and had no free time.
Fast forward to 2023, and I am graduating from graduate school with a 4.0 and a master's in research psychology with a concentration on children and adolescents. Also, I'm a special education teacher, and for some reason, my district gave us a funky winter vacation that starts on Christmas Day and ends on January 7th, 2024, and Justin's is over a week before mine. So... As a reward to myself, I'm doing a solo Disney vacation, and it will be my first ever solo vacation without an intention to meet up or see anybody I know. May the odds be in my favor.
So here's a reintroduction: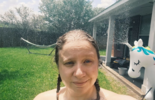 My name is Lyssa, and it's been too many years since my last trip report. I am a self-proclaimed crazy cat lady. I enjoy rotting my brain cells with complex jrpgs. I love to read and take photographs. As aforementioned, I'm a special education teacher who teaches 3-6 yr old students with autism and other developmental disorders.
I will travel to Disney from January 2nd, 2024, to January 5th, 2024. I have no idea what my plans are, except they will involve the Tron Coaster, Space Mountain, and all the other rides that have reopened or been reimagined since my last trip. Also, I hope the new fast-pass replacement system will not be too confusing. I intend to take a copious amount of photographs, especially since I just got a new Nikon and many bad selfies. I'm staying at the Beach Club and might be more excited about Stormalong Bay than some rides.
So here's to what will be a zany solo trip.
Now off to read everyone's trip reports.