The soothing croon of Michael Bublé kept reverberating in my mind as I pondered starting yet another trip report. Like summer, the Christmas season makes me happy. Going to WDW during the Christmas season makes me VERY HAPPY. The joy of sharing my trips with my WDWMAGIC friends makes me happier still. Thank you for the encouragement to keep on writing!
Holiday Vacation #1
When: November 16-23, 2019
Where: Disney's Pop Century Resort and Disney's Wilderness Lodge
Who: Tuvalu and Woody
Looky! I finally got a Magic Shot!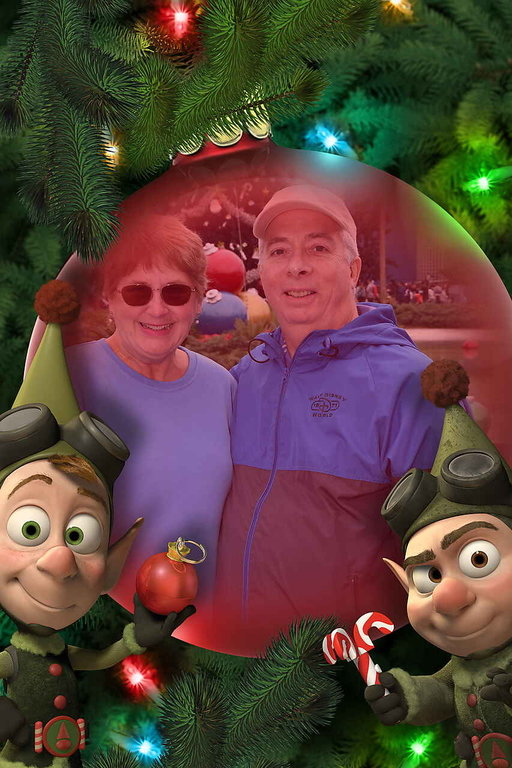 Okay, so it's a bit creepy. But it leaves no doubt that this was a CHRISTMAS trip.
In mid-November.
But hey, we had Halloween in August!
And yours truly was very excited to experience Christmas decor at the resorts and in 3 of the 4 parks. (Epcot was still in full "Food and Wine" mode.) It wasn't always this festive in November. We've been this same week in the past and outside of MK, there was very little decorating completed. I was so disappointed the year we stayed at WL (very close to turkey day) and missed out on the holiday stuff. I was worried the same thing would happen again. But I'm getting ahead of myself.
Woody, on the other hand, is a "Let's celebrate Thanksgiving before shifting our focus to Christmas" kind of guy. Growing up, his family did not put up their tree until CHRISTMAS EVE.
(Can you imagine?!!)
Over the years he has mellowed, thanks to my influence, and better tolerates the Christmas creep. Yet I was concerned that his inner Scrooge might reveal itself during this vacation.
I needn't have worried. But I'm getting ahead of myself again.
Our week consisted of some new experiences and old experiences....some frustrations....some drama (of course!)....and a very magical meet.
Stay tuned.