WHO:
J, E, R & myself(hanging out somewhere new & different
)
WHERE:
Home
WHEN:
Friday, January 14th-Monday, January 17th
We had a 7:00 flight that evening b/c R & J both had school that day. When I say R had school what I really mean is that he had to work. He is a principal & really does not like taking off from work while school is in session. I happened to be off that day so I was able to take my time getting ready to go & for once didn't feel like I was rushing from work to the airport.
We ate at Penn Brewery for dinner & while we waited for our food R taught J how to gamble!!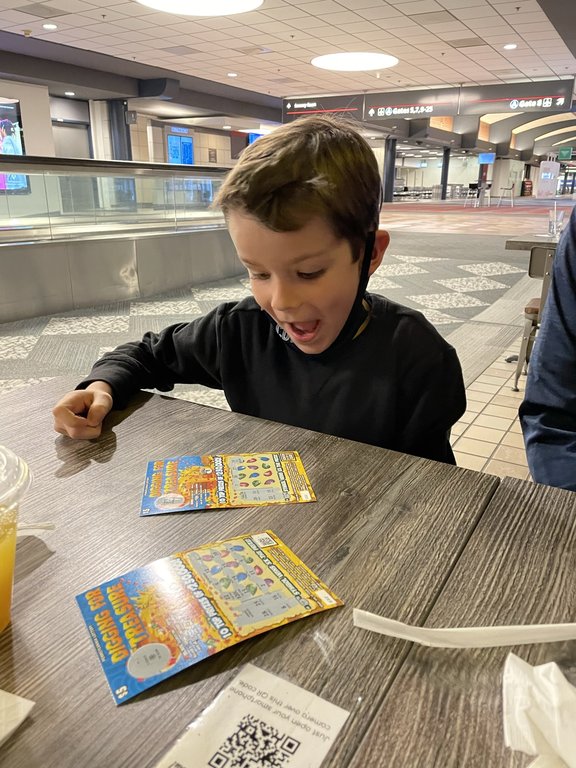 He was so excited b/c he won $10.00. Beginner's luck!!
R decided that he only wanted pierogies that were on the appetizer menu. I tried to talk him into getting something more but he said he wasn't that hungry. Guess who was starving by the time we got to Florida??
There was quite the scene at the gate as the passengers from the previous flight were coming off. See my man standing up with the dark orange hoodie?? Wow.... Apparently he was refusing to wear his mask on the plane & was giving the flight attendants a hard time about it. He was still carrying on even after the flight. Well, he was so busy being a jerk that he forgot his coat on the plane. Now he wanted to go back on & get it. He was told he wasn't allowed. It was very obvious(& rightfully so) that Southwest took their good old time going back on there to retrieve it. It seemed like they were stalling long enough to give airport security time to get there!! Served him right!! All that did was created more of a scene though. Finally, security ended up escorting him out. He kept saying he has the right to not wear a mask. Come on dude, we've been wearing them on planes for the last 2 years. If you don't like it, stay home. No one is forcing you to fly. Where I got really irritated was when our flight was delayed b/c of Mr. Non Rule Follower. I don't want to sound mean but I hope he ended up getting some kind of fine over his antics!!
J started out by reading the beverage menu that evening!!
He followed up with the safety instructions after that!!
Fortunately our flight wasn't delayed too long & we landed shortly before 10. Really, 9:37 & our room still wasn't ready??
By 9:50 it was though
None of us checked in luggage b/c it was going to be a short trip. The car service was waiting for us & we were home in no time at all!!