After driving west on I-4, I take Exit 67 to EPCOT and Disney Springs. The ramp to Orange Garage is blocked so I turn around in Watermelon Parking Lot and drive down Buena Vista Drive. There are only four entrances open today with temperature screening checkpoints: Orange Garage, Lime Garage (open later in the morning), rideshare, and Hotel Plaza Blvd. I park in Orange Garage. It's 10 AM.
There is a stream of cars trickling in as I approach the temperature screening checkpoint. I notice the extended dividers for queuing which will become necessary when crowd levels increase. There is a tent at the screening station for people with a temperature of 100.4 or above to cool down. If they don't, they and their party are denied entry. Advent Health professionals welcome me with kind greetings as they aim a no-contact, infrared thermometer at my forehead. It's over in three seconds and I'm on my way inside Disney Springs.
Rideshare (left) and Hotel Plaza Blvd (right) temperature screening checkpoints.
As I enter Disney Springs' West Side from the west exit of Orange Garage, home of House of Blues and the NBA Experience, I notice it's empty of people. I expect this since most businesses that are reopening today are further east in The Landing and Marketplace areas of Disney Springs. I walk to the east exit of Orange Garage where the Coca-Cola store is located. There is a security officer shooting his thermometer at the pavement. Live-streamers are walking around inspecting the area with their phone cameras. I see a large, promotional sign for Mulan at the AMC DINE-IN Disney Springs 24 movie theater which is currently closed. I have a small tripod with me so I quickly set it down to take a picture of Liu Yifei, the actress playing Mulan in Disney's live-action version. I leave the area.
I continue walking towards the bridge to The Landing area of Disney Springs. I hear someone shout "Sir" behind me. I turn around and greet an approaching security officer. He tells me I can't use a tripod. I informed him of the many live-streamers with tripods I just passed. He says tripods can't be used on the ground or set up in any way. I put my small tripod down then pick it up holding it one inch off the ground. "Is this OK?" I asked. He said, "Yes." The rule, as it's explained to me, is no tripods in use. Tripods not in use are allowed. I find this nonsensical but comply before saying, "Good luck enforcing that today."
Security officer testing no contact, infrared thermometer on the pavement, Disney Springs.
As I circle back through the Town Center area, I see a line has formed in front of The Polite Pig, a popular barbecue restaurant. The line is not due to high crowd levels. West Side and the Landing bridge areas were empty. They are regulating the flow of incoming guests at the entrance and guests must maintain social distancing which is creating a short line outside. I wonder how bad the queue will be if even moderate crowds were present.
As I walk from Town Center to the Landing area of Disney Springs, I see even more live-streamers. I think there must be at least 30 of them. I also spot two YouTubers, Nathan (Paging Mr. Morrow) and Jackie (Super Enthused), at Joffrey's coffee spot.
I pick the BOATHOUSE to take a short break because there are only a few people in line and they have seating on the dock. I'm greeted outside the front door then ushered inside where the host tells the server to seat me in section 300. I ask to be seated outside on the dock. The host says, "We're not doing that today," meaning they aren't taking seating requests and you have to sit where they put you. I say thank you and leave, as there are other places to see.
I continue walking east towards the Marketplace area. I wonder if Basin, a bath and beauty store, was allowing customers to sample the scrubs. The greeter says they are. I continue strolling through the Marketplace and meet a guy named Walt who is wearing a pink Cinderella Castle hat. He is taking in the sights and sounds like everyone else in what turned out to be good weather.
Walt Post, a Disney Springs guest on reopening day.
The Marketplace is mostly empty so I turn around and walk back west to the Landing area. Checking in on a few more restaurants I find that Wine Bar George is fully booked for the next two weeks. Their seasonal small plates are only available from the host or walk-up window. I walk over to STK, a modern steakhouse, to check out the seating situation there. They have outdoor seating but the wait for inside seating is one hour. I decide to go to Frontera Cocina, a Mexican place across the bridge from The Landing. Here I find there is no wait for both indoor and outdoor seating. They are also using QR codes for the menu as well as paper menus. I'm quickly seated inside. I spend the next 30 minutes here eating chips and salsa watching live-streamers walk through the door one by one. They scan the inside of the restaurant with their phones then leave.
I finish my chips and a double order of Salsa Verde and pay the paper bill before washing up the restroom. Inside the restroom I see a hand-washing reminder and a cleanliness log which already has several entries.
Restroom sanitization sign and cleanliness log, Frontera Cocina, Disney Springs.
As I leave Frontera Cocina, I think it's time to check the parking availability in the parking garages. In front of the entrance to Lime Garage, there is a Disney cast member holding a laminated sign with a giant QR code. The QR code is an exit survey for guests to provide general and cleanliness feedback to management.
Cast member holding feedback QR code at the Lime Garage exit, Disney Springs.
I check both Lime and Orange garages to investigate parking space availability - and to see who is winning the battle of the garages so far. I know many Disney fans prefer one garage over the other with the pros and cons for each often debated and cheered for on Disney social media. It is almost 4 PM when I check the "scores" for both based on how many spots are available on L1. Lime Garage is a clear winner with only 120 spaces available on L1 compared to Orange Garage's 279 spaces. Lime Garage wins the popularity contest even if you count the higher levels, as there are hundreds more available in Orange Garage.
While I'm checking the parking garages, I'm also passing through the temperature screening checkpoints a few more times. The process remains the same with many greetings and only a three-second temperature check. I reenter Disney Springs through the Orange Garage entrance (my current preference based upon nothing other than its Disney Springs entry atmosphere).
Temperature screening station, Orange Garage, Disney Springs
As I walk back to the Landing area, my phone notifications alert me that Wine Bar George now has seating availability. I make a reservation later in the evening.
My sunglasses need an adjustment so I head over to Sunglass Icon by Sunglass Hut in the West Side area. On my way, I pass by Guest Relations where there are five Guest Relations cast members social-distancing outside. I can't see anyone else inside. I wave to them as I continue on to get my sunglasses serviced.
At Sunglass Icon, I see a sign posted that only four customers are allowed inside at a time with the other four employees who are all wearing masks. The pavement outside is marked with strips indicating patrons are to stand behind lines placed six feet apart for social distancing. There are no other people inside so I immediately enter, have my sunglasses fixed, then leave to walk back through the Landing and Marketplace areas again. Sanitizing stations are apparent throughout the areas with no wait to use them.
At this point, I've been through every area of Disney Springs three times. I backtrack to the Landing area where I meet up with my girlfriend in front of Jock Lindsay's Hangar Bar, a 1940's, aviation-themed, Disney version of a dive bar which is currently closed. Our reservation isn't until later so we decide to get some coffee at Joffrey's and walk around.
As we pass by Paradiso 37, an American and Latin steakhouse, we notice the host is using a contactless infrared thermometer on guests before allowing them to be seated inside. This is a different procedure compared to the other restaurants, like the BOATHOUSE. I also see that there's plenty of room to maintain social distancing outside but it's still a 5-10 minute wait here as they control entry.
Host checking a guest's temperature, Paradiso 37, Disney Springs
We arrive at Wine Bar George about a half hour early for our 7:45 PM reservation. They're only using QR code menus here, no paper menus are offered like Frontera Cocina. We are seated upstairs on the outside balcony overlooking an open walkway area. Once seated, they offer us a paper bag for our face masks and some alcohol-based hand wipes. We order the Hummus and Chicken Skewers.
We take a needed break from our face masks which I've been wearing since 10 AM with few breaks. I think about wearing face masks at the Disney parks when they reopen and how uncomfortable they will be into the 7th or 8th hour of wearing them. Although it's doable, I think it's going to put a mild damper on the magic.
We are people watching from the balcony and notice two men crossing the open area below us. They are not wearing masks and make their way through the area without being approached by anyone.
After dining, the server brings us our check. It is delivered electronically on an Orderman device. This is different than Frontera Cocina which delivered a paper check. The server shows us the check on the device then we swipe our card through it.
QR code menu, paper bag with hand wipes, and electronic check, Wine Bar George, Disney Springs
It's getting late so we take one last journey through the Landing back toward Orange Garage where we're parked. The directory located in the Landing displays a QR code for Disney Park Hits. We scan the QR code on the directory and immediately receive a listing of music on our phones. A neat way to audibly experience your walking tour of Disney Springs.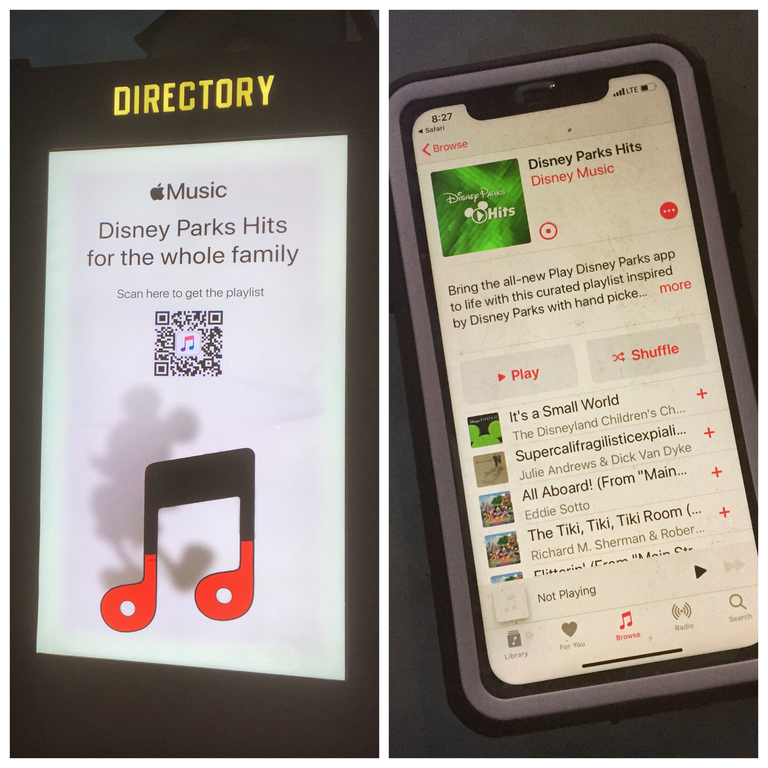 QR code music on the site directory, The Landing, Disney Springs
We continue walking west towards Orange Garage and talking about our observations of the day. Although there were minor areas of inconsistency - like seating, menus at dining locations, and a few people not wearing masks or social distancing - I think the new cleanliness standards deserve high marks. The only inconvenience is having to wear a mask for many hours in the heat. I think about the necessity of taking frequent breaks and how that might be best accomplished while spending 8-10 hours at a park in July. I wonder about the possibility that face masks will only be required when using Disney transportation but not walking around in the parks. I think about what Disney Springs will be like when more people visit as summer approaches. I wonder about a lot of things watching the sunset over Village Lake.
Sunset, West Side walkway facing west, Disney Springs
Last edited: