*Record scratch* *Freeze frame*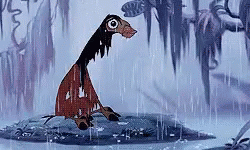 Yep, that's me. So you're probably wondering how I got myself into this situation.
Long story short... I'm no longer at Disney World
Kaitlyn and I returned home last Thursday and have been settling into our new place and finally only got wi-fi yesterday. For those of you who didn't get around to reading my
pre-trip report
, my friend Kaitlyn and I moved into our first apartment a couple weeks ago, just a few days before we left on our trip to Disney. She moved from Saskatchewan to my hometown of Winnipeg, Manitoba, Canada. We have been to Disney together once before in April 2015 in celebration of our graduation from University (along with 2 other friends). Kaitlyn has been back once since then, and I have been back to the World a few times since, including my family trip in February which my sister
@krause
wrote about.
Here's a quick review:
Who:
Myself (Emily) and my friend, Kaitlyn. Here we are with the Big Cheese himself.
Now, you may be thinking, "she says there's only two people on the trip, but her title references the 3 caballeros". Not to worry! We'll get to that.
What:
Pure, unadulterated Disney fun!
When:
Thursday, September 13, 2018 to Thursday, September 20, 2018
Where:
B Resort and Spa (a Disney Springs Resort Area Hotel with EMH and bus system).
Why:
For fun, mainly. It was also a great way to kick off our being roommates!
How:
With determination and by emptying our wallets
Our travel day on September 13th started early. After finally falling asleep around midnight, we were up and at 'em at 3:40AM and in the taxi on the way to the airport by 4:10. We were very much looking forward to the change in weather.
Luckily, Winnipeg's airport is both small and near the centre of city so it only took us about 15 minutes to get there (we probably could have been there a minute earlier but had to stop for a skunk that was crossing the road! I really wish I had got a picture of this) and were through security by 4:48, through customs and at our gate by 5:15!
We made it to our layover in Minneapolis by about 8:00. Our flight to Orlando boarded and departed just after 9AM. And, finally, we landed in Orlando shortly after 1PM.
Fonorail selfie!!
Coming up: Our first-ever attempt at Uber… good or bad?