Hello Disney Friends. Welcome to my long overdue trip report!
My daughter
@TheMARVELousAllieBrown
posted a
pre-trip
report for this trip.
Here's whatcha need to know:
Who:
DD Allie
@TheMARVELousAllieBrown
, Me Lisa
@LisaBelle
, DH Paul, my sister Tina
@TangledTina
, my BIL Mark, my nephew Spence and DS Adam
When:
Friday, July 13
-Sunday, July 22, 2018
Where:
The Contemporary Resort Garden Wing
Why:
Ten Year Anniversary of our last whole family vacation, Allie's high school graduation and Paul & Lisa's 29th anniversary. In the pre-trip we dubbed it our Vacaygraduversary Trip!
How:
Road Trip!
I created treat bags for every state that we would drive through. The idea being that as we crossed the state line we would open the bag and enjoy a treat that is representative of that state. For Ohio, naturally I chose Buckeyes candy.
For Kentucky I chose Ale 8 soda. Bourbon would have been the obvious choice, but since not everyone was of legal drinking age I had to go with a soft drink.
For Tennessee it was Goo Goo Clusters
Georgia was Peanut M & Ms
And Florida would be orange juice from the Florida Welcome Center.
Because we were driving, I placed the small bags inside of an insulated cooler bag to keep the chocolate from melting. I made one bag for our car and one bag for Tina's.
Day 1 Friday, July 13, 2018
Tina and her family live about an hour north of us. They planned to leave home around 7, drive toward Cincy and meet us at the Chick-fil-A at our exit around 8. We were hoping to have breakfast and be on the road by 9. We would spend the night in Valdosta, Georgia and arrive at Disney around check in time on Saturday. Sounds like a great plan, right?
Tina has a tendency to run late, so when she hadn't texted by 7:15 to say that they were on the road, I wasn't too concerned. When I still hadn't heard from her by 7:30 I texted to see how things were coming. Instead of a text, I get a call saying, "Maybe you guys should just leave without us." What????!!!!!! And there goes the plan!
Because there was a medical situation they would be taking a short trip to the hospital before they could leave for the trip to Disney. We decided we would wait it out for a bit so when we left they would not be too far behind us. With bellies full of Chick-fil-A, we were finally on the road at about 12 (about 3 hours behind schedule so not too bad). A bumpy start but glad to finally be en route to the happiest place on earth. We crossed the border into Kentucky about 15 minutes later. We opened our first treat and continued on our way. We had just passed Lexington, KY when Tina called to say that they were on their way! We figured that we should be able to meet up somewhere down the road.
We stopped for an early dinner at a Subway in Knoxville, TN. Back in the car to continue our journey, we decided to enjoy our Goo Goo Clusters for dessert. We noticed the car was not getting cooler. We turned the a/c off and back on again. No cool air. We pulled into a parking lot, turned the car off and back on again. Still no cool air. By now the Goo Goo Clusters and M& Ms are starting to melt and it is approaching 5pm on a Friday night. Adam and Allie researched nearby Firestone Auto Repair shops. The closest one said their a/c charger was not charging. We found another one about 15 minutes away. It was July in Tennessee. It was a lovely sunny day and the temperature was well into the nineties! We were melting by the time we arrived at Firestone.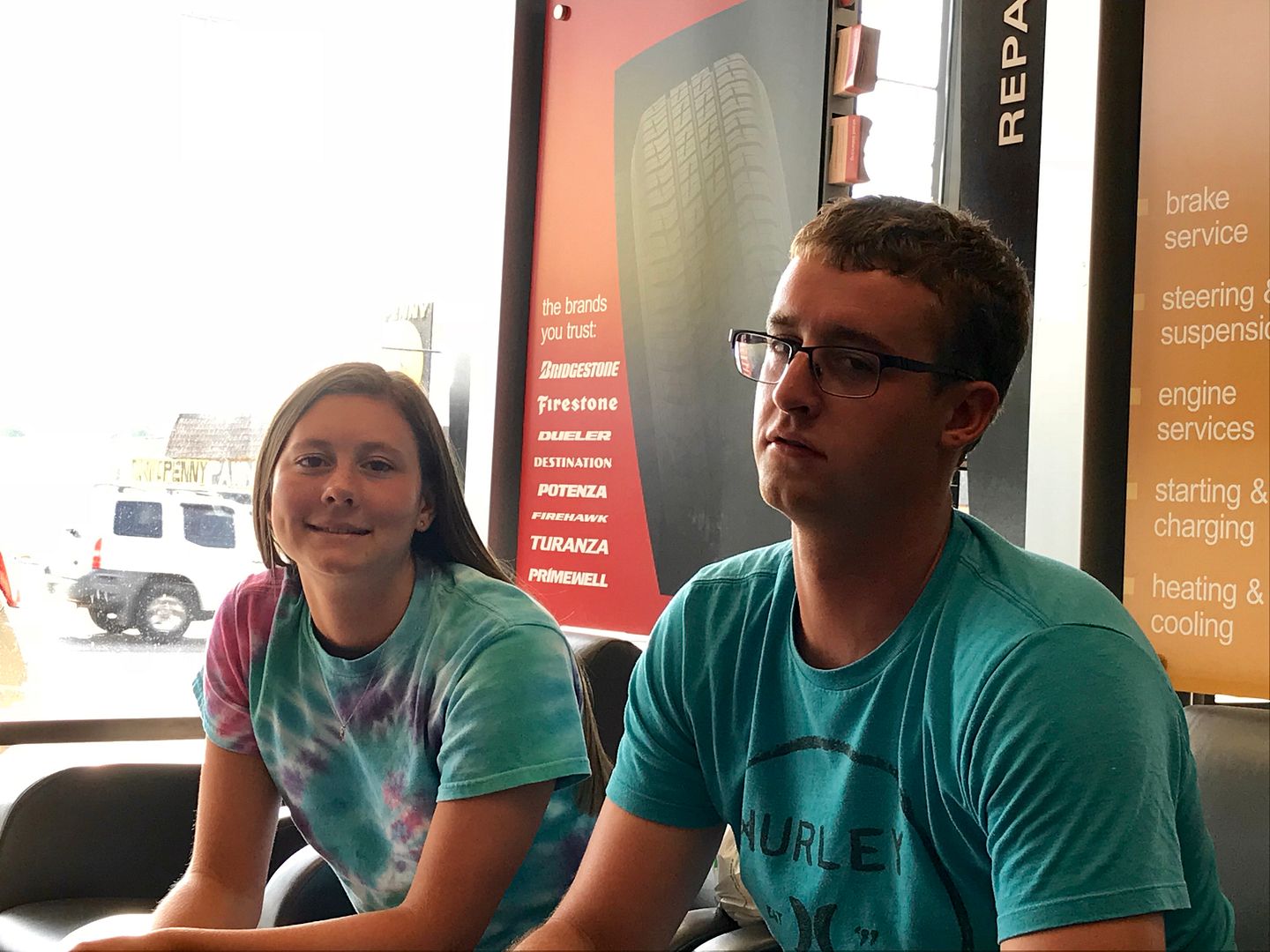 We arrived hopeful and left with our spirits dashed as the problem was not something they could fix and it would have to be repaired at the dealership. On the road again, we were looking forward to nightfall and hopefully cooler temps. We were forced to ride in style with our windows down to avoid heatstroke. This prevented us from hearing the dialogue from our dvd player. To keep up morale Allie had the aux and we jammed out. We were headed further south and although our spirits were high, the temperature was higher. Our unsuccessful Firestone detour allowed Tina's family to close the gap a bit. By now we were only about an hour ahead of them. Fast forward an hour and Tina's a/c also went out as they drove through Knoxville. Lucky for them, their's was an easy fix and Mark was able to re-charge their a/c. Just before sundown we stopped for gas. At this point we decided it was vital to document our misery. Please enjoy this photo at a gas station somewhere between Knoxville and Atlanta.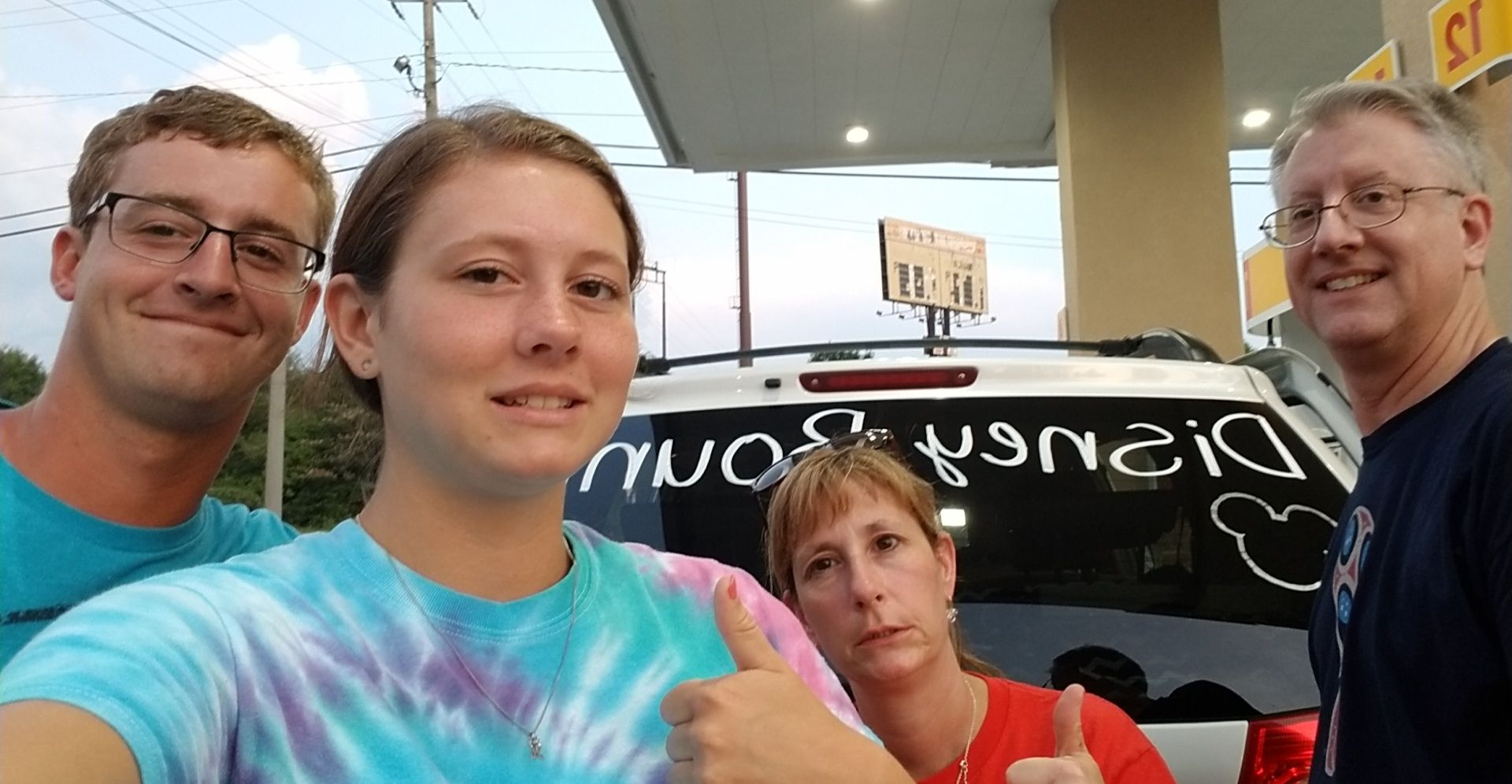 Paul and Adam smiling through the pain. So proud of our little troopers!
We forged on and eventually were able to meet up with Tina's crew at a truck stop with a Wendy's around 11pm.
We rallied after our Wendy's pit stop (which was the longest wait at Wendy's on record) and finally made it to our hotel in Valdosta at 3am. Let me say that a shower and air conditioning have never felt so good!
Due to our late arrival we decided to sleep in a bit and would check out at 11 and grab lunch before hitting the road.
Last edited: