Hello all & welcome!! I'm so happy to finally be able to do another TR!! It feels like forever since my last one--probably b/c it has been(at least that's the way I feel)!! So, I don't want to dwell on the negative b/c let's face it, we've all had a crappy year. 2020 has not been kind to us. But, along with the obvious I had 3 relatives pass within 3 months of each other. Then I knew I was losing my job of almost 28 years in July. We had a Disney trip booked in May that never happened. E rescheduled for June(I couldn't b/c of work) but we all know what happened there--access denied. I knew I wouldn't be able to go until August so she & J booked for then. Since I no longer had an existing reservation she figured she would add me on to her's. Little did we know that nothing would be that simple....
I'll fill you in on the drama as we go along....
WHEN:
Tuesday, August 11th - Tuesday, August 18th
WHERE:
Saratoga Springs(Spoiler--we really ended up enjoying our stay there. Of course, it's not our beloved Riverside but we agreed it had kind of the same "vibe". Being on the Sassagoula kind of helped with that also.)
THE DRAMA THAT WENT ALONG WITH IT:
E & J may have had a reservation but there was no room at the inn for me. E purposely got a 1 bedroom villa & thought it would be easy to add me to the reservation. Yeah, that wasn't happening. They were not accepting any modifications to existing reservations. It was getting down to the wire. She was able to make park reservations & I still couldn't be added on. Finally, all's well that ends well. After many weeks of trying she was able to add me on & I was able to get the same parks. Never fear though, as a few of my magic friends know I had a "Plan B" ready as a backup but fortunately didn't have to go that route.
Then there were the many flight changes Southwest kept imposing on us. Here was one they did for me that was particularly scary. What happened to Pittsburgh to Orlando?
They had my return flight correct but that didn't mean anything b/c it didn't look like I'd be making it there to begin with!!
The loss of my job was weighing on me all year(I've known since January). Here's my desk during my final days.
The reason for the dates was I knew I would be done with my job by then. I figured I'd take a few weeks off. One week to get situated then the next week to go to Disney. After that I would come back and search for work. Sounds like the perfect plan, right?
While still employed the new company taking over was encouraging us to apply. I did but didn't think it would really go anywhere for a number of reasons. Lo & behold they made me an offer on July 30th & asked me if I could give them an answer the next day. They were planning on reopening the store August 16th--while I would be away!! I broke the news that I would be away then. The company was very receptive to it when I explained why I had planned it the way I did. I also figured I should totally come clean & mentioned that I had an October trip booked also!! At this point I thought for sure they wouldn't want me. I called the next day & accepted their offer. Originally the plan was that I would start on the 19th when I got back. They called me on the 1st & asked me to start on the 3rd so I could get some training time in before I went away. I was fine with it & did it but was scrambling to pack etc.
I'm happy to be back in the place I've worked all my life that is so much a part of me. I'm still learning to do things the way the new company does them but overall I'm happy with the way things are going.
E & family were very sweet to give me a good luck present when I started my new(old
) job.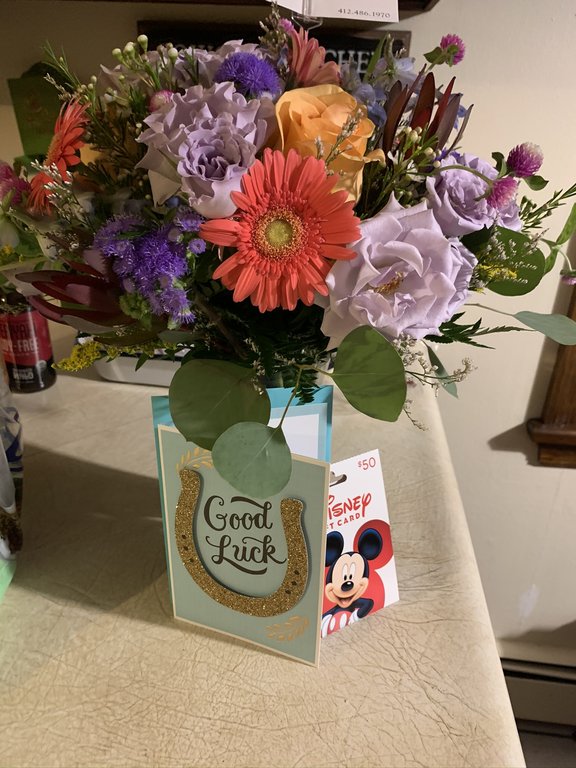 With not much time to pack I made sure to do it early. I actually packed 6 days before the trip. That's amazing for me!!
I also made sure to bring a large supply of masks. They would get gross in a hurry!!
THE TITLE:
I have to start out by giving credit to
@Rista1313
!! I got the "Clappy Clap" part from a comment she had made in my last TR. So many magicians loved the saying & I thought it was quite catchy. The "Welcome Back" part is b/c I truly felt like we were really welcomed back by the CM's. They seemed genuinely happy to have guests there. Also, that song had been in my mind for quite some time. Has anyone seen the Applebee's commercial with that song in it? The first time I saw it I had tears in my eyes. It's very fitting & says a lot with little words. And, there were many "World Firsts" you'll see as we go along!!
WHO:
I'm sure you've figured it out by now but we're back to the "same old" crew!! My sister E, my nephew J & myself, Patti!!
No, I don't really care for pictures of my backside but I did think this was a neat picture--minus the castle colors. I'm still not a fan!!
To all my friends out there reading, "Welcome Back"!!
Last edited: