Well-Known Member
Original Poster
When we arrived home from our
August trip
, Sarah and I both suffered "Disney Withdrawal" pretty badly. Partly, we were upset because we knew it would be at least a year before we'd be going back. Well, suffice to say, that year delay between trips did not happen, as our cases of Disney Withdrawal got the best of us, and "forced" us to book another trip.
When to book was the question. With so many great things we haven't experienced at WDW (Food & Wine Festival, Mickey's Not So Scary Halloween Party, Flower & Garden Festival, etc.), we knew we had to plan the trip around a big seasonal event. We had
gotten engaged on our previous Christmas trip
, and additionally, the trip was in mid-November, so the focus wasn't entirely on Christmas—by either us or WDW. When we consulted our calendars for school, we found that we'd be able to make a short weekend Christmas trip over Thanksgiving break. Then, we thought more about it, and realized that we probably ought to skip a couple days of classes and "extend" the trip to five days.
Such was how the trip was birthed. We spent the short time before the trip preparing by daydreaming about WDW at inappropriate times, perusing Flickr and various other sites looking at Christmas pictures, and generally shirking our other duties in order to devote as much time as possible to pondering the trip.
All of this paid off, as it (possibly) helped us mentally prepare for the trip, but more importantly, helped us avoid being bored by other things. This mental preparing did not translate into any physical preparation, as we did not pack anything (with the exception of my photography gear) until Thanksgiving evening. We rushed around, throwing together whatever clothes we might possibly wear—December weather in Florida can be tricky, as it's nice during the day, but cold at night.
After packing, we headed to bed, catching a blink of sleep before awaking at 3:50 a.m. and getting ready. Sarah's mom took us to the new Indianapolis International Airport, where were relieved to find that McDonald's had set up shop. We were hardly shocked, but relieved, as McDonald's breakfast is one of our traditions for the morning we leave for WDW. Nothing energizes you for a long day quite like an Egg McMuffin!
With the exception of the wonderful McDonald's establishment, nothing really exciting to report about the new airport. It has all of the typical airport elements, although I didn't see any moving walkways (I might have just overlooked them). That's fine by me—it always irritates me when people get on the moving walkway and just stand there. As I envision them, the walkways are not laziness enablers, but rather, are instruments to facilitate speedier walking.
We flew Southwest (as usual), which is always a treat. The plane landed slightly earlier than expected, and we breezed through the Disney's Magical Express line—one of the benefits of staying at Pop Century—which caused us to arrive at Pop Century an hour before the time I had told Nick to meet us. After calling him to inform him of the predicament, he arrived quickly to check us in. Our room was ready at 10 a.m. (talk about service!), so we put our carry-on bags in our room, and changed our clothes.
After that, we were off to Disney's Hollywood Studios. It was by far the busiest I had ever seen the Studios. Absolutely insane. With the continuous talk of the state of our economy, you'd think the crowds would be lighter. Not that I'm 'hoping' for a poor economy to make my WDW trip better, but when I'm waiting in line for a seemingly indefinite amount of time, or even just trying to navigate past a stroller or ECV traveling as slowly as possible, I found myself wishing for the lighter crowds.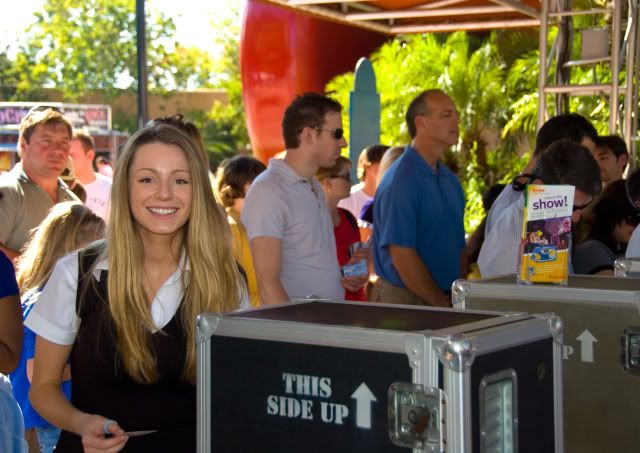 On the topic of ECVs—I think I see disproportionately more of these each time we go to Walt Disney World. Now, I don't want this trip report to be rife with controversy, but I certainly do not think that the number of disabled individuals is palpably increasing each year, so I question the rationales of some of those renting ECVs. To put it bluntly, it seems there are certain "types" of people who rent these devices an awful lot. I'm not suggesting that some of these individuals don't suffer from some sort of disability, but, certainly not to the extent that the ECVs are used. In my opinion, a lot of supposed disabilities are
caused
by using the ECVs and other similar behavior. But, I digress…
Luckily, we enjoy a number of high capacity and unpopular attractions, so the crowds didn't get to us too much (I've never quite understood the folks who go during the busy seasons and just go to the "thrill rides"—is it really worth it to spend all day waiting in line at RnRC and ToT [in between FastPasses]?).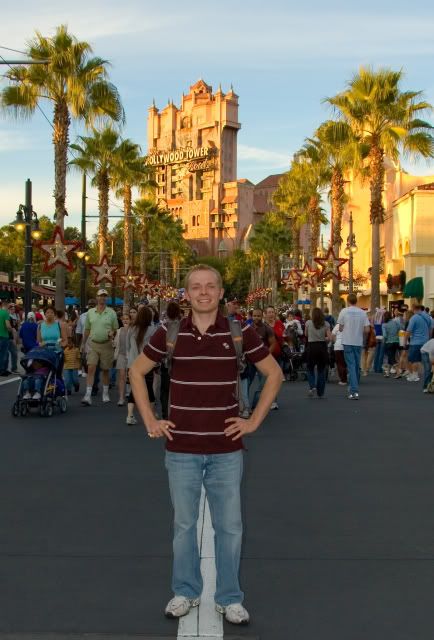 We thus visited The Great Movie Ride and MuppetVision, a few times in between our FastPasses for the popular attractions. My new Sigma 30mm f/1.4 really made a difference on GMR, as I feel I got many shots I otherwise could never have made with a slower lens. The lens was generally helpful on all dark rides and for parades, and it enabled me to get a number of shots otherwise impossible with my walkaround lens.
At around 6:30 p.m., we decided to head over the Osborne Lights. It took us about twenty minutes from the time we got into the Streets of America area until we actually entered the area with the lights. This was, in combination because of the aforementioned issues with people simply not navigating properly (perhaps I'm in the minority, but I think the middle of a walkway is a pretty poor place to stop and have a conservation with your party—MOVE TO THE SIDES!) and because the area with the lights was pretty packed. It was well worth the wait. We spent over two hours simply marveling at the lights as they danced, and taking pictures. As huge "Christmas people", it was really something that was really enjoyable for us. I've always had an affinity for Christmas lights—from Tim Taylor's incessant desire to beat Doc. Johnson in the annual neighborhood lighting contests on Home Improvement to videos on YouTube of people with their own lights dancing to Trans Siberian Orchestra—and I hope someday to put up a display my neighbors will find obnoxious.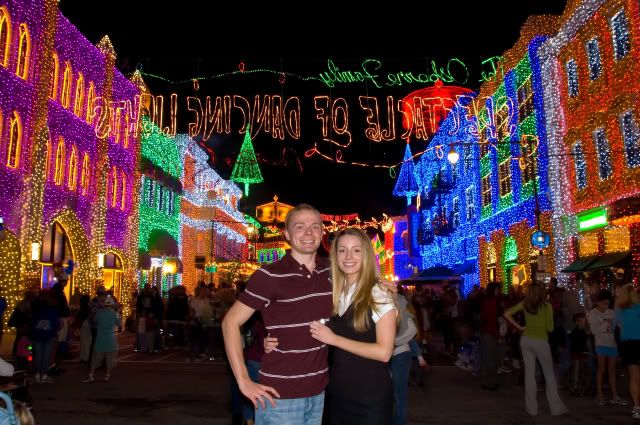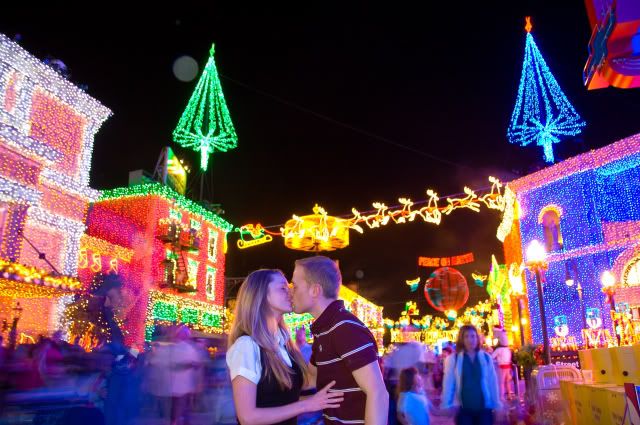 [FONT=&quot]
[/FONT]
Last edited: