Hello Humans!
For those just joining, my name is Nicole. (Sorry if you were expecting Buddy Boil!)
I am just a wee bit toooooo obsessed with Disney World and all things Disney, but is there ever really too much of a good thing? I'm just one of "those people". The kind that doesn't understand the need to travel anywhere else on this planet besides Disney, the kind that has more Disney clothes than work attire, the kind that stalks cast members instagram profiles… but we'll gloss over those more intimate details.
I just returned from an extremely short trip to the World. And although short, I still feel the pain. It's like when someone loses a limb, such as an arm or a leg, and they say they can still feel it. That is exactly how I feel about the removal of my Mickey ears. I have phantom limb pain from taking off my Mickey ear headbands. The ears are off, and the pain real. You mean to tell me I can't wear my rose gold ears to go grocery shopping? What kind of world do we live in?
After throwing a temper tantrum on the ground to my fiancé, complaining he doesn't love me because he's dragging me to Hawaii for our honeymoon, I decided the more mature, adult way to deal with post Disney depression is to share my story with you fine people. So let's begin.
Who: Myself and my Bestie (we went in 2013 and 2014 previously)
Where: All Star Music (We nicknamed this trip the budget trip. No park hoppers, no dining reservations, no dining plan, carryon luggage only so we wouldn't come home with a bazillion souvenirs. A budget in Disney… that didn't work so well. You mean that green Mickey lighting up was racking up my credit card? WHO KNEW?!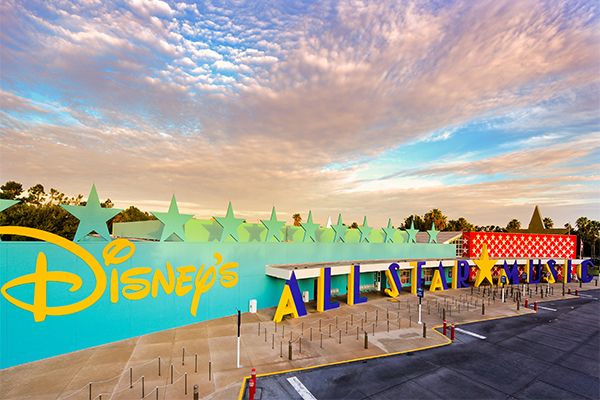 When: Friday, January 19th to Tuesday January 23rd
Why: Why not? The best way to escape wedding planning is Disney planning!
Jan 19th
Our flight wasn't until 7 PM out of Newark, New Jersey. I currently live right outside of Philadelphia with Joe, go Eagles
but it was easier for me to get to Newark than my friend to get to Philly. And me flying alone is never a good idea. I once found myself in an airport closest. Yeah, no idea. I decided to work a half day instead of using a vacation day, because I'm trying to bank all my days for my honeymoon and secretly another Disney trip come fall. Don't tell anyone. It can be our little secret. Hardy har har!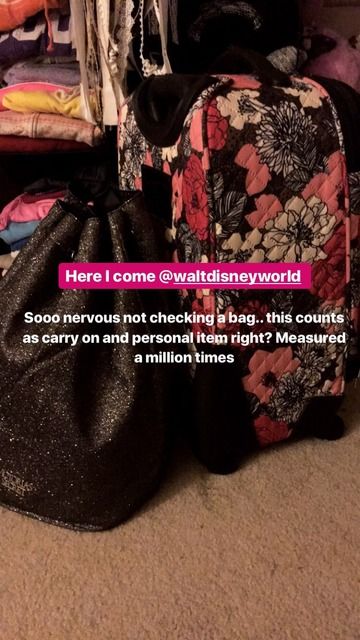 Did not sleep a wink the night before, not sure if it was the excitement, the nerves about my carryon being TSA compliant, or the fact that I was fighting off laryngitis. Ursula, take my legs but give me back my voice!!!!! Some people were too ecstatic I was speechless, cough JOE cough. I could not rub in his face that I WAS GOING TO DISNEY WORLD.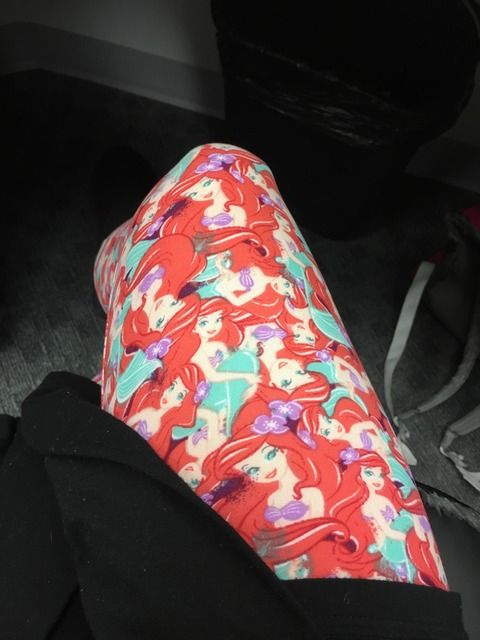 Wore my little mermaid leggings to work because I am a child. I work for an orthodontic team and having all my patients ask me about going to Disney World just amped up my excitement level. My age category is definitely 8-12 because that is who I most relate too. HA!
Clocked out early and made my long trek to North Jersey. Got back in record time, must have been those pixie dust fumes in my gas tank.
My friend's brother was our designated Uber and I'm sure he kicked himself for offering to drive us two crazy loons.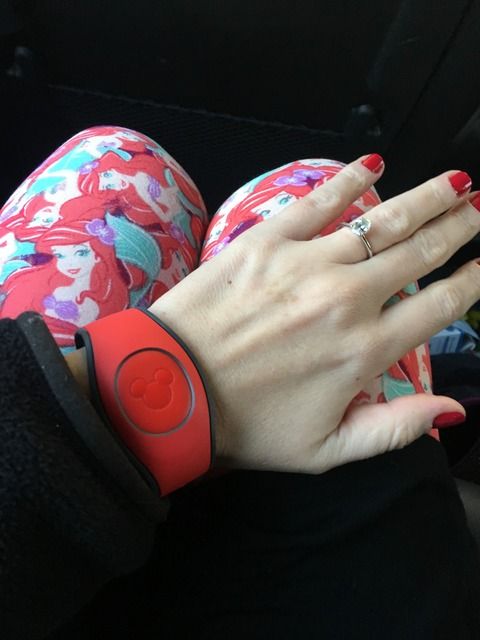 Strapped on my magic band and admired the beauty of all that is Mickey's outline. I love the new shape, didn't think I would! It actually looks like a watch, IT'S MICKEY TIME.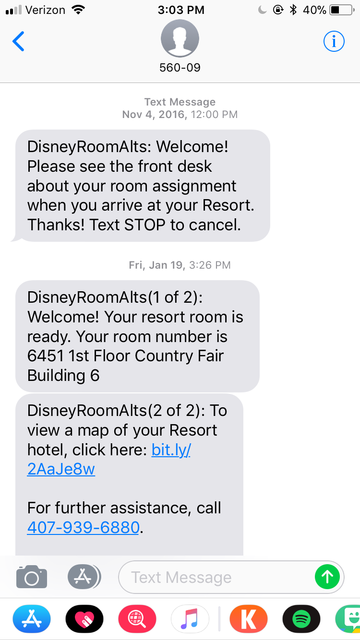 On the ride there, we received a text message that our room was ready! Don't judge me that I never deleted my 2016 room notification message.
My friend and I had been joking all week that we'd be put in country. NOT THE COUNTRY BOOT! And lo and behold, there we were. She called up Disney to see if they could switch us to jazz, we'd been practicing our jazz hands for months! The cast member laughed, and apologized that the resort was fully booked; we could maybe switch our room later on during the trip. TOO BAD OUR TRIP WAS SO SHORT.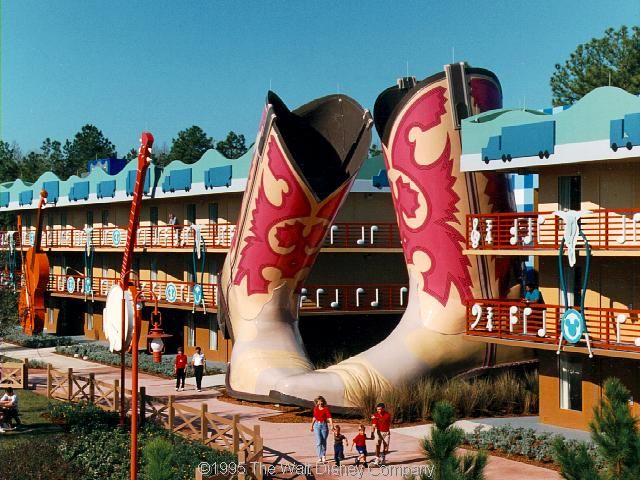 Nothing screams Disney World more than a pair of country boots! Am I right?!
We got through security quickly and made our way to the gate. Upon arrival, our flight is delayed. From 7 PM to 8:30 PM. WHAT! Lose an hour and a half of Disney time!? I cannot deal.
The terminal was packed. There was not a seat to be found. We circled round and round, myself rolling my carryon like I'd had one too many drinks. It's hard steering a suitcase! We were antsy and then it hit us. One little spark of inspiration. LET'S SEE IF THE EARLIER FLIGHT HAS ANY SEATS AVAILABLE.
Turns out, it did! And for a mere fee of $75.00 each, we could arrive in Disney at 8:30 PM. We went back and forth… if we got there early we could eat in the food court, we'd have more Disney time, we could get to sleep earlier and be less cranky for parking opening. Budget trip my behind.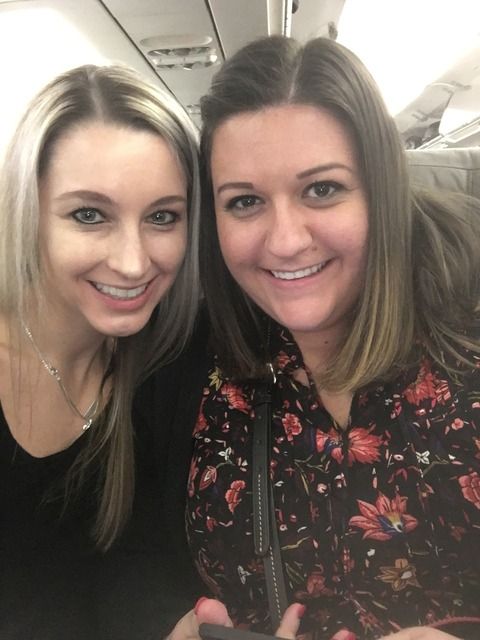 We were soon on the plane, vowing to not tell a soul we paid $75 to arrive in Disney an hour and a half earlier. Whoops!
The flight attendants asked if we could be the heroes of the flight, and of course we obliged.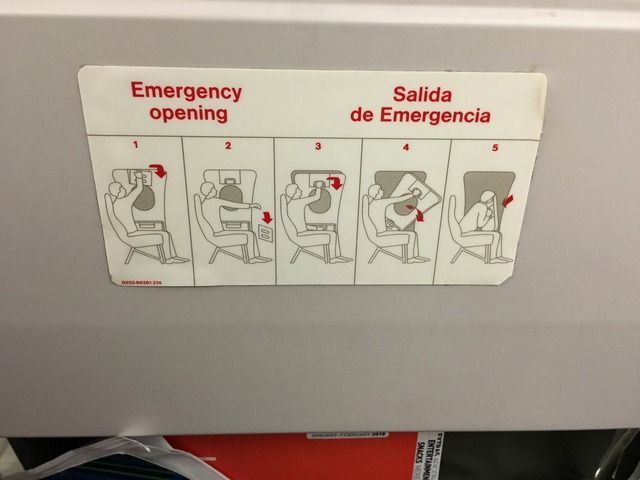 Throw the plane door out the window and save all the innocent lives on board? Ain't no thing for Princess Nicole. Watch out Mr. Incredible. I'm coming for your costume.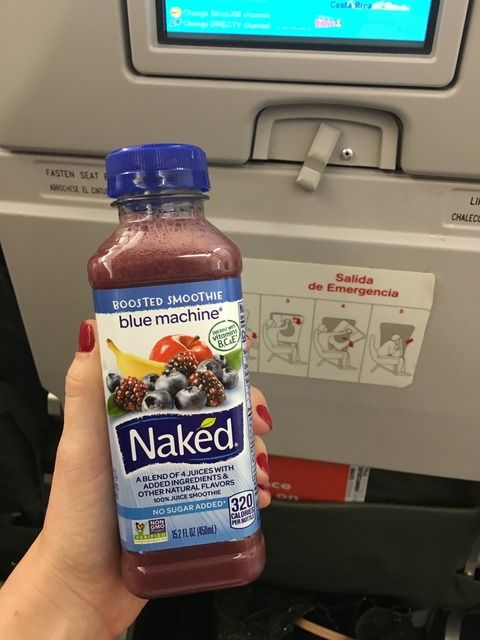 Heroes need their nourishment, so cheers to the first food pictures of the trip!
Touched down in Orlando much earlier than expected… money comes and goes but Disney memories are forever. That's what I keep telling myself at least!
The Magical Express area was dead, and we hoped we didn't just miss the bus. Turns out the bus was waiting right outside for our arrival. What great service! I don't know if I credit this to the fact that I'm now a hero? Hopped aboard that big beautiful red beauty of transportation and prepared myself for my ride back home. The butterflies were fluttering about in my stomach, I could not stop giggling, and I felt it deep down to my core that I was back in my happy place. You know that warm fuzzy feeling of being on property? That moment where you know your trip to come is filled with endless possibilities? Don't ever take waiting in the Magical Express line for granted!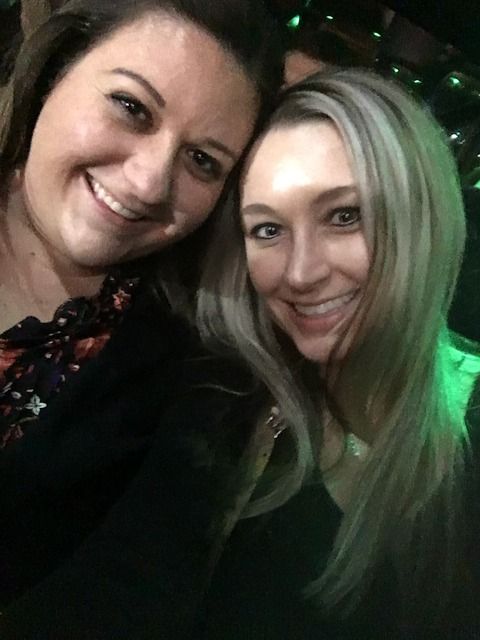 Would our room be the very last room in the very back of our resort? Did they separate us from the general public on purpose because we are certifiably insane? Would my jazz hands feel betrayed about nothing getting their moment to shine?