Hey gang! I figured with less than 60 days til our long weekend to the world I thought I'd start on a PTR of sorts. (59 days actually but who's counting.... oh, that's right... ME!!!) Yes, I know, I'm not even done with my TR from May yet... But Ill finish it... soon! I promise!!!! :lookaroun
First off, same cast of characters as the last trip: Me (28) DSis - Ashley (26) and DMama (29 again) This will mark my 23rd overall trip and 3rd since last Thanksgiving. It's kinda hard getting away for a weekend here and there when you live waaaay up north in Maine like we do! :lol:
Anywho, here we are.... Cute, eh?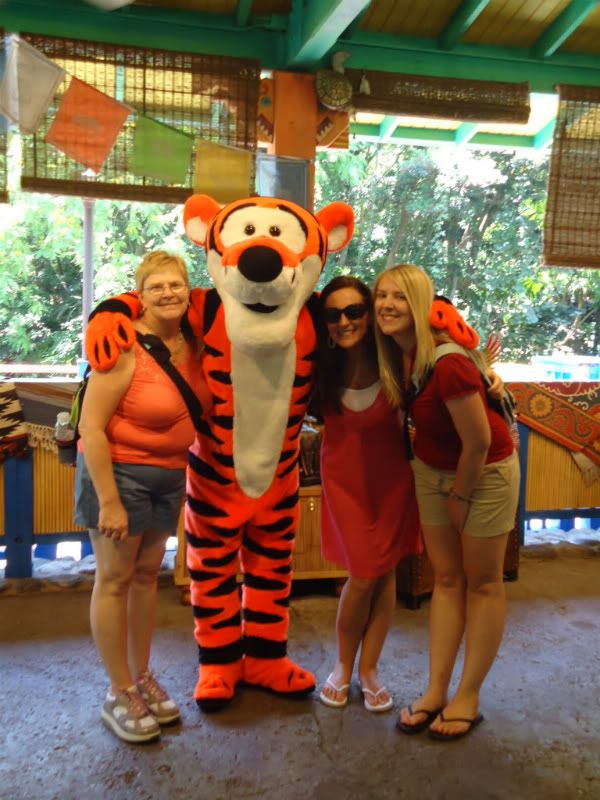 (L to R: Mama, Tigger (duh!) Me and Ashley)
That pic was taken on our most recent trip in May... It's one of only 3-4 pics we have of the three of us together (other than the Photopass pics) I think we will need to work on more pics with all three of us this time around!!
This trip was kind of - how should I put this - not last minute since we've known we were going for awhile... It was kind of an unplanned trip. When we returned in May, we thought for certain we wouldn't be returning until fall of 2012.... HA! Yeah right! Like we were gonna wait that long!!! So after some talking with Mama and Ashley, we decided to not only bump our fall 2012 trip up to spring 2012, we also decided to go back for a long weekend in November... Why November you ask? Well, mostly because that's when my sister and Mom could take off from work but also because Ashley has never been to WDW during the Christmas season... Shocking, I know! Mama and I have both been twice (once in 2001 and last year, both for Thanksgiving week)
So I went ahead booked the ADR's and waited for AP rates to come out for the resorts since we decided with a long weekend trip and another 10 day trip in the spring (we have a timeshare) and probably another long weekend next fall for MNSSHP, I did the calculations and it made more sense for us to spring for the AP's. We will be staying off-site most of the time we're there in the spring so the AP's will help cover like $100 worth of parking. (I know what you're thinking... if this is my 3rd trip since Thanksgiving, how come I just didn't buy an AP last year?!... You are so right! I should have. But the May trip and this trip weren't really planned... Hindsight.... gotta love it!!)
So the AP rates finally came out and we were going for the Poly... but unfortunately, the rates were still not low enough for us. Apparently the AP rate was not available the Saturday and Sunday we were there. RATS!! I was super bummed cause the Poly is my dream resort... Oh well... One day *sigh*.... So we ended up booking the Wilderness Lodge courtyard view. Mama loves camping and the outdoors so I figured it's right up her alley. And Ashley is pretty easy when it comes to where we stay sooooo WL it is!! This will be our first time at anything other than a Value resort so we're really excited!!! Normally we wouldn't really splurge like this as Value and Mods are good enough for us but things could change... someone could lose a job or me or Ashley could have a baby... and who knows if we will have the funds available in the future to go deluxe so we decided to go for it this time!
Anyone who's every stayed at WL have any suggestions for us? How is Roaring Fork? And how is the transportation situation there? Any specific rooms/floors to ask for? Were booked in a courtyard view room and we'd like to overlook the creek and pool if possible - though I know it's not guaranteed..
I should probably do some work so I will post the itinerary as soon as I can. Along with it being Ashley's first Christmastime trip, it's also going to have a lot of firsts for all of us as well.... More later!! :wave: