Hi Everyone! First time trip reporter here. This is all I expected for DW's 50th Anniversary. I even sent a text to my children in college about how we were celebrating the 50th Anniversary via Happy Meals.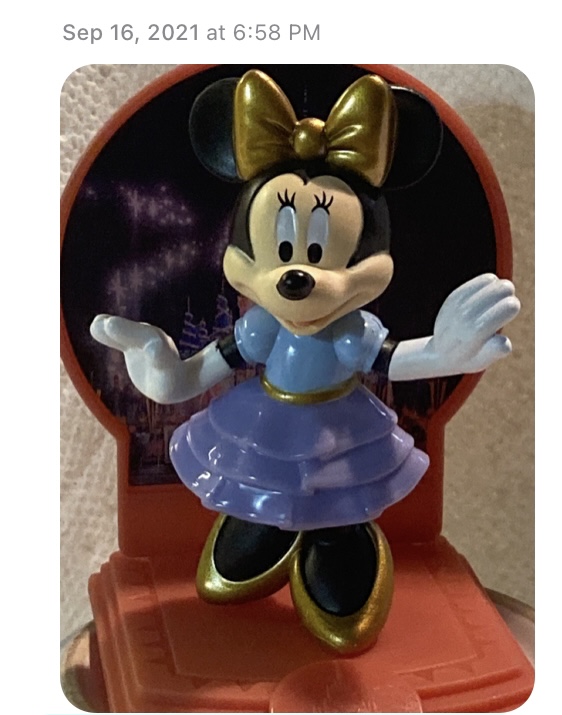 But dreams do come true and in November 2022 my DH annd I were able to experience the 50th Anniversary in person!
As a first time trip reporter I feel a little like a new kid…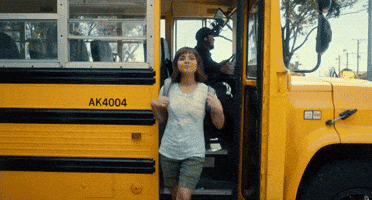 …on the block
Before I talk about our trip thank you for your reports! They have been a bright spot in this crazy world! I enjoy seeing all the different ways you celebrate your time at Disney. Many times I want to compliment the writer on their photo or their activity….. and now I can
. (To find out a little more about me just look under New Member Introductions.)
Back in September 2021 I was content with Happy Meal toys and reading trip reports. As we progressed through 2022 and life got somewhat more settled I wanted/needed a vacation outside our home preferably with warm weather and palm trees. DH and I both had plenty of vacation; some of which we had to use by the end of the year. And so we decided it was Disney Time!
Honestly as a WDW guest over several decades I was unhappy with most recent changes/price gouging. I thought we'd stay away longer in protest but my need for a vacation especially one that is somewhat easy to plan won out and we decided to try Disney again. Yes, some Disney policies and IT stinks but at least we managed to set up a trip.
Pretend the following is the pre trip report.
I like to come up with a theme for our Disney trips. This would be the adults trip. This would be the first trip without our children who are now in college. At first they were surprised we were taking a vacation without them but then were happy and supportive we were taking time for ourselves especially because we had just celebrated our 25th wedding anniversary a few months earlier.
We started planning in early June 2022 and decided to visit in early November 2022. We liked the idea that we could still enjoy the warm weather compared to home. We knew it would be Disney Marathon Weekend and Jersey Week but knew the crowds would keep increasing for the holidays so decided we would take our chances.
We decided to get park tickets for four days with park hoppers. Really miss those prices from 1978!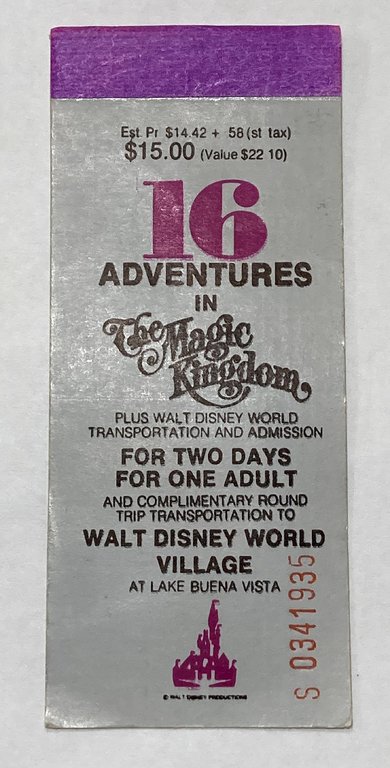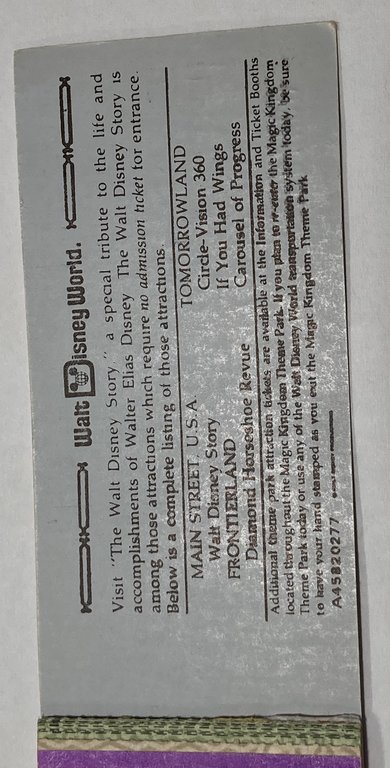 In June there was not much availability for November unless we wanted to take out a second mortgage. We find crazy hotel price increases less surprising now that our children are in college - unfortunately it's not just Disney. We narrowed it down to hotels all new to us - two of the Values (can't remember which ones) or Riverside. We went with a woods view at Riverside because of the boat to Disney Springs and evening entertainment of Yee Haw Bob at Riverside and jazz at French Quarter.
With our children we have had the medium dining plan. We found it worthwhile with hungry teenagers although sometimes limiting in terms of choice. This trip we wanted to try new restaurants. We knew the Food & Wine Festival would be open too. We had perused the booth menus and decided if the opportunity presented itself we would try something. Truth be told Buffalo has a great Taste of Buffalo festival every July and WingFest around Labor Day along with numerous town food festivals so it wasn't a priority.
Without the pay ahead feature of the meal plan I tried something new and bought gift cards. I started small to see if we liked this method. I bought three $50 gift cards at BJ's Wholesale Club. I paid $144.99 saving a whoppping $5.01. I've got you now Disney!!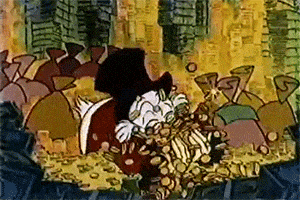 We've flown Delta and JetBlue but United was significantly cheaper so we booked with them through AAA.com. We were flying from Buffalo to Newark to Orlando both ways. We were disappointed in the cancellation of Magic Express and were examining all our options.
Because of our limited park time we were planning on buying Genie+ and Lightning Lanes. We told our children we were going to write notes to their professors and work supervisors to excuse them at any time if we needed help with our cell phones! (We didn't need any help but I did practice.)
DH is very laid back. After our first trip he requested one day of pool time. On our second trip he got 3 hours of pool time. I told him pool time was like dog years - 3 hours of pool time equaled 6 hours in the real world! How much pool time would he get this trip??
He also requested some sit down restaurants and time to wander through the Epcot countries. Notice how all of his requests can be accomplished while consuming adult beverages? Score!
Here was our tentative agenda:
Wednesday, Nov. 2:
Arrive MCO around 2pm
Late Lunch at Riverside FQ
Get Settled and Explore the Grounds (something we haven't done enough of before)
Drinks at Riverside or French Quarter
Thursday, Nov. 3:
Hollywood Studios
Early Dinner - Brown Derby
Park Hop to Epcot for Harmonious
Friday, Nov. 4:
Epcot
Park Hop to Magic Kingdom
Dinner at The Plaza
Enchantment
Saturday, Nov. 5:
Pool Day!
Disney Springs
Dinner at The Boathouse
Drinks at Riverside or French Quarter
Sunday, Nov. 6:
Animal Kingdom
Park Hop to MK
Dinner at Be Our Guest
Enchantment
Monday, Nov. 7:
Hollywood Studios
Park Hop to Epcot
Dinner at Todd English's Blue Zoo at The Dolphin
Depart late morning Tuesday, Nov. 8.
Here are a few things I think you need to prepare for a Disney trip:
Stock up on glow bands. It gets dark in the park!
Have one t-shirt which promotes where you are from. Be it a specific location or sports team. It helps promote conversation with CMs and your fellow line goers.
Brush up on your Disney movies. In this case we watched Coco (loved the message about family) and Ratatouille (okay, not quite finished)
Isn't it great to have Disney plans? Being able to view them anytime always makes a bad day better! And what else makes the trip better than…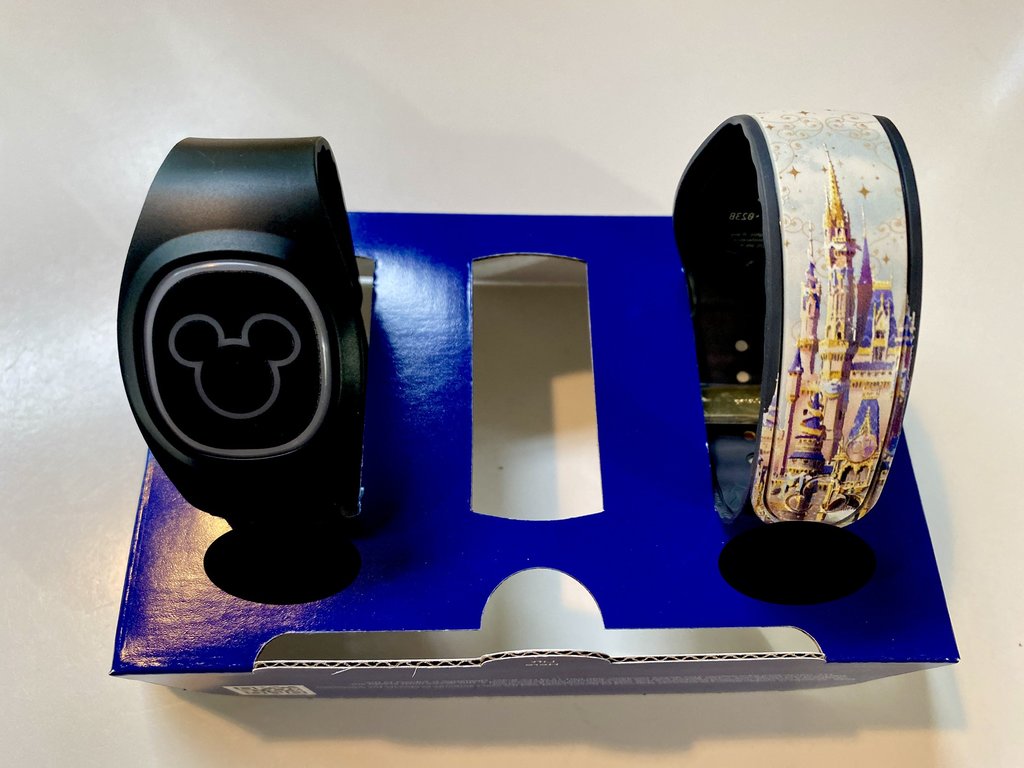 DH got the new version. I stuck w/the old version which celebrated the 50th anniversary. We had older bands but wanted to make sure our ride photos would show up.
Some Last Minute Trip Adjustments:
A few months before we left United changed our return flights. We would be flying from Orlando to Chicago to Buffalo. We would be leaving an hour earlier and arriving in Buffalo only 45 minutes later than originally scheduled. We said fine.
We dropped the reservations at The Brown Derby - HS and The Plaza Restaurant - MK so we could get more park time. We figured we could always try and get last minute reservations.
Best yet - the parks were starting to be decorated for Christmas! Based on our research we thought we would miss it. Added bonus!
Thank you for reading! Next up - Arrival Day!